Wild Youth frontman promises 'big and bold' Eurovision performance
The group will represent Ireland at the first semi-final of the Eurovision Song Contest contest on May 9 in Liverpool with their song We Are One.
Ireland's Eurovision performance will be "big and bold", Wild Youth lead singer Conor O'Donohoe has promised.
The group will represent Ireland in the first semi-final of the Eurovision Song Contest in Liverpool on May 9 with their song We Are One.
O'Donohoe said he believes the song lives up to the size and stature of the contest, adding he is undergoing a training regime to get ready.
"We're definitely not taking any shortcuts, and it will definitely be as big and bold as you think it's going to be," the singer told the PA news agency.
"I don't want to give anything away. It's all very, very cool."
O'Donohoe revealed the creative process for writing the song, which focuses on unity and togetherness.
"I wasn't writing about Eurovision in mind, but I also wasn't writing it not with the Eurovision in mind," he said.
"I just wanted to write a good song and have it at the Eurovision.
"But the Eurovision for me is also such a big stage, I wanted to write a song that could live up to the stature and the size of the stage and the arena and the scale of the Eurovision."
The singer said it wasn't difficult to get the other band members, Callum McAdam, Ed Porter and David Whelan, on board for the bid.
"Everyone was very with it," he said.
"I think David's as big a Eurovision fan as I am; Cal just loves playing the drums so once he's on a stage and he's playing the drums he's happy, and Ed totally bought in and believed in the vision too.
"Everyone was thrilled to be going for it to be honest."
Wild Youth performed on the Eurosong edition of RTE's The Late Late Show for the chance to represent Ireland at this year's contest, beating other contestants including former Sex Pistols frontman John Lydon and his band Public Image Ltd.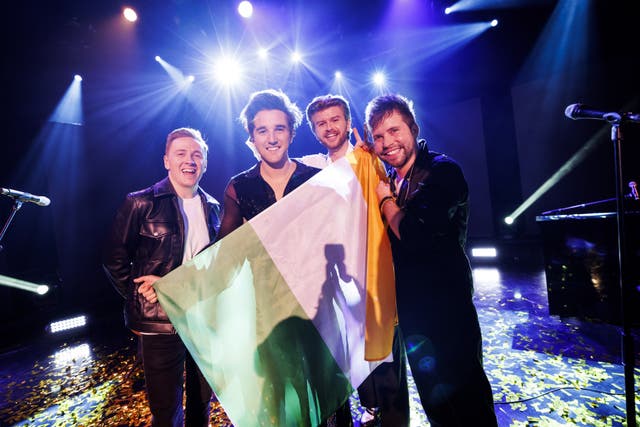 O'Donohoe said he was terrified in the run-up to the RTE show.
"I had no idea what way it was gonna go," he said.
"I felt that we had really put ourselves in kind of a vulnerable position.
"People thought it was an advantage being a band that was, let's say, known before we went on to the Eurosong, but also there's a lot of things in play that if we didn't win, and we were the act that was kind of known, it would have massively jeopardised anything going forward.
"A lot of people tell me that we were mad, that we were going for it.
"Without risk, there's no reward, in my opinion. So it was a risk, but we're very happy that we did it."
He added: "Knowing that we won by a public vote, it is quite a nice feeling and knowing that people want us and feel that we're good enough to go and represent our country.
"And I hope that we can live up and match all their expectations and I hope that we can just make everyone very proud."
O'Donohoe said he was eating healthier and singing while running to ensure he is on top form in Liverpool.
"It's a big stage and there's like a runway so I'm definitely having to put down the McDonald's and pick up the carrot sticks.
"I do my vocal lessons every day, and I listen to the song and then I run on a treadmill while I sing the songs."
Wild Youth are embarking on a tour of Eurovision events across Europe ahead of the contest, with gigs in Barcelona, Warsaw and Amsterdam.
To reach the final on Saturday May 13, Wild Youth will have to qualify from Tuesday's semi-final which also includes entries from competition favourites Sweden and Finland.
"The first big win for us is just trying to get out of that semi-final and staying focused on that," O'Donohoe said.
"And then if we get through that semi-final, who knows? The Irish have done crazier things."
Ireland has participated in Eurovision more than 50 times and has a record seven wins, but has failed to qualify for the final since Ryan O'Shaughnessy entered with his song Together in 2018.