Serbia's president denies troop buildup on Kosovo border
Aleksandar Vucic said a 'campaign of lies' had been launched against Serbia in the wake of recent clashes.
Serbia's president has denied US and other reports of a military buildup along the border with Kosovo, complaining of a "campaign of lies" against his country in the wake of a recent shootout in which four people were killed and which fuelled tensions in the volatile Balkan region.
Both the United States and the European Union expressed concern earlier this week about what they said was an increased military deployment by Serbia's border with its former province, and they urged Belgrade to scale down its troop presence there.
Kosovo's government said on Saturday that it was monitoring the movements of the Serbian military from "three different directions". It urged Serbia to immediately pull back its troops and demilitarise the border area.
"A campaign of lies … has been launched against our Serbia," President Aleksandar Vucic responded in a video post on Instagram.
"They have lied a lot about the presence of our military forces … In fact, they are bothered that Serbia has what they describe as sophisticated weapons."
Tensions have soared following the violence in northern Kosovo last Sunday involving heavily armed Serb gunmen and Kosovo police officers.
The clash was one of the worst since Kosovo declared independence from Serbia in 2008 and prompted Nato to announce it would beef up a peacekeeping force stationed in the country.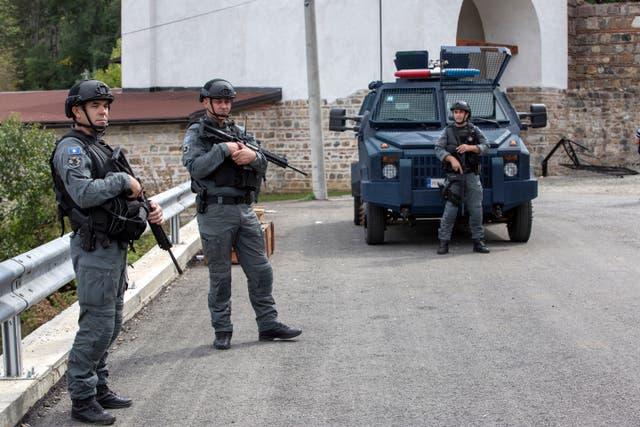 Serbia has denied Kosovo's allegations that it trained the group of some 30 men who opened fire on police officers, leaving one dead, and then barricaded themselves in an Orthodox Christian monastery in northern Kosovo. Three insurgents died in the hours-long shootout that ensued.
Kosovo has also said it was investigating possible Russian involvement in the violence. Serbia is Russia's main ally in Europe, and there are fears in the West that Moscow could try to stir trouble in the Balkans to avert attention from the war in Ukraine.
John Kirby, spokesman for the White House National Security Council, said on Friday that US officials were monitoring a large deployment of Serbian troops along the border with Kosovo, describing it as an "unprecedented staging of advanced Serbian artillery, tanks and mechanised infantry units".
Mr Vucic has several times over the past months raised the combat readiness level of Serbian troops on the border with Kosovo.
Serbia also has been reinforcing its troops with weapons and other equipment mainly purchased from Russia and China.
"We will continue to invest in the defence of our country but Serbia wants peace," the president said on Sunday.
"Everything they said they made up and lied, and they knew they were making up and lying."
Last weekend's shootout near the village of Banjska followed months of tensions in Kosovo's north, where ethnic Serbs are a majority of the population and have demanded self-rule.
And dozens of soldiers from the Nato-led peacekeeping force known as KFOR were injured in May in a clash with ethnic Serbs protesting against the Kosovo police presence in the area.
Fearing wider instability as the war rages in Ukraine, Washington and Brussels have sought to negotiate a normalisation of relations between Serbia and Kosovo, but the two sides have failed to implement a tentative agreement that was recently reached as part of an EU-mediated dialogue.