Five people killed in truck crash in Illinois which caused ammonia leak
The dead included three members of the same family.
Five people were killed and five others seriously injured in Illinois when a truck carrying a toxic substance crashed.
The dead included three members of the same family — one adult and two children aged under 12. The other two victims were adult motorists, the local coroner said.
Authorities confirmed on Saturday they are reviewing the crash which resulted in dangerous air conditions that prompted an evacuation of residents.
The truck carrying caustic anhydrous ammonia overturned at around 9.25pm local time on Friday in Teutopolis, spilling more than half of its 7,500-gallon load, according to the Illinois Environmental Protection Agency.
Jennifer Gabris, a spokeswoman for the National Transportation Safety Board, said the agency is investigating the incident.
Firefighters, police and other emergency responders who converged on the scene late on Friday were still on site on Saturday to try to contain the cloud of anhydrous ammonia that was coming from the overturned tanker.
"We have a lot of brave firemen, EMT, hazmat specialists, police officers that are working on this scene as we speak," Effingham County Sheriff Paul Kuhns told reporters.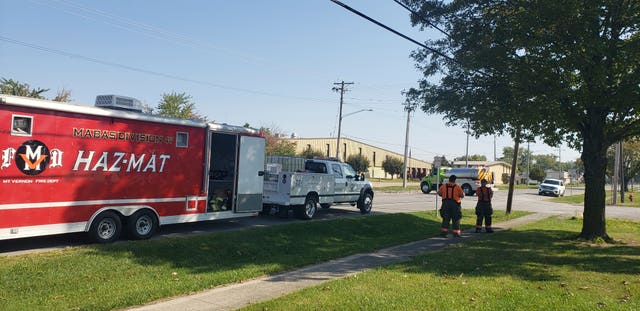 The accident caused "a large plume, cloud of anhydrous ammonia on the roadway that caused terribly dangerous air conditions in the northeast area of Teutopolis", Mr Kuhns said.
"The wind changed three or four different times on us," said Tim McMahon, chief of the Teutopolis Fire Protection District. "That's another reason we got crews out in different places, reporting back on which way the wind's going."
The accident, which involved "multiple" vehicles including the tanker, happened about near Teutopolis on Friday evening.
Mr McMahon said the tanker began leaking after rolling over in a ditch. He said authorities are still preventing cars from driving in that area. Residents within a one-mile radius of the spill were evacuated. The town of 1,600 people is about 110 miles (177km) northeast of St Louis.
Mr Kuhns said he did not have information on whether the deaths were the result of the crash itself or the chemical leak. But he said that "the accident scene was large".