A pre-dawn Russian missile attack on Ukraine's capital killed three people, including a nine-year-old girl and her mother, officials said.
The strikes on Thursday led to the highest casualty toll from a single attack on Kyiv over the past month.
A 33-year-old woman died as she and others waited to enter a Kyiv air raid shelter that was locked – leaving her and others at the mercy of falling missile fragments, her husband said.
Officials have ordered an investigation.
The latest Russian attack, with what Ukrainian officials said were short-range Iskander ground-launched missiles, coincided with events scheduled in Kyiv to celebrate International Children's Day.
Those events were cancelled.
Ukrainian air defences shot down all 10 cruise and ballistic missiles launched by the Kremlin's forces but falling debris caused damage and casualties on the ground, wounding 16 people, according to authorities.
Russia has kept up a steady barrage on the Ukrainian capital and other parts of the country in recent weeks as Kyiv readies what it says is a counteroffensive to push back Moscow's troops, 15 months after their full-scale invasion.
Kyiv was the target of a reported 17 drone and missile attacks last month.
Ukraine's first lady Olena Zelenska said one child was in hospital after the attack.
"Children's Day has to be about safe childhood, summer, life," she tweeted.
"But today it is about new crimes of (Russia) against children."
Ukrainian foreign minister Dmytro Kuleba tweeted to say the dead included a nine-year-old girl, her mother and another woman.
At the Kyiv air raid shelter that was locked, Yaroslav Riabchuk said he and his wife of 17 years, Natalia, were outside with others when he ran around the back of the building to summon the guard in charge.
"I ran but then an explosion happened," he said.
"Shattered glass started falling and I knew I had to run back. When I returned, it was over.
"There was a lot of blood, women, children."
Mayor Vitali Klitschko said authorities are investigating what happened.
He gave orders to the heads of the city's districts to immediately check if all the shelters in Kyiv were accessible.
UN human rights monitors said six children were killed and 34 were wounded last month alone.
Since February 2022, at least 525 children have been killed and at least 1,047 have been hurt, according to the UN's Human Rights Monitoring Mission in Ukraine.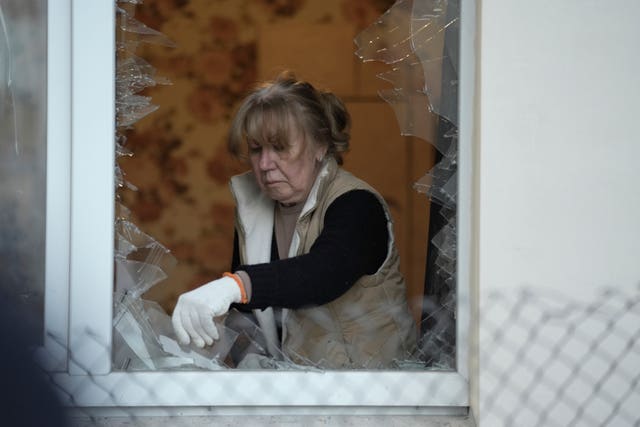 "Sadly, as the world marks International Children's Day, there is little to celebrate in Ukraine where civilians, including children, continue to pay a heavy price" said Matilda Bogner, the mission's chief.
In Moscow, meanwhile, Russian President Vladimir Putin was chairing a meeting with families via video link to mark International Children's Day.
Mr Putin met with families that have many children and vowed to maintain state subsidies and other measures to support them.
When one of the participants in the meeting voiced confidence that Russia would be victorious in what the Kremlin calls the "special military operation" in Ukraine, Mr Putin said it "will be so".
He said: "There is no doubt about it because we are protecting our land, our people and our values."
The Ukrainian Ministry of Defence cited different figures for child casualties in the war, saying at least 484 children have been killed and 992 hurt.
It was not immediately possible to reconcile the differences with the UN figures.
Russia has repeatedly targeted Kyiv with waves of drone and missile attacks since the start of the invasion, but attacks against the capital have significantly intensified over the past month.
While most incoming weapons are shot down, many Kyiv residents are anxious and tired after weeks of sleepless nights listening to the sound of explosions.
Thursday's onslaught also damaged apartment buildings, a medical clinic, a water pipeline and cars.
Earlier, the city government said two children were killed before revising the number to one.
One explosion sent missile fragments ripping through an apartment building in a leafy neighbourhood.
In the morning light, paramedics escorted an elderly woman gingerly away from the building as the bare feet of a person killed in the attack poked out from underneath a plastic tarpaulin in a roped-off area between the trees.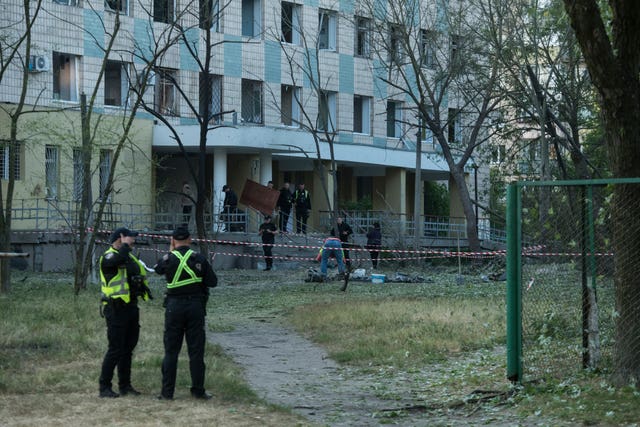 "(At) around 3am there was a strike over there. I woke up and saw the fire. My door was smashed. I woke up my mum and ran to the corridor," said resident Nikita Maslun, peering through a broken window.
"Then we went down and ran outside. We saw people running. Windows were shattered and balconies destroyed."
Ukraine's air defence has become increasingly effective at intercepting Russian drones and missiles but the resulting debris can cause fires and injure people below.
In Desnianskyi district, debris fell on a children's hospital and a nearby multi-storey building.
Two schools and a police station were damaged. In other areas, shockwaves broke windows.
After a woman was killed watching an aerial attack from her balcony earlier this week, Kyiv authorities urged residents to heed warning sirens and stay in shelters or other safe locations.
"You've got to be vigilant, as ballistic missiles fly at incredible speeds. From the moment the alarm is announced to the rocket's arrival, you have only a few seconds!" they warned in a message to residents.
Across Ukraine, the presidential office said on Thursday, a total of seven civilians were killed and 27 injured over the previous 24 hours.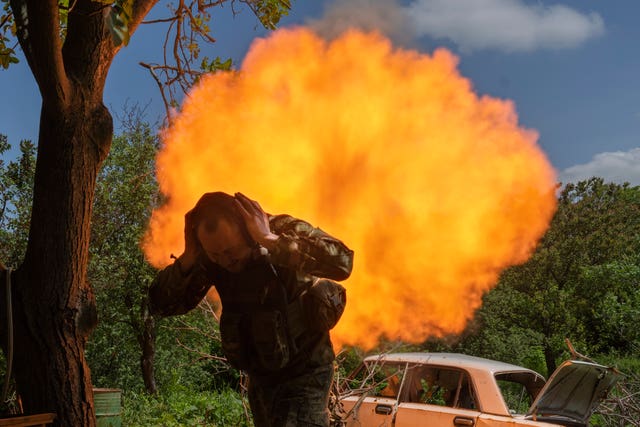 Elsewhere, a group that calls itself the Russian Volunteer Corps and purports to include Russians fighting on the Ukrainian side released a video claiming it was on the border with Russia and about to launch a cross-border raid on the town of Shebekino in the Belgorod region.
A similar group that calls itself the Freedom of Russia Legion also announced a plan to launch a cross-border raid.
Belgorod governor Vyacheslav Gladkov said Ukrainian shelling left eight people wounded overnight but there had been no incursion by enemy forces.
Some Russian media outlets said Ukrainian forces made an attempt to cross the border but were repelled by Russian troops.
The two groups claimed responsibility for a cross-border raid last month.
Some observers saw the raids as part of Ukrainian efforts to probe Russian defences and distract Moscow's military resources ahead of a planned Ukrainian counteroffensive.