US President Joe Biden marked the eighth anniversary of the death of his son Beau by attending a memorial Mass and visiting his grave.
Mr Biden, his wife, Jill, and other family members prayed for Beau Biden during the Mass at St Joseph on the Brandywine, the Roman Catholic church where the president worships during weekends at his home near Wilmington, Delaware.
Afterwards, the family visited Beau Biden's grave in the church cemetery. The first lady carried a bouquet of flowers. The president later travelled to Veterans Memorial Park in New Castle for his annual tradition of paying his respects and laying flowers.
Beau Biden was 46 when he died of brain cancer in 2015. His father was vice president.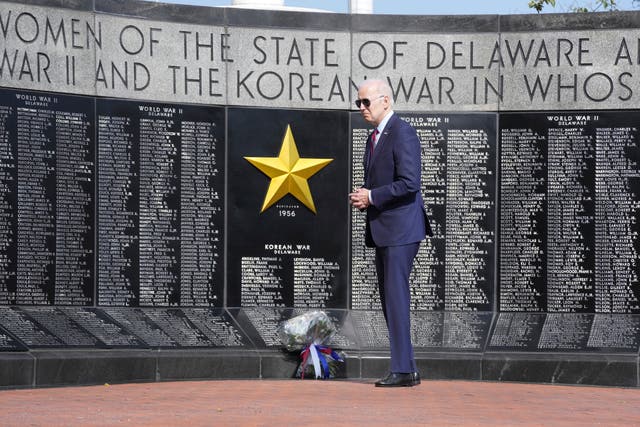 The eldest of Biden's three children, Beau Biden served two terms as Delaware attorney general before declaring a run for governor.
Beau Biden also served in Delaware's Army National Guard, including a deployment to Iraq, where the president says he was exposed to toxic gases from pits where the military burned waste. Mr Biden has linked his son's cancer to his exposure to burn pits.
Beau Biden was the son of Joe Biden and his late first wife, Neilia, who was killed in a 1972 car crash that gravely injured Beau and younger brother Hunter and killed their baby sister.
Beau Biden's daughter, Natalie, graduated from high school on Sunday, with her grandparents in the audience.
While Tuesday's remembrance of Beau Biden was private, the president publicly mourned his son on Monday during a Memorial Day address at Arlington National Cemetery in Arlington, Virginia, just outside Washington.
He told the audience that Tuesday "marks eight years since we lost our son Beau."
"As it is for so many of you, the pain of his loss is with us every day, but particularly sharp on Memorial Day. It's still clear," Mr Biden said on Monday. "Tomorrow is his anniversary. But so is the pride Jill and I feel in his service, as if I can still hear him saying, 'Dad, it's my duty. It's my duty.' Duty."