Global stocks sink after Credit Suisse takeover
Swiss authorities announced UBS would acquire its smaller rival as regulators try to ease fears about banks following the collapse of two US lenders.
Global stock markets sank on Monday after Swiss authorities arranged the takeover of troubled Credit Suisse amid fears of a global banking crisis ahead of a Federal Reserve meeting to decide on more possible interest rate rises.
Hong Kong's main index slid more than 3%, market benchmarks in Frankfurt and Paris opened down more than 1%, and Shanghai, Tokyo and Sydney also declined.
Wall Street futures were off 1% and oil prices plunged more than 2 US dollars per barrel.
Swiss authorities announced on Sunday that UBS would acquire its smaller rival as regulators try to ease fears about banks following the collapse of two US lenders.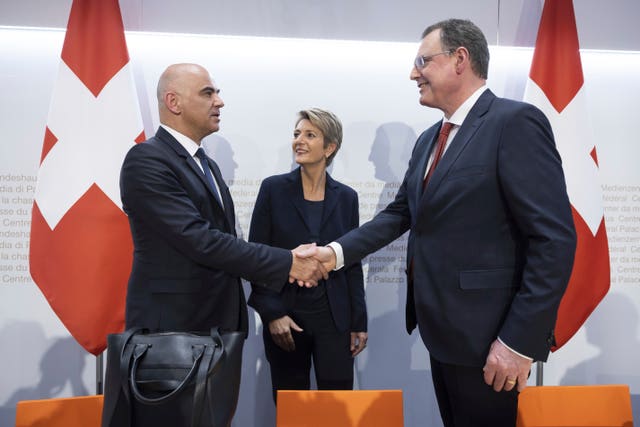 Central banks announced co-ordinated efforts to stabilise lenders, including a facility to borrow US dollars if necessary.
Investors fear banks are cracking under the strain of unexpectedly fast, large rate increases over the past year to cool economic activity and inflation.
Prices of bonds and other assets on their books fell, fuelling unease about the industry's financial health.
Stephen Innes, of SPI Asset Management, said in a report: "Investors are waiting to see where the dust settles on the banking saga before making any bold moves."
Frankfurt's DAX fell 1.3% to 14,768.20 and the CAC 40 in Paris lost 1.4% to 6,925.40.
On Wall Street, the future for the benchmark S&P 500 index was off 1%. That for the Dow Jones Industrial Average was down 1.2%.
On Friday, the S&P 500 lost 1.1%, the Dow fell 1.2% and the Nasdaq composite lost 0.7%.
In Asia, the Hang Seng in Hong Kong tumbled 3.3% to 18,879.20 and the Nikkei 225 in Tokyo shed 1.4% to 26,945.67.
The Shanghai Composite Index lost 0.5% to 3,234.91.
On Friday, the Chinese central bank freed up more money for lending by reducing the amount of their deposits commercial lenders are required to hold in reserve.
The Kospi in Seoul retreated 0.7% to 2,379.20 and Sydney's S&P-ASX 200 lost 1.4% to 6,898.50.
India's Sensex lost 1.4% to 57,177.69. New Zealand and South-East Asian markets also declined.
The Swiss government said UBS will acquire Credit Suisse for almost 3.25 billion US dollars (£2.67 billion) after a plan for the troubled lender to borrow as much as 54 billion dollars (£44 billion) from Switzerland's central bank failed to reassure investors and customers.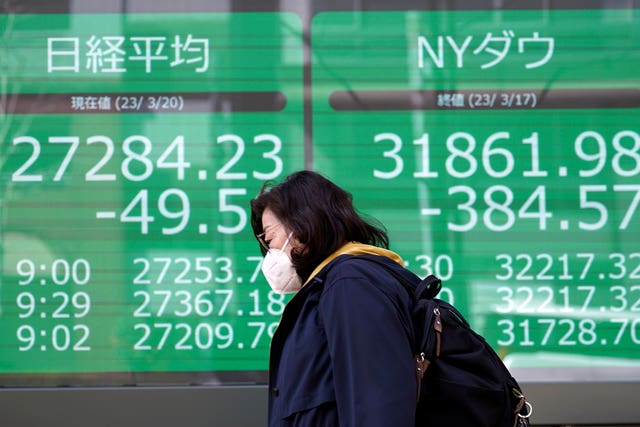 US regulators have also tried to calm fears over threats to banking systems. The Federal Reserve said cash-short banks had borrowed about 300 billion dollars (£246 billion) in the week up to Thursday.
Separately, New York Community Bank agreed to buy part of failed Signature Bank in a 2.7 billion-dollar (£2.2 billion) deal, the Federal Deposit Insurance Corp said on Sunday.
The FDIC said 60 billion dollars (£49 billion) of Signature Bank's loans will remain in receivership and are expected to be sold off in time.
Investors are concerned about other lenders with shaky finances. Credit Suisse is among 30 institutions known as globally systemically important banks.
Traders expect last week's turmoil to push the Fed to limit a rate rise at this week's meeting to 0.25 percentage points. That would be the same as the previous increase and half the margin traders expected earlier.
A survey released on Friday by the University of Michigan showed inflation expectations among American consumers are falling. That matters to the Fed, which has said such expectations can feed into virtuous and vicious cycles.
In energy markets, benchmark US crude plunged 2.11 dollars to 64.63 dollars per barrel in electronic trading on the New York Mercantile Exchange. The contract fell 1.61 dollars on Friday to 66.74 dollars.
Brent crude, the price basis for international oil, lost 2.29 dollars to 70.68 dollars per barrel in London. It retreated 1.73 dollars in he previous session to 72.97 dollars.
The dollar declined to 131.17 yen from Friday's 131.67 yen. The euro retreated to 1.0646 dollars from 1.0681 dollars.