The George Cross is being put on public display in Belfast to recognise the contribution of all health service staff, past and present.
The award was presented to the four National Health Services of the UK at a ceremony at Windsor Castle in July last year.
The Cross will be on display in the Ulster Museum after it was officially handed over to National Museums NI by the Department of Health.
Peter May, permanent secretary, said: "The award of the George Cross is a well-deserved recognition for the courage and sacrifice of everyone who works in health and social care, and I am delighted that it will now be on display here in Northern Ireland for people to come and see.
"The medal is for everyone working across Northern Ireland's health and social care system at all levels. We will be forever indebted to them, for their commitment and expertise."
Sister Joanna Hogg is the lead nurse for trauma and orthopaedics with the Belfast Trust, and was the first person in Northern Ireland to receive the Covid-19 vaccine.
Ms Hogg said: "It was a wonderful opportunity to accept the George Cross medal on behalf of all of health and social care in Northern Ireland, and to recognise the incredible dedication of all our colleagues within health and social care."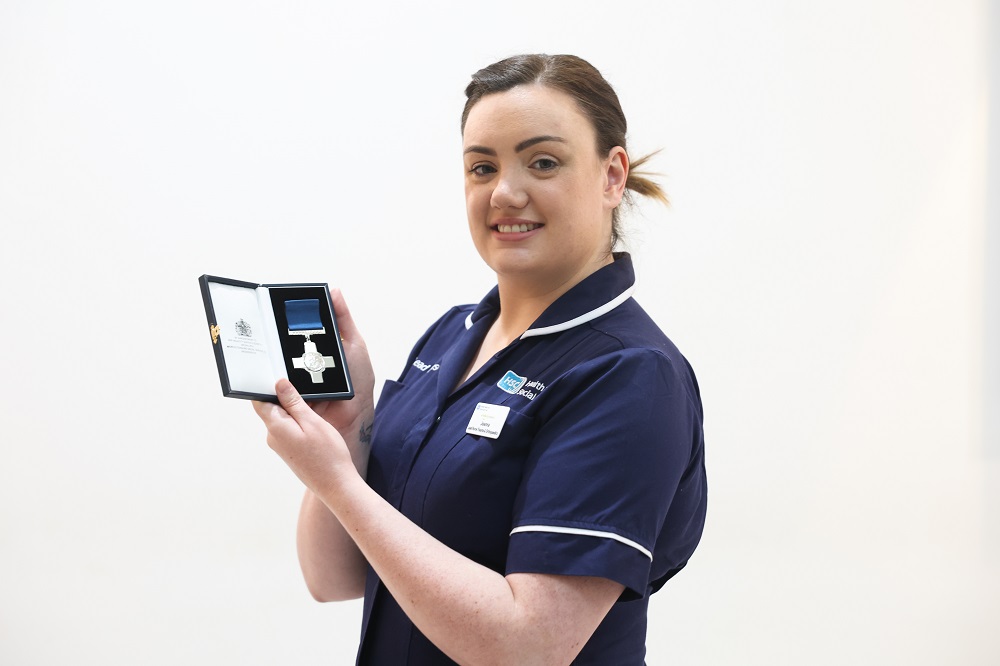 Kathryn Thomson, chief executive of National Museums NI, said: "We are delighted to accept this significant addition to the national collection due to the rarity and prestige associated with the George Cross medal.
"It recognises the significant contribution the NHS has made, particularly during the pandemic, and we welcome visitors to the Ulster Museum to come and see it for themselves."
The medal will be displayed in the Pandemics Past and Present exhibition at the Ulster Museum. Entry is free.