Irish actor Barry Keoghan has promised to drop in to his old school in Dublin after winning a Bafta film award.
The Banshees Of Inisherin star, 30, dedicated his best supporting actor prize to Ireland and "the kids that are dreaming to be something from the area I come from", as he was given the award at the ceremony in London on Sunday night.
On Monday, Conor Flood, his former teacher at O'Connell Secondary School, told Irish national broadcaster RTE News: "An individual like Barry, they have something in them that the school is not responsible for, can only maybe nurture, but there is great pride.
"Every time I see him on television it is just slightly surreal but really enjoyable.
"What he's doing and what he's done for himself and for his family and for the local area is immeasurable."
Keoghan wrote on Twitter thanking the teachers and pupils who had commented on his success: "This is beautiful THANK YOU lads for getting on national tv and saying those lovely things.
"I will drop in as soon as I am back to have a big aul (old) chat Mr. Flood and @coolyer (another teacher) il (sic) drop over to the primary too."
Keoghan, whose mother struggled with drug addiction and died when he was a child, grew up in foster care along with his brother.
Pupils at the north Dublin school also spoke to RTE about how they had been inspired by his win.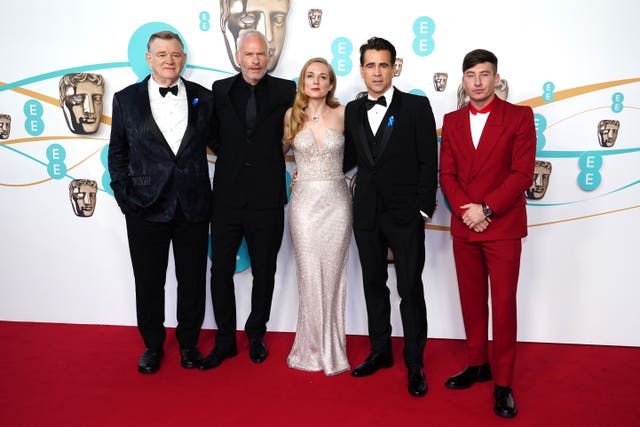 Darragh Flynn Kenny, who attends O'Connell Secondary, said of Keoghan: "He's just a normal young fella from around the area, and just to be able to say he comes from the same place as me, he did the same things as me growing up, and he is where he is.
"Even if it's acting or football, or whatever, it's like it gives you that bit of drive to push on say. He did it so it's achievable."
Fellow pupil Tadgh O'Driscoll said: "He's an inspiration to everyone in the school and an inspiration to everyone around the north inner city.
"He's come from such a hard, tough background and really made something of himself. It just goes to show anyone from any area, it doesn't matter what colour, race, anything you are.
"You can do what you want if you really believe in it."
Keoghan's co-star Kerry Condon also won the best supporting actress gong for her role in The Banshees Of Inisherin while director Martin McDonagh accepted the awards for outstanding British film and original screenplay at the Royal Festival Hall in London on Sunday.
However, Keoghan's co-stars Colin Farrell and Brendan Gleeson, missed out on Baftas after being nominated as best actor and best supporting actor, respectively.