First Drive: Ferrari's Roma Spider brings drop-top drama to this striking model
Does the Spider interrupt the regular Roma's drop-dead gorgeous looks and polished drive? Jack Evans finds out.
What is it?
>
It's a pretty big ask to take one of the prettiest cars ever made and take the roof off. But that's just the case with the new Roma Spider – a drop-version of one of Ferrari's most head-turning cars to date. As with most convertibles, the recipe is simple; add that wind-in-your-hair experience while aiming to maintain the same driving experience as the hard-top version.
In true Ferrari style, there have been no half-measures with the Roma Spider. It's been strengthened, while some clever new features have been included inside to keep things sharp. Ferrari has also added a range of new driver assistance features to the Spider, too.
What's new?
>
Roof-aside, the same Roma experience is being delivered here in the Spider. We've got a big engine up front, drive to the rear and a high-quality interior inside. The Spider is seen as a 2+, which means that though there are rear seats, they're really only ideal for children or as additional storage space.
Ferrari has also patented a whole new type of wind diffuser for the Roma Spider. Rather than being fixed, it folds out from the rear backrests at the press of a button with the aim of removing the amount of wind turbulence you get inside the cabin. It's a really neat feature and one which seems almost too simple to work – but more on that later.
What's under the bonnet?
>
The Roma Spider adopts, funnily enough, a similar engine setup to the 'standard' Roma. It's got a 3.9-litre twin-turbocharged V8 engine under the nose developing 612bhp which is sent to the rear wheels alone via an eight-speed automatic transmission. Ferrari says that it'll power the Roma Spider to 60mph in 3.2 seconds before heading onwards to a 199mph top speed.
The whole car is only ever-so-slightly heavier than the standard Roma, too, with the bulk of this weight coming from the electric roof. And speaking of that component, it can be raised or lowered in 13.5 seconds at speeds of up to 37mph.
What's it like to drive?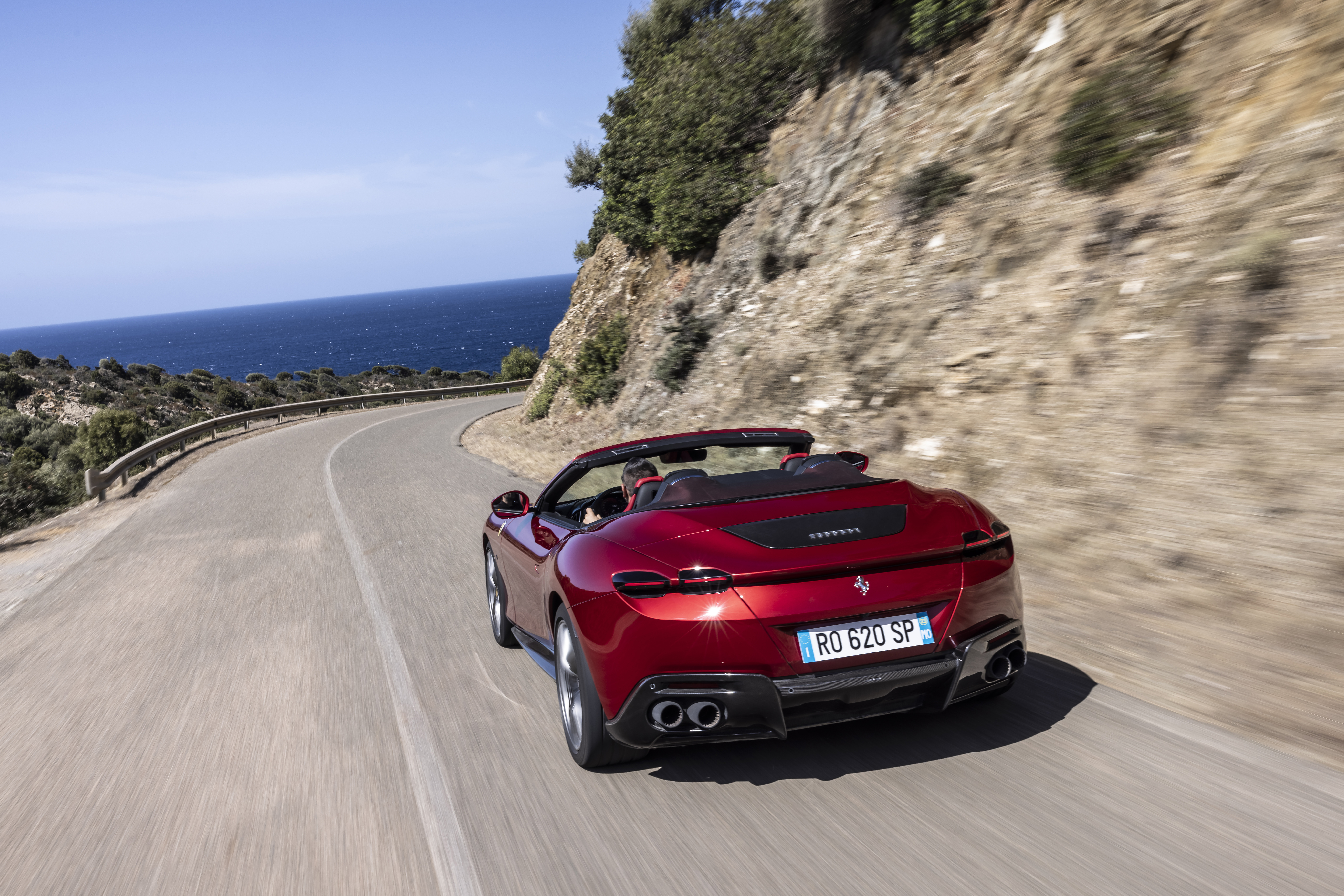 >
A convertible often takes a softer take on driving than a coupe and while the Spider might not be quite as sharp-edged as the Coupe, it's more than enough to make things exciting. The steering, as it is on all Ferraris, is expertly judged and its quickness also makes the whole car feel agile and alert. The engine has got great reserves of power, too, while the gearbox has nice sharp changes – though in fully automatic mode it can be a little over-eager to change into higher gears.
The Spider does suffer from a slightly less composed ride than the Coupe version, but it remains remarkably well-mannered at lower speeds. With the roof raised, it's actually surprisingly quiet with only a small amount of wind noise generated by the wing mirrors. Pop the roof down and that diffuser does a great job of making the interior far less breezy – it's very impressive at greater speeds.
How does it look?
>
As we've already touched upon, even the hardest Ferrari sceptic would agree that the Roma is one good-looking car. With more than a hint of Ferrari models of old, it's a car which manages to turn heads wherever it goes – despite acting as the gateway to the Ferrari range.
Maintaining the Roma's classic silhouette must've been tricky in the adaption to the Spider. However, Ferrari's designers said that they aimed to recreate the shape of the metal roof in fabric with the five-layer top being a favoured approach instead of a metal folding hard-top which would've made the Roma bulkier
What's it like inside?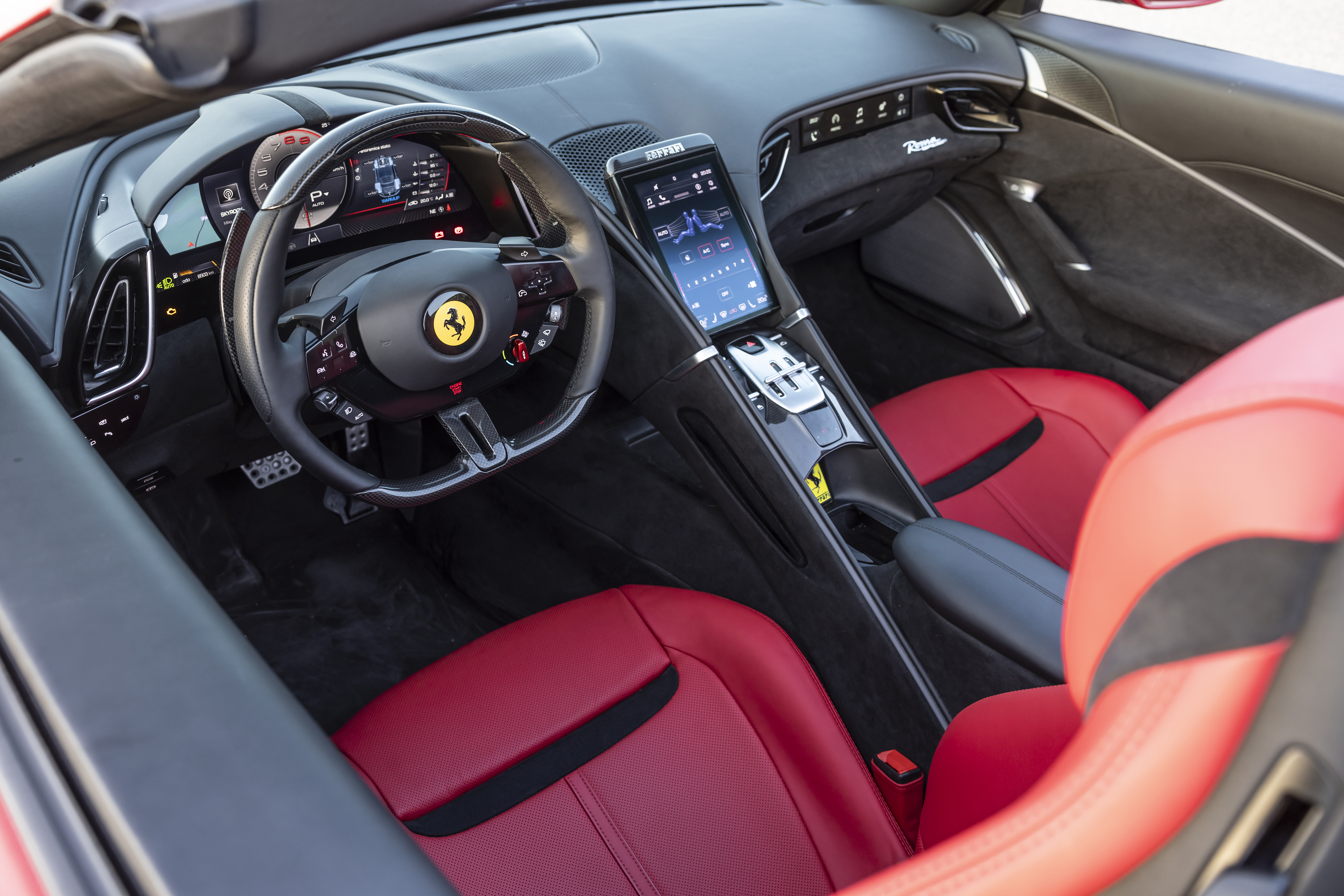 >
The interior of the Roma is a mixture of high-end screens and classically luxurious materials. The seating position for the driver is nice and low and has plenty of adjustment to it, while both forward chairs include warming vents underneath the headrests to make things more comfortable when the temperature falls.
It would be nice to have even just one more cupholder – there's only a single one – as during hotter days it's likely that you're going to want to take more water with you than just one bottle would hold. The steering wheel controls remain, just as they do on the standard Roma, a little counterintuitive and they can sometimes be accidentally activated when you're turning the wheel. Regular buttons would be a better choice.
However, Ferrari has also added a quick-touch button for the adaptive features, so you can easily switch these elements – such as lane keep assist – off with a simple press. It'd be nice if it was this easy on all cars.
What's the spec like?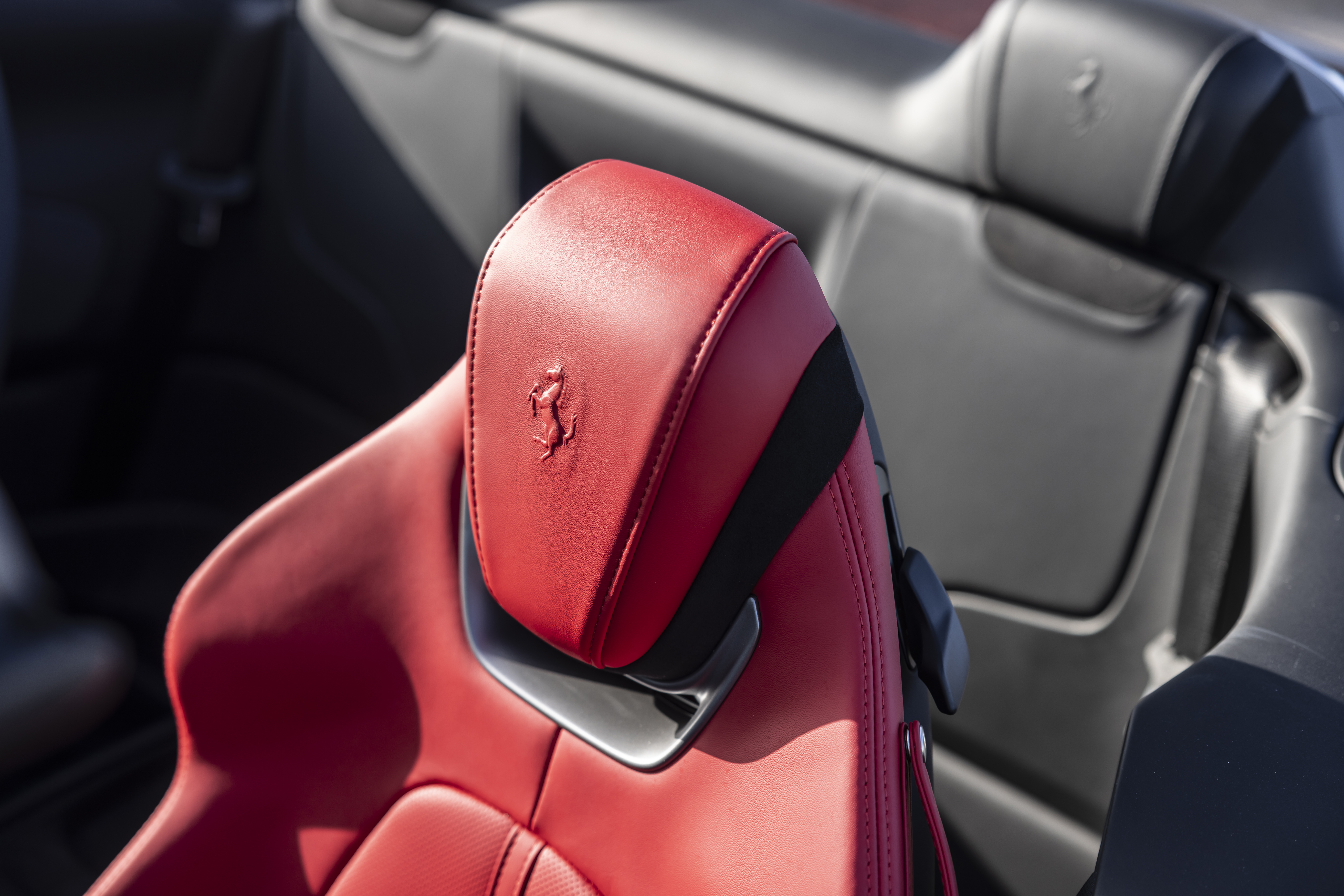 >
Prices for the Spider Roma kick off from £210,313, which includes a comprehensive list of standard equipment. Highlights include Ferrari's F1 traction control system and launch control system as well as the slide slip angle control which helps to make the Roma even more agile in the bends. When it comes to technology, the Roma uses an 8.4-inch portrait-orientated screen, which is packed with features and mirrors your smartphone easily via Apple CarPlay or Android Auto.
As with all Ferrari models, running away with options could quickly hike the Roma Spider's price skywards. A Ferrari-branded car cover? That'll be £3,595. Matching two-piece travel luggage? £4,828. Fortunately, the Roma Spider feels more than worth its entry price without the need for any add-ons.
Verdict
The Spider feels like a natural fit for the Roma bodystyle. This isn't a more performance-focused model like the 296 GTS, nor an out-and-out hypercar like the SF90 Spider. It's a Ferrari to be enjoyed at an easier pace, though it'll still gladly dispatch a twisting section of road in no time at all.
This isn't a regular car which has just had its roof hacked off, it's been well-designed to offer the same experience as the hard-top Roma. Add in some clever new innovations like the fold-down diffuser and you have a convertible that will add excitement and drama to any drive.