UK Drive: The Nissan Juke Hybrid adds electrification to this popular crossover
Nissan is bolstering its line-up with a new hybrid version of the Juke. Ted Welford finds out what it's like.
What is it?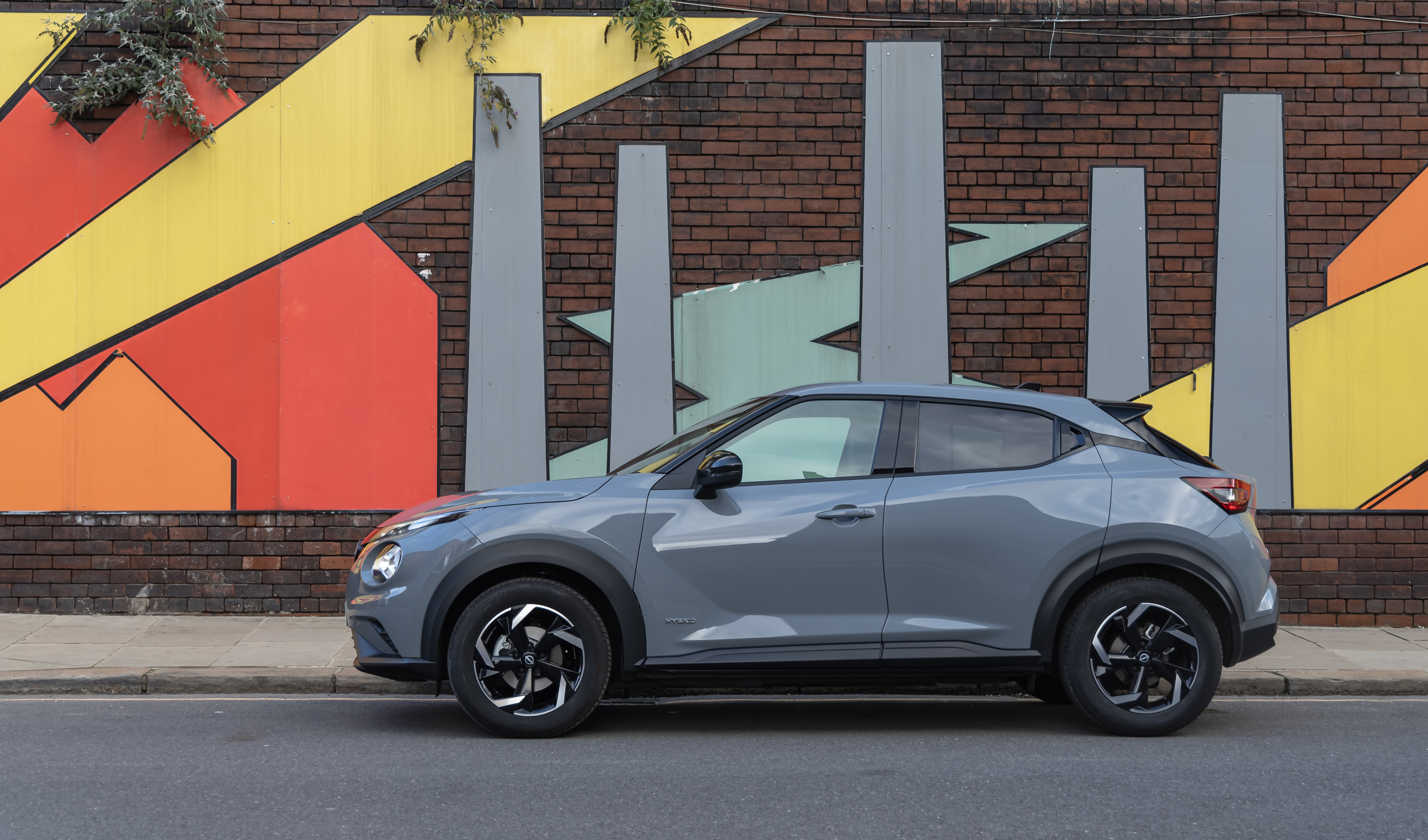 Like it or loathe it, you can't argue that the Nissan Juke wasn't a true trendsetter. Following on from its larger Qashqai sibling, the Juke arrived in 2010 to invent the compact crossover segment. At launch, it didn't really have any rivals, but today there are more than 20 competitors.
The latest Juke arrived in 2019, being bigger, bolder and more advanced than its predecessor. Even with more competition, sales of the Sunderland-built crossover remain strong. With almost all of Nissan's car line-up featuring some element of electrification, the Juke is the last to join in, with a new hybrid version available, but what's it like?
What's new?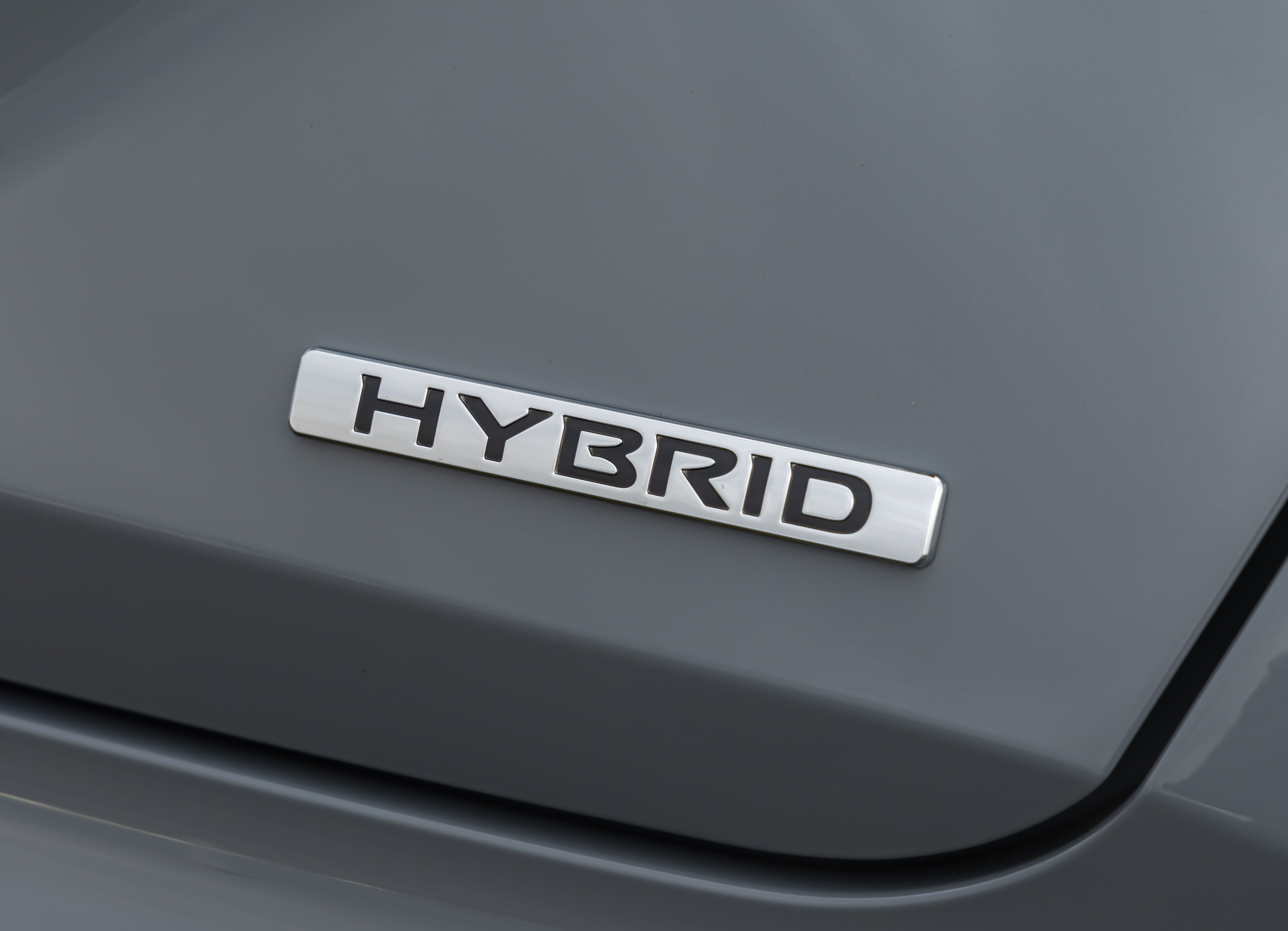 While Nissan has a bespoke e-Power hybrid system, for the Juke it's decided to borrow the setup from Renault – it's a powertrain already found in models like the Clio and Captur, for example.
We'll explore more about it later, but Nissan has also made small styling changes to separate this hybrid Juke from the regular 1.0-litre turbocharged petrol model, which remains available. These include a new grille, badging and also the integration of Nissan's new logo.
What's under the bonnet?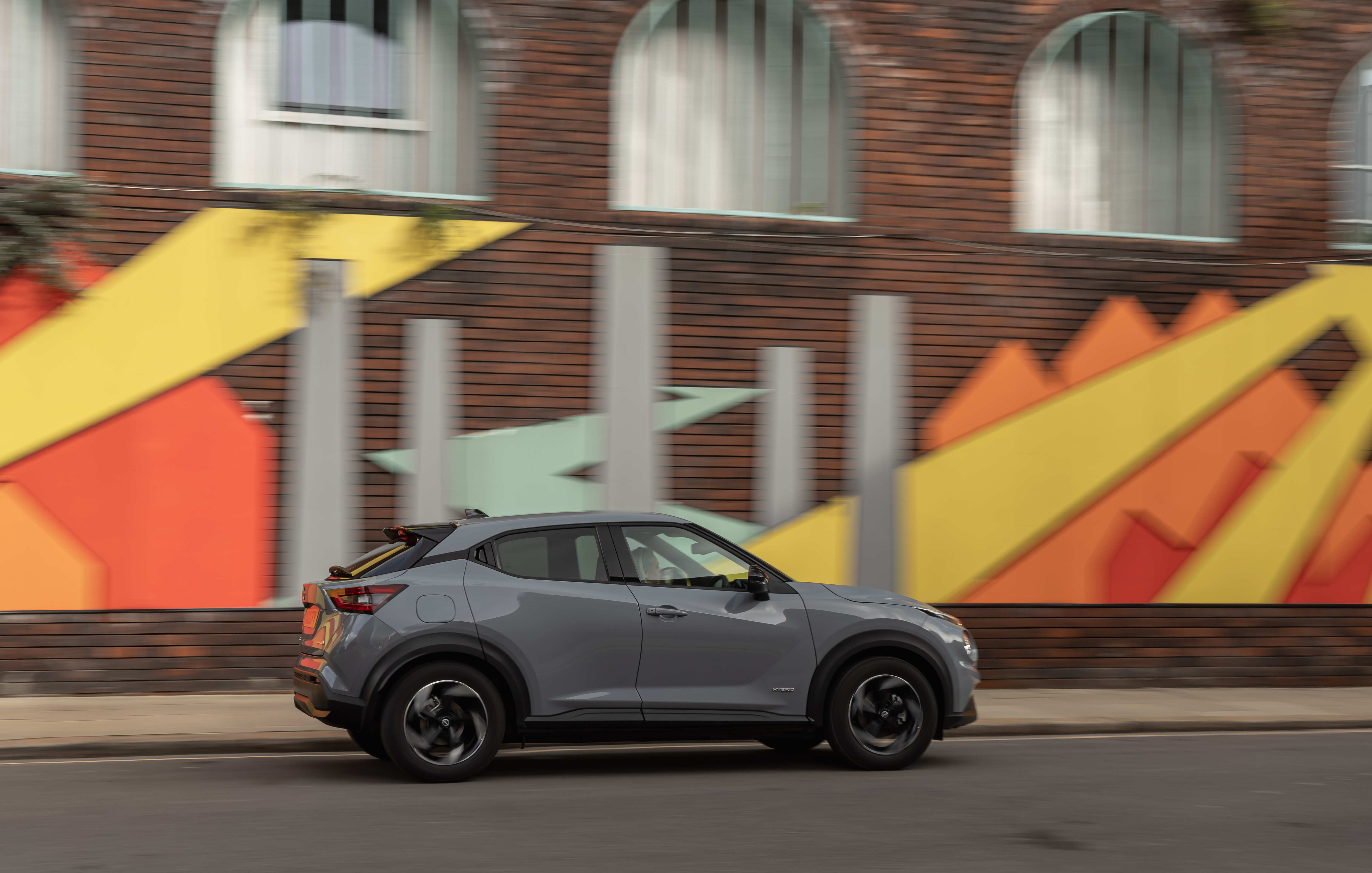 As we've mentioned, the Juke features a similar setup to that found in various Renaults – pairing a 1.6-litre petrol engine with twin electric motors and a small 1.2kWh battery. This is a hybrid you don't have to plug in.
The combined output is 141bhp, which allows you to accelerate from 0-60mph in a fraction under 10 seconds and on to a top speed of 103mph. The drive is sent to the front wheels, with a complex multi-mode automatic gearbox being used.
Nissan also claims a 25 per cent reduction in fuel consumption compared to the petrol Juke – with figures of 56.6mpg and 114g/km CO2 emissions. Toyota's Yaris Cross performs better in this area though.
What's it like to drive?
The Juke always starts up as an EV at slower speeds and around town, it's able to pootle about happily and quietly as an electric car. Ask a bit more from it, however, and the coarse engine quite literally roars into life. During harsher acceleration, the noise really is quite unpleasant, not helped by an indecisive gearbox that almost seems to have a mind of its own.
Powertrain aside, the Juke drives quite well, though. Despite the rakish styling, visibility is good, and we were surprised by how well the car rode, even on large 19-inch alloy wheels. Our top-spec Tekna car was also equipped with Nissan's ProPilot driver assistance, bringing features such as adaptive cruise control and blind spot monitoring, and is a big advantage.
How does it look?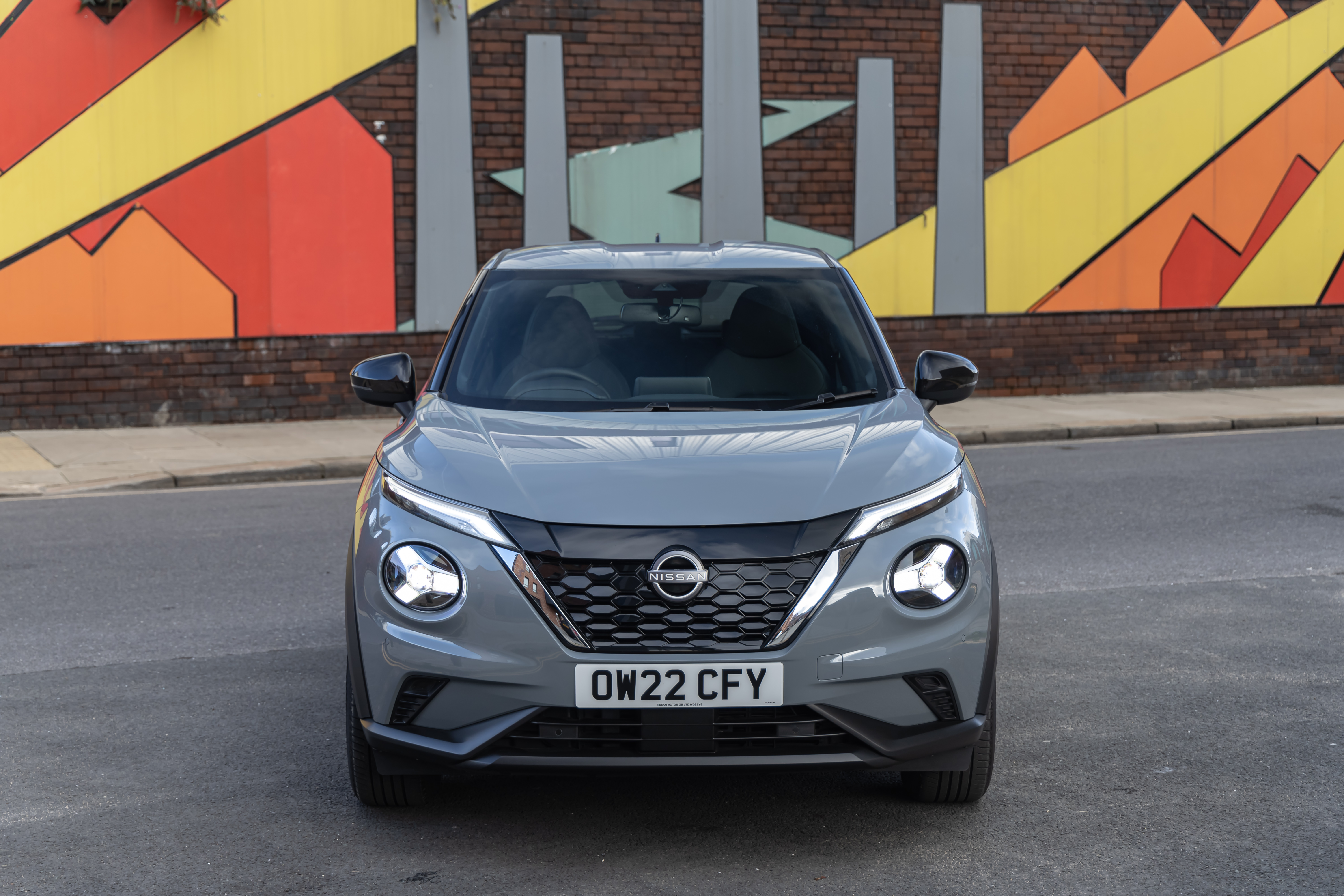 The first Juke really divided opinion, and continues to do so. This second model is not as controversial, but with big round headlights and a sloping roofline, clearly carries through the Juke lineage.
To our eyes at least, it's quite a smart car to look at, with an almost coupe-like profile, while wide arches give the Juke plenty of stance out on the road. The more pronounced grille on this hybrid model helps to inject additional appeal to it too.
What's it like inside?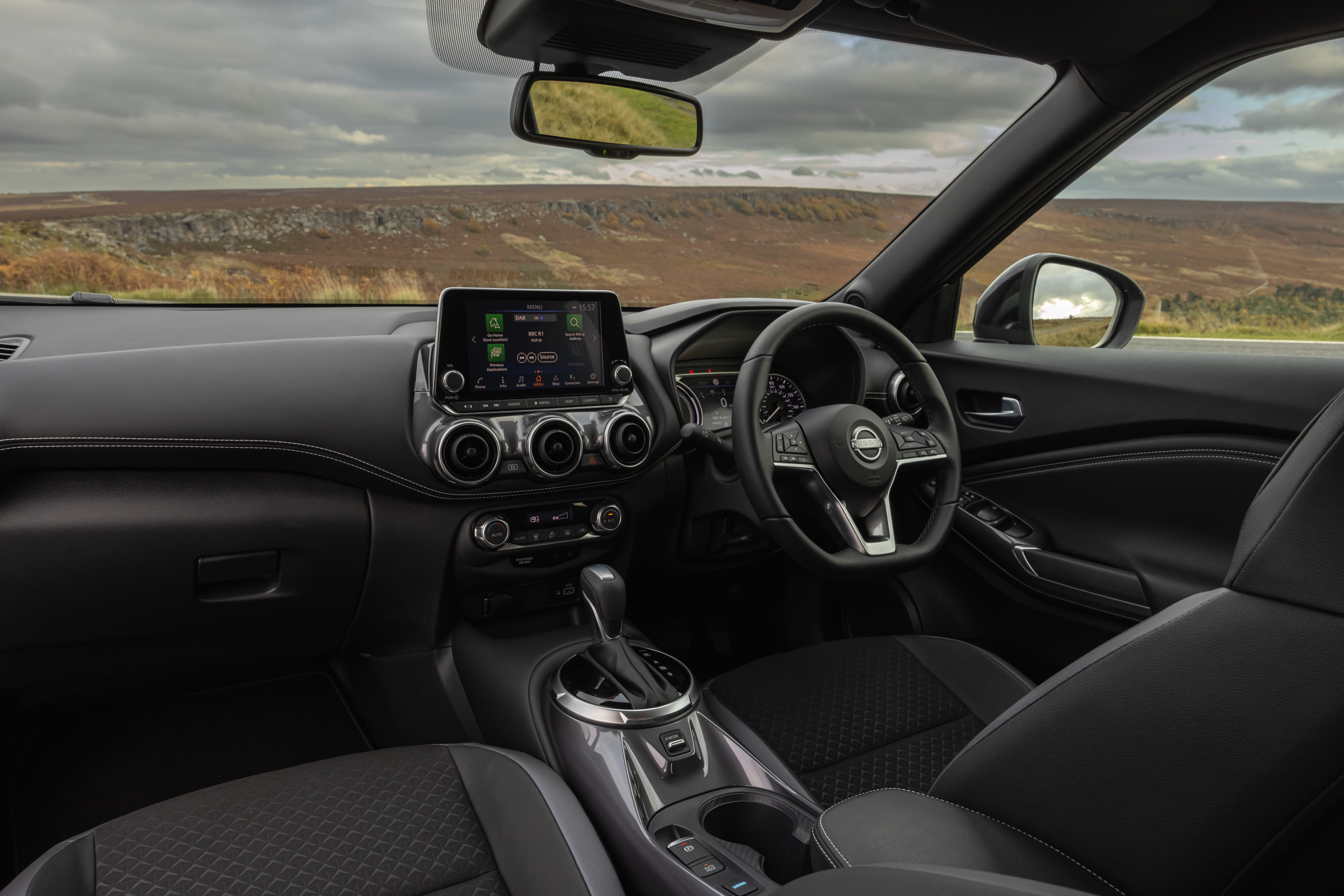 It's amazing how quickly interiors have moved on in recent years. At launch in 2019, there was little wrong with the Juke's cabin, but four years later it's now looking quite dated. The main touchscreen looks small and has poor graphics – it looks and feels like a cheap tablet you'd buy from Amazon for your kids as you're worried they'll break an iPad.
While this Tekna+ model gets lashings of Alcantara to help lift the interior, it struggles to hide the many black plastics that cheapen this interior. An interior overhaul is certainly overdue.
The Juke is fairly average by class standards when it comes to roominess as well, with about enough space in the rear seats for adults, though the small windows can make it seem claustrophobic.
What's the spec like?
If you want a hybrid Juke, you'll have to skip the entry-level Visia and Acenta models available on the standard car, with the range beginning with the N-Connecta.
There's plenty of standard equipment though, such as keyless entry, automatic climate control, a reversing camera and a digital instrument cluster. Tekna brings the big 19-inch alloy wheels, heated front seats, a 360-degree camera and a Bose sound system, while the top-spec Tekna+ brings extra style courtesy of specific alloy wheels and further interior and exterior personalisation.
Prices for the Juke hybrid kick off from £28,210, and rise to £31,110 for the top-spec Tekna+. It works out about £2,000 more expensive than a like-for-like petrol Juke equipped with an automatic gearbox.
Verdict
The addition of this hybrid powertrain without doubt adds to the Juke's appeal, especially from an efficiency point of view. But while Nissan might have established the compact crossover segment, this latest version struggles to keep pace with rivals.
Lacking the refinement, interior quality and spaciousness that you get from other rivals in this class, we reckon you're better off looking at rivals like the Ford Puma and Toyota Yaris Cross.