What is it?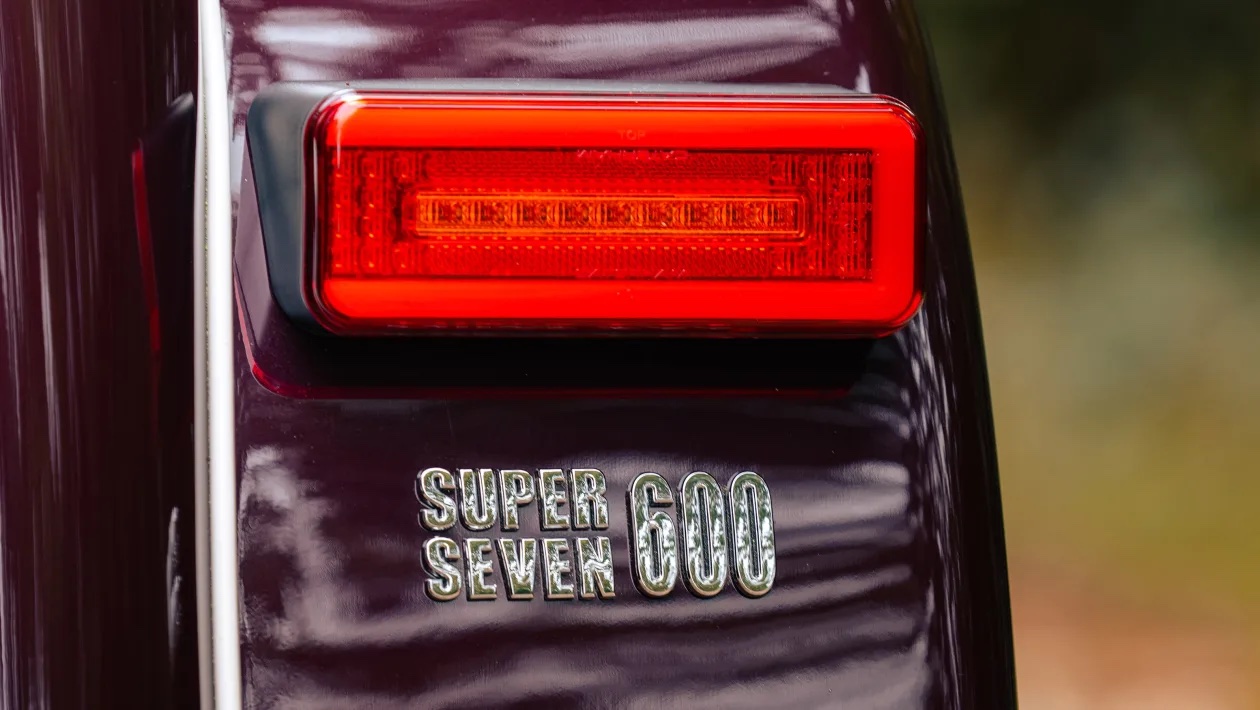 >
How does a company as rooted in tradition as Caterham keep things fresh and new while also ensuring that the spirit of the past is never lost? Well, it makes cars like the Super Seven 600 – that's how. It's a car that aims to blend yesteryear's driving experience with a slightly more modern and frugal powertrain tied together with some of Caterham's now legendary attention to detail.
But can this turbocharged Seven fit the bill and is it still a Caterham worth considering? We've been checking it out.
What's new?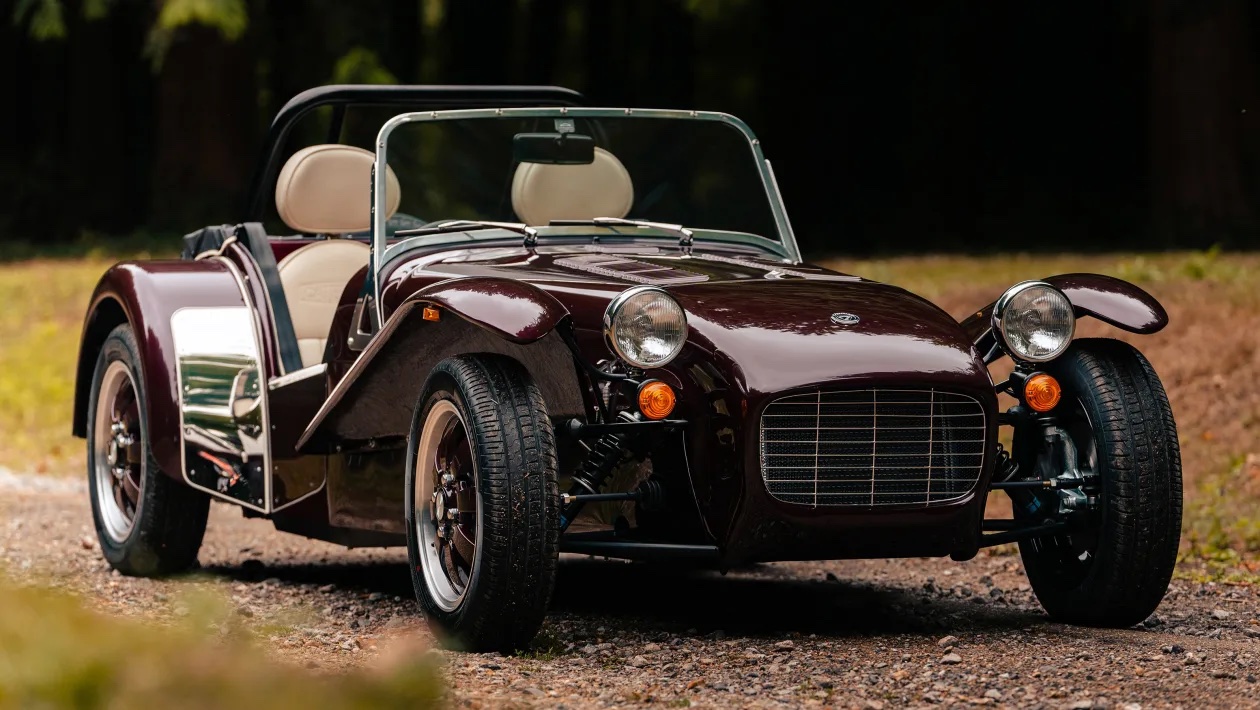 >
In what way is this Super Seven more 'Super' than the rest of the range? Well, largely we've got a similar setup mechanically – there's an engine up front, a compact body in the middle and power to the rear wheels. It's a classic Seven recipe and one that has worked for decades. The Super Seven is designed to hark back to the Caterham models of the 1960s and 70s, too, which is why you'll notice the overly-flared wings and chrome touches a plenty.
The modern bit? That's the engine. Plus, if you're after a slightly more corner-hungry Super Seven then there's the option to add a limited-slip differential, plus there are loads of personalisation tweaks and changes to make should you want to.
What's under the bonnet?
Right, to the bit under the bonnet then. The 600 uses a dinky 660cc turbocharged petrol engine sourced straight from Suzuki. It produces a rather conservative 84bhp, which is sent to the rear wheels through a five-speed manual gearbox. Caterham says it's enough to push the Super Seven from 0-60mph in 6.9 seconds, so it's still more than quick to keep the latest crop of hot hatches.
It's worth mentioning too that the Super Seven 600 is only available in standard chassis sizes. If you're a little taller, then it may be worth opting for the Super Seven 2000 which, alongside its more powerful 2.0-litre engine, can be specified in a larger chassis size, making it roomier than the 'standard' version.
What's it like to drive?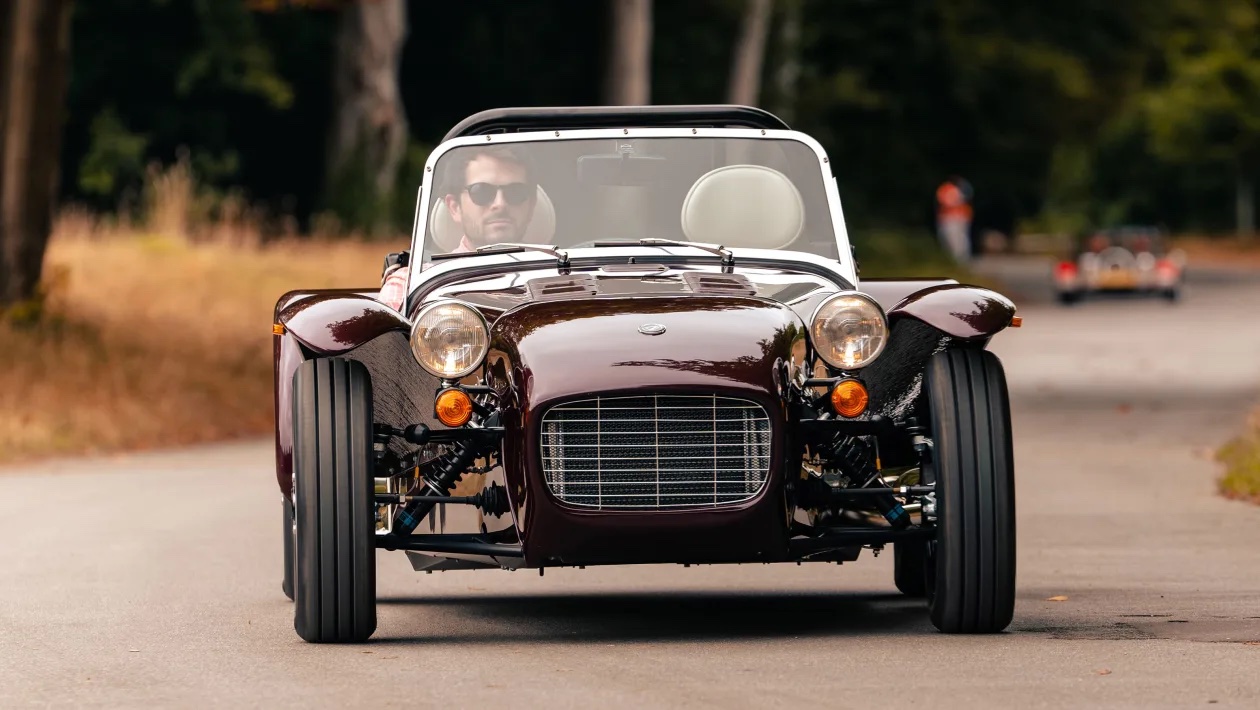 >
Much the same as other Caterham models, even the process of driving away for the first time is a real experience in the Super Seven 600. However, once you're up and running it's a distinctly different way of getting about to the rest of the range. For one, the turbocharged engine isn't as happy to rev out as the naturally-aspirated units you'll find in other Caterhams so, initially at least, it's quite easy to hit the limiter.
But that doesn't mean it's not fun. The Super Seven 600 brings 170bhp-per-tonne, so it still feels incredibly lively while the chirps and whistles that you get from the engine's turbocharger provide a character all of their own. It's a very involving drive, too, with the unassisted steering bringing a great level of connection to the tiny 14-inch wheels up front.
How does it look?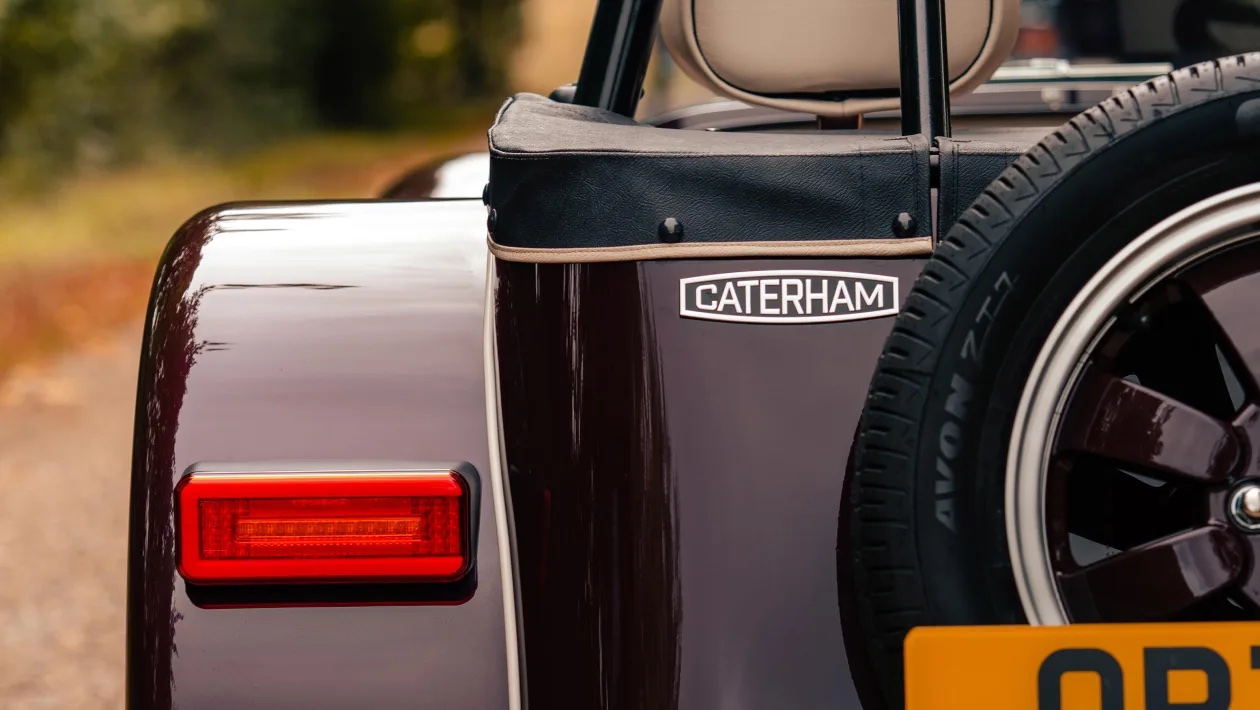 >
It's safe to say that Caterham has carved out a design language entirely of its own. Even today, decades after the original Seven appeared, there is still nothing which looks like it on the road. That's great if you want to stand out from the crowd because the Seven is still a real head-turner.
The Super Seven 600 takes things back to the old school with those aforementioned flared arches while a new range of heritage colours – including Bourbon and Windsor Blue – play up to that yesteryear aesthetic.
What's it like inside?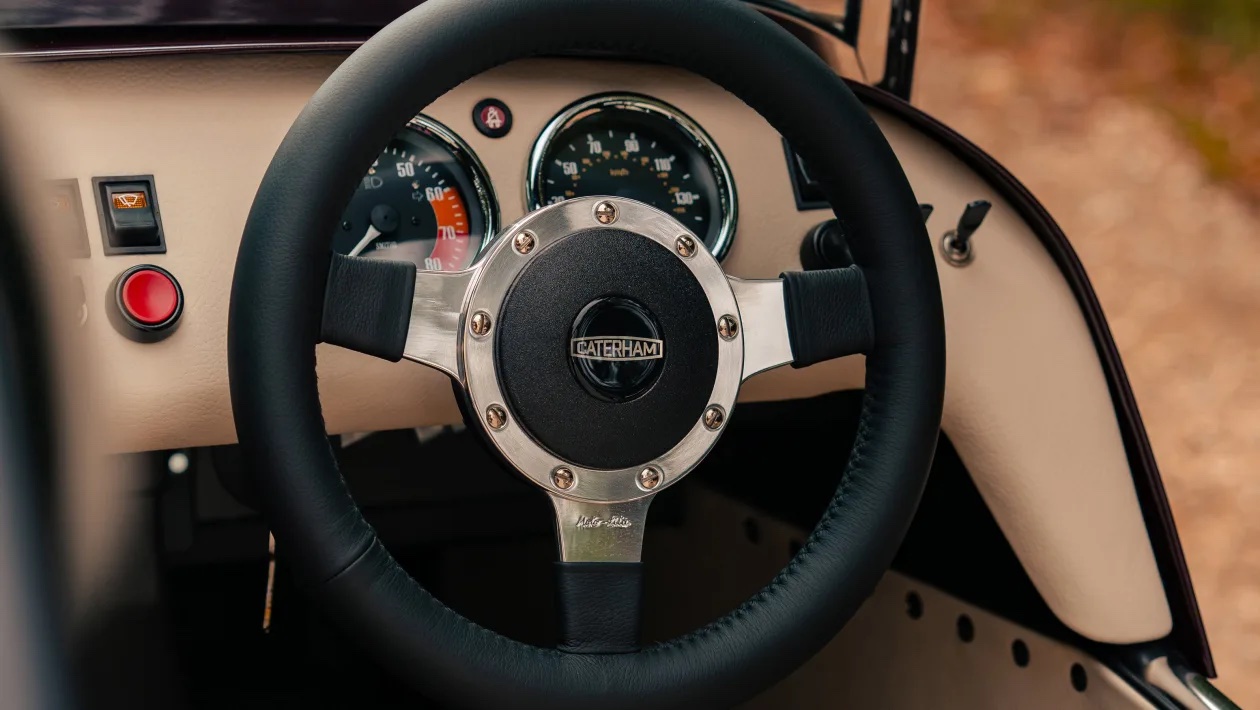 >
The Seven is all about driving, which is why its cabin is centred around the joy of getting from A to B. You won't find any infotainment screens, digital dashboards or head-up displays, with toggle switches and clear and easy-to-rear Smiths dials in their place instead. The seating position is right on the floor, too, while the pedal box is very small – people with larger feet might struggle to get their feet on the pedals at all, in fact.
It feels snug once you're in, but there's also a small 'boot' section behind the seats which is large enough for a soft weekend bag. It's also the place you'll store the hood when it's not in use. As with all Caterhams, the Super Seven is best experienced with the roof down; the button-attached hood is noisy and pretty draughty when attached.
What's the spec like?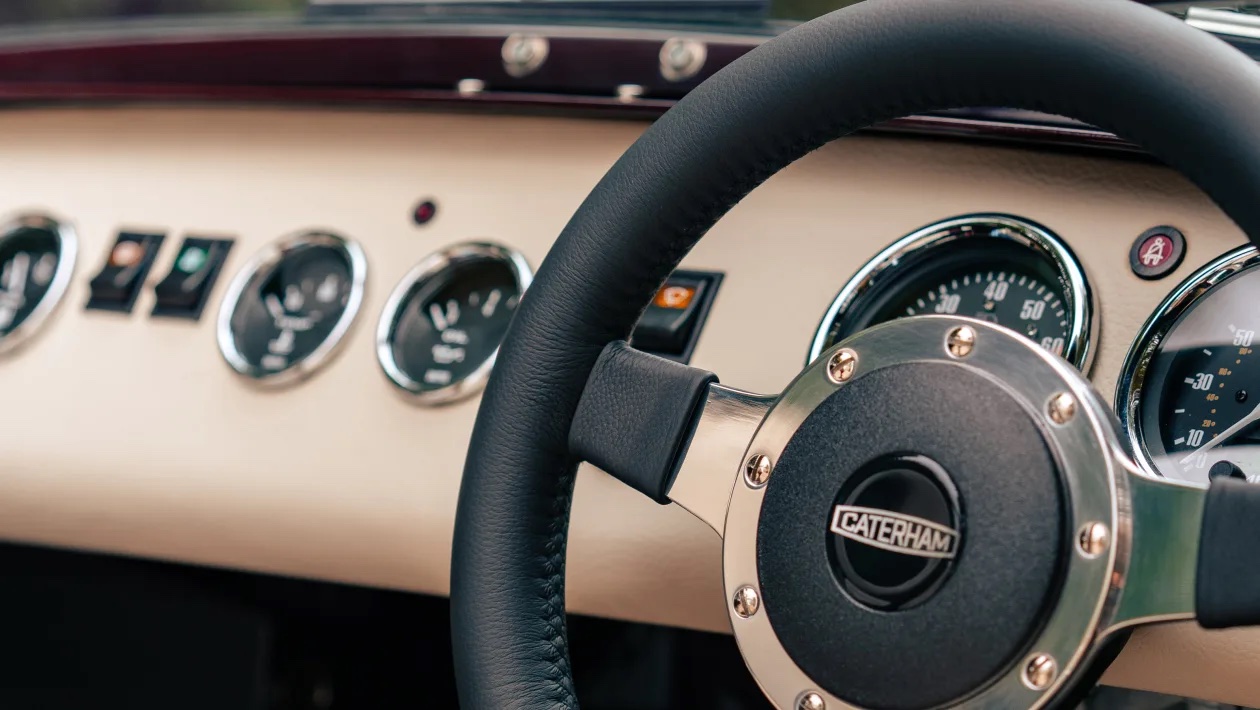 >
As we've already touched upon, the cabin of the Caterham Seven isn't the most high-tech of places, but nor is it designed to be. However, there are plenty of features which elevate the experience including a lovely Moto-Lita steering wheel, a polished exhaust and LED rear lights which make the Super Seven far more visible at night than the older bulb-style units.
Prices for the Super Seven 600 start from £29,990 – in build-it-yourself-at-home kit form – which does make it quite a significant purchase. However, the new Suzuki engine does make this car much more frugal and cheaper to run than others in the range.