Life on two wheels is all about adventure. I passed my test last year and, since then, I've found motorcycling to be a whole new lease of life with the sense of exploration that it brings surpassing pretty much everything I've tried transport-wise before.
But even as I'm riding high on this newfound freedom, I'll admit that motorcycling carries its risks. You're naturally more exposed to the elements – and other road users – than you are in a car, so you have to concentrate constantly.
This is where advanced rider training comes in. It's there to sharpen your skills and improve your riding while making you a safer motorcyclist in general. But what does it actually entail? I headed to BMW's Rider Training school to find out.
Motorcycle of choice
>
I arrive at the training centre on a beautifully sunny day which anyone would describe as 'ideal riding conditions'. It made a nice break from the sodden, chilly weather that I've become used to since passing my test late last year.
Though the weather was already a good start, things only got better when I saw the motorcycles for the day. 'My' bike would be a new F750 GS, which is one of BMW's smaller adventure bikes. It's a model that I later found out was much-favoured by the training school and, thanks to its relatively low seat height and low weight, wasn't too intimidating from the off. In truth, I'd been a little worried that I'd be riding the huge R1250 GS with its high height and large tank. The F750 looked far more up my street.
Low speed start
>
Things kicked off with a bit of slow-speed work. My instructor, Julie, would be with me one-on-one for the entire day, so the low-speed handling section is designed to give a baseline of my skills. I also found it to be a great way of getting to know the F750, a bike that I'd never ridden up until now.
With a relatively small tarmac section covered in cones, I was immediately taken back to my MOD 1 test, which covers low-speed handling. However, it was a great place to start with Julie demonstrating how to properly handle the GS at low speeds.
It's still a relatively large bike, but keeping it as upright as possible – to the point that I felt that it'd tip over – was key to pushing it effectively. Completely vertical the bike becomes almost weightless – it's only when it starts to lean at you that you realise it's got a bit of heft to it.
Then, it was time for figures-of-eights and U-turns, which both took me right back to that fateful day when I attempted to shed my L-plates. Fortunately, much of it came back – the mid-level clutch, a trailed rear brake and turning your head as far towards where you want to go as possible all helping to create neat, agile turns.
On the open road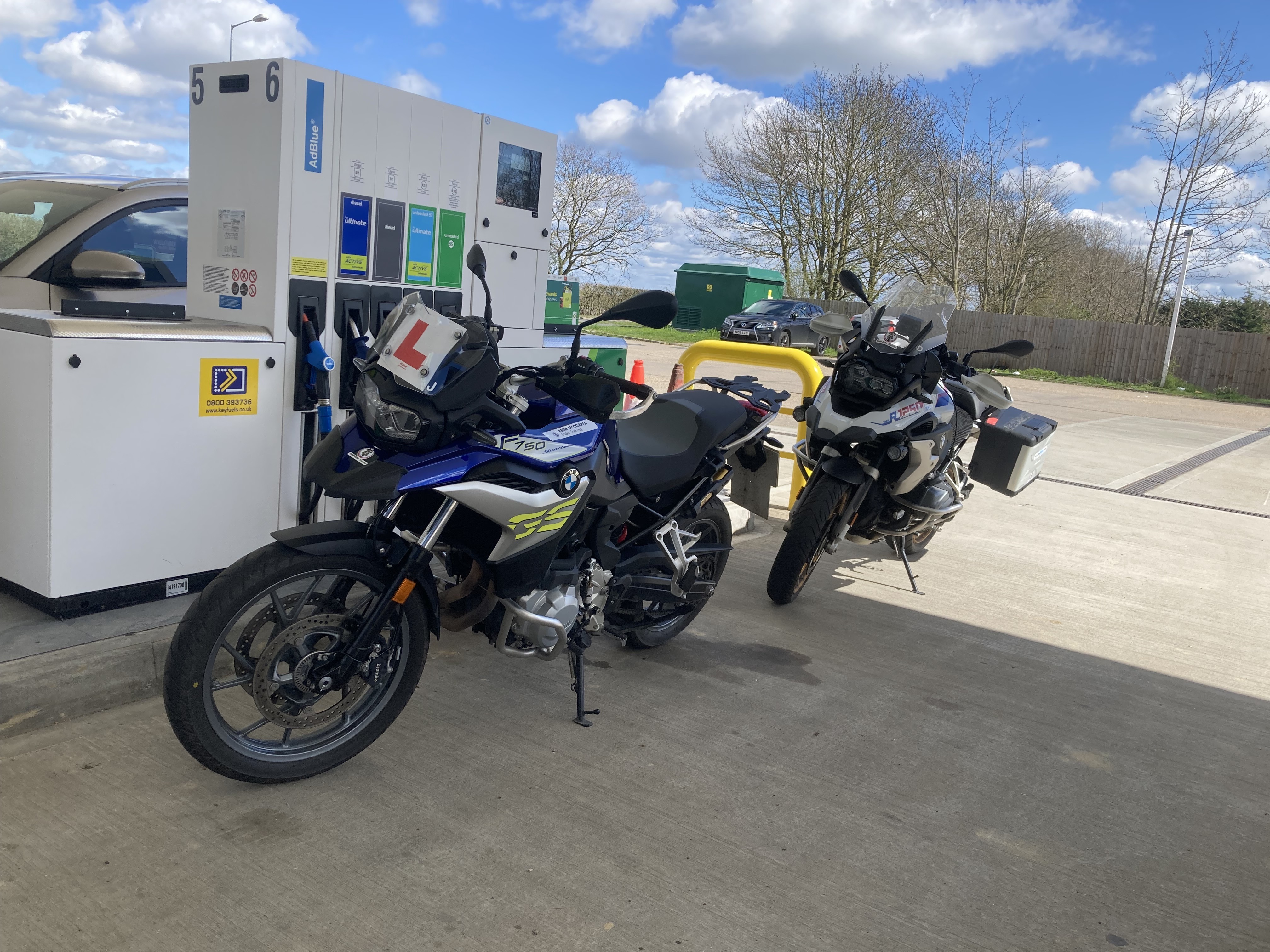 >
Off the concrete 'pad' and thankfully cooled down – the low-speed stuff really helps you break a sweat – it was time to head out onto the public roads. Much like with the MOD 2 test, I had an earpiece with Julie on the intercom at the other end. Being up in Hertfordshire I was in completely uncharted waters for me, so I was quite glad to get some tips on which direction to go first and foremost – I had very little idea of where I was going to begin with.
But out on the sunny roads, I was just being assessed initially. After all, Julie needed to see what kind of rider I was. So feeling a little under pressure, I dutifully made my way through villages and towns, conducting my checks as usual while trying to make good progress.
The F750 GS took a bit of getting used to but at speed, it's a very easy-to-ride motorcycle. The clear screen was nice and easy to read and though I found getting neutral a bit tricky to begin with I soon got used to it.
A quick re-cap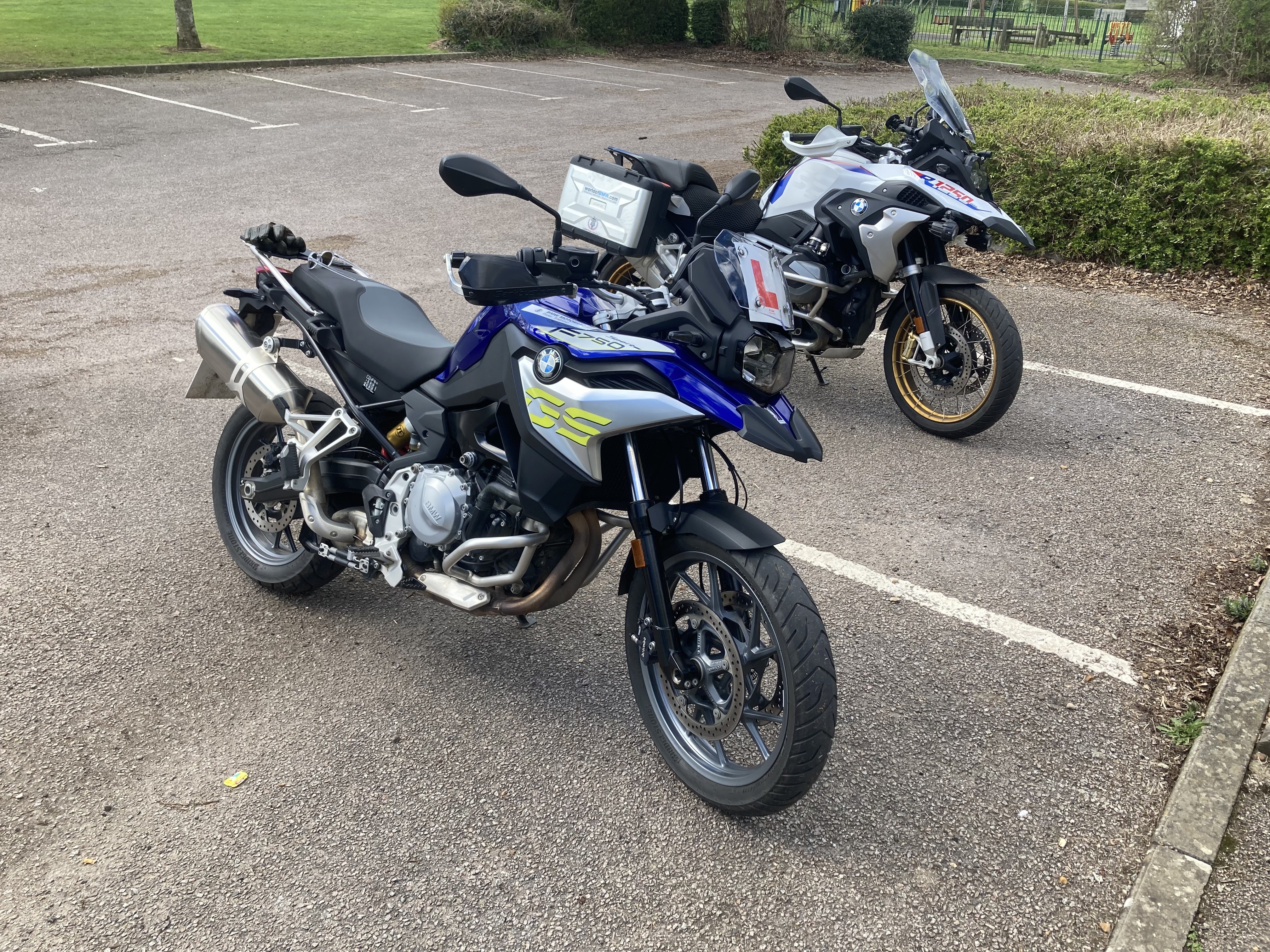 >
We pause for lunch and it's a great time to have a quick re-cap on my riding. Thankfully, there's nothing too much that's going wrong, but Julie has some good tips on my road positions and where I should be depending on the traffic and conditions.
My road positioning was something I'd always just assumed would stay largely the same, aside from putting yourself on the correct side of the lane in preparation for a corner. However, there was far more to it and it became one of my biggest takeaways for the day. For instance, if there's a larger vehicle ahead you might 'give up' some of your road positioning in favour of a safer inside line on the road. It's all about lowering your risk. Brimmed with coffee and cake, we headed out to put it into practice with Julie this time taking the lead and showing me how it's done.
Back on the road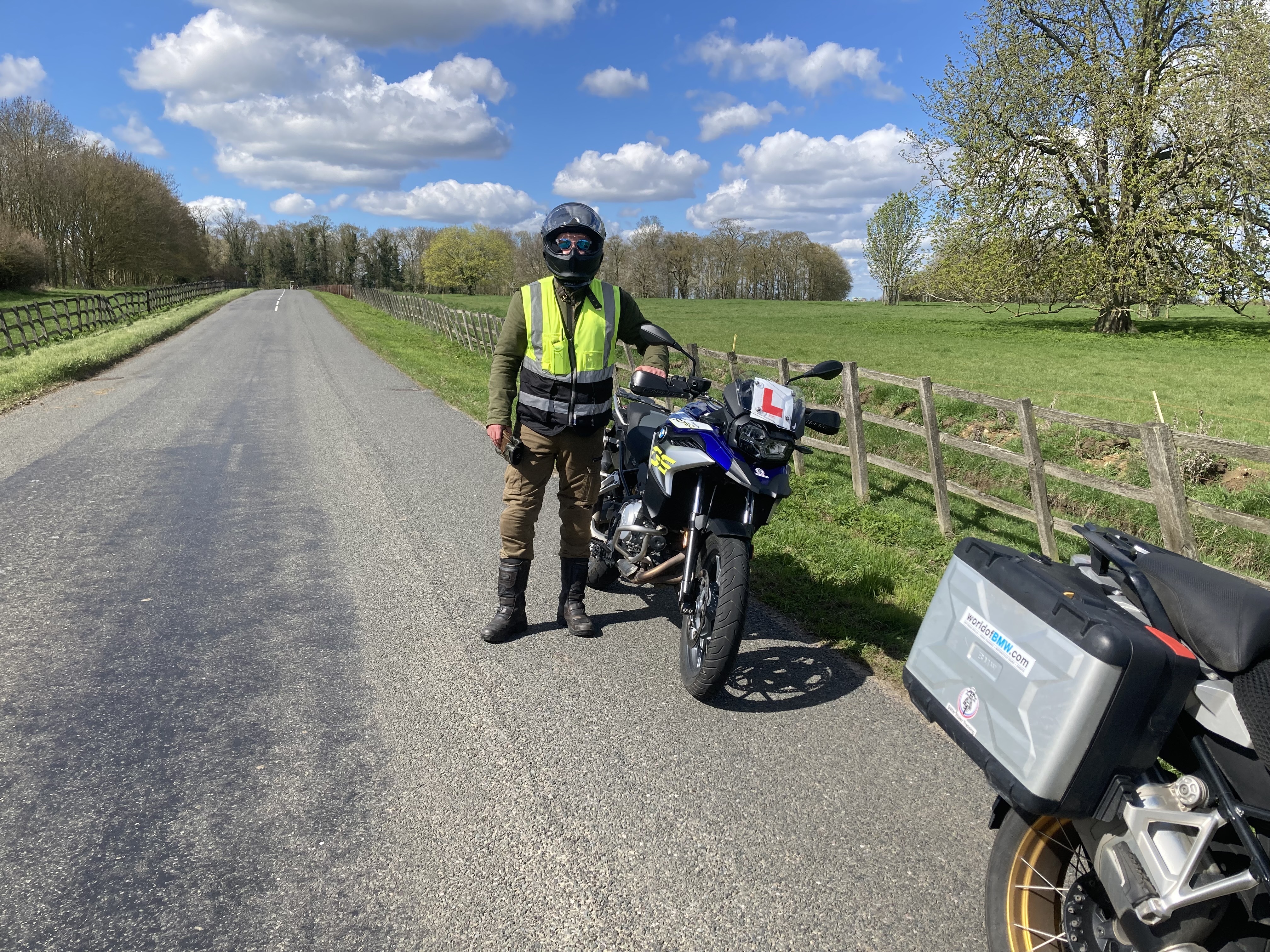 >
Firing up the GS once more, I was now more aware of my positioning on the road. Over the intercom, Julie explained just how far ahead she was looking in order to gain as much information as possible about the ride ahead. For instance, a curved row of trees would point towards the direction of the bend in the distance. It allows you to be better set up for the curve and makes you smoother and more controlled. Sections of low hedges allow you to look for larger oncoming vehicles, too, and this helps to ensure you're prepared for them to come towards you.
Following Julie meant I could see the ideal line to take while getting direct instructions on why that path was being taken. It's a superb level of information to take on and, in truth, I could've carried on all day, particularly given the sunny weather and the torquey two-cylinder four-stroke engine chirping away.
Rounding up
Before I knew it, the day was over and I'd already taken a lot on board. Having one-on-one instruction is really beneficial and it meant that I was getting quick feedback on how my riding could be bettered. My road positioning has greatly improved and I feel a lot more comfortable with oncoming situations than before.
The F750GS was pretty faultless, too, and I could see why the training school favoured them. If you're still a little unsure about getting onto a larger adventure bike, they're a great place to start.
But more than anything the advanced training really kickstarted a want to improve and better myself. Even one day of training has caused me to think about riding – and driving, for that matter – in a completely different way, one that is far more proactive. If you're after a way of bettering yourself as a rider and a driver it's a great place to start.