Poet Simon Armitage and designer Jenny Beavan honoured by Sir Paul McCartney
Rock legend and former Led Zeppelin frontman Robert Plant was also named by The Beatles star.
Simon Armitage has become a Companion of the Liverpool Institute for Performing Arts (Lipa).
The poet, 60, was inducted by Sir Paul McCartney at a ceremony in Liverpool on Friday alongside Oscar-winning costume designer Jenny Beavan and West End performer Anna-Jane Casey.
Rock legend and former Led Zeppelin frontman Robert Plant, who was not at the event, was also made a companion.
Previous honourees include award-winning musical pioneer Nile Rodgers and Blackadder stars Rowan Atkinson and Stephen Fry.
The awards are given for "outstanding achievement and practical contribution to students' learning".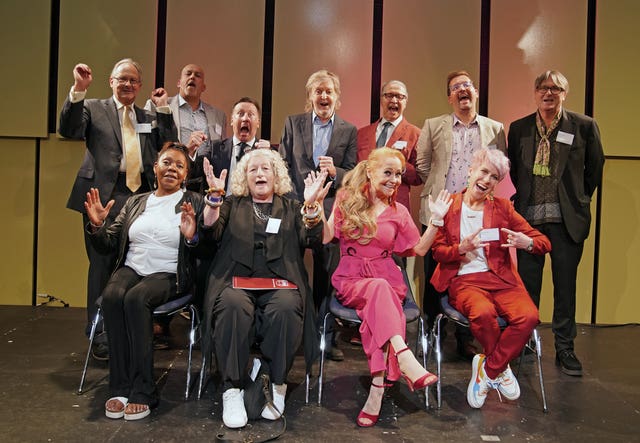 Poet Laureate Armitage, who has won an Ivor Novello Award and a Bafta, spent six weeks with Lipa students last year as they worked together to create a new performance of the Mesopotamian epic poem Gilgamesh.
He has written a number of pieces to commemorate notable occasions, including a poem titled Floral Tribute following the death of the Queen.
Beavan has won three best costume design Academy Awards which include 1987 romantic period drama A Room With A View, 2016 action movie Mad Max: Fury Road and 2022 Disney comedy Cruella.
Sean McNamara, Lipa's principal and chief executive, said: "In the realm of the performing arts, creativity knows no bounds.
"Whether it be through music, dance, theatre or any other form of expression, the performing arts provide us with a unique platform to communicate, and to serve as a mirror to society, reflecting our collective joys, sorrows, hopes, and struggles.
"As artists, creatives, change makers and cultural entrepreneurs, the graduating class of 2023 possess all of these qualities.
"The world of 2020, when many of our graduating students entered Lipa, was profoundly different to the one of today.
"The resilience and determination our students have displayed is an inspiration.
"We are immensely proud of them and today we celebrate their achievements and the transformative power that resides within them."
Also among those becoming Lipa companions is former UK Eurovision representative Sonia, who topped the charts with You'll Never Stop Me Loving You, playwright and director John Godber – who worked on dramas Brookside and Grange Hill – and Broadway and West End theatre producer Ashley Herman.
Lighting designer Tim Routledge – who has contributed to Beyonce, Take That, Spice Girls and this year's Eurovision Song Contest performances – and social justice and anti-racism champion Jacqueline Stewart, from campaigning women's theatre company Clean Break, were also on the latest list.
Around 330 students from 30 countries attended the ceremony at the Liverpool Philharmonic Hall after finishing their degrees.
Lipa was founded by Sir Paul and Mark Featherstone-Witty and opened in 1995 with the aim of providing the best teaching and learning for people who want to pursue a lasting career in the arts and entertainment industry.
The education body is located in Sir Paul's old school, the Liverpool Institute for Boys, which underwent a multimillion-pound renovation to turn it into a state-of-the-art performing arts higher education institution.