Filipino fishermen die in South China Sea after boat hit by commercial vessel
Three people were killed in the incident off the north-western Philippines.
Three Filipino fishermen have died in the disputed South China Sea after their boat was accidentally hit by a passing commercial vessel, the Philippine coast guard said.
The fishermen's boat, F/B Dearyn, was moored in a fishing area in the high seas off the north-western Philippines when it was hit before dawn on Monday by the passing vessel and capsized, killing its skipper and two crew members.
Three other fishermen aboard the Dearyn survived, the coast guard said.
Eight other men were fishing separately on board smaller boats at the time of the accident, officials said.
It was not immediately clear if the three fishermen died due to injuries from the collision or drowned.
A police report said they died due to "possible head trauma" from the collision. Their bodies were brought back to their hometown in the northern Philippines by the three surviving fishermen and several other companions.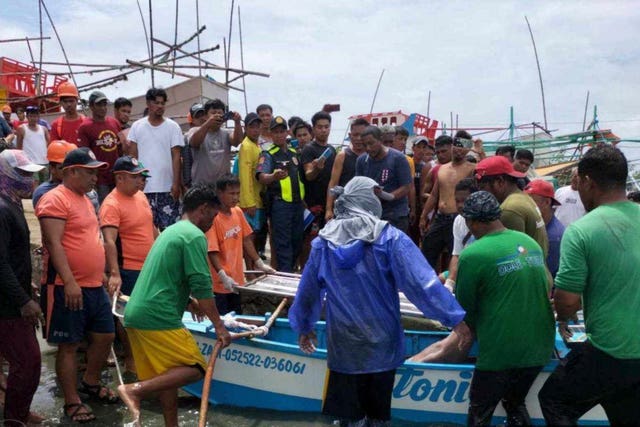 There was no indication that the deadly accident was related to the long-simmering territorial disputes in the busy waterway.
The coast guard said it happened more than 90 miles north-west of Scarborough Shoal, a fishing atoll fiercely contested by China and the Philippines.
The dispute over Scarborough flared recently after the Philippine coast guard said it removed a floating barrier installed by the Chinese coast guard at the mouth of the shoal to prevent Filipinos from entering.
Philippine President Ferdinand Marcos Jr expressed sadness over the deaths of the fishermen and said a coast guard investigation was under way.
"We assure the victims, their families, and everyone that we will exert every effort to hold accountable those who are responsible for this unfortunate maritime incident," Mr Marcos said in a statement.
An initial assessment based on the surviving fishermen's account and sea traffic at the time of the accident indicated that a crude oil tanker under the flag of the Marshall Islands may have hit the Filipino fishing boat, the coast guard said in a statement.
The Philippine coast guard said it would try to locate the oil tanker and its crew as part of the investigation.