Man who detonated bomb outside hospital 'had grievance against British state'
Emad Al Swealmeen detonated the device while in a taxi outside Liverpool Women's Hospital just before 11am on November 14 2021.
A man who detonated a bomb outside a hospital had a grievance against the British state because his asylum claim was rejected, a police investigation has found.
Emad Al Swealmeen, 32, died after the device, which he had made himself, exploded while he was in a taxi outside Liverpool Women's Hospital just before 11am on November 14 2021.
Driver David Perry managed to escape from the Ford Focus taxi following the blast.
Police believe the device, which contained hundreds of metal ball bearings, only partially exploded and went off earlier than planned, but was intended to cause multiple casualties.
Detective Superintendent Andy Meeks, of Counter Terrorism Policing North West, told a briefing on Monday there was no evidence anyone else was involved in planning the attack.
He said: "Why he did it, in terms of the motives for what he did, our best assessment, based on all the information we've looked at, is that that was due to a grievance that he had for the repeated rejections of his asylum claim combined with mental ill health which seems to have also had a factor in his action.
"We didn't find any evidence that he had any extremist beliefs of any kind."
Police and Crime Commissioner for Merseyside Emily Spurrell said it was important to try to understand what influenced Al Swealmeen.
She said: "Today's report raises more concerns around the effectiveness of our asylum system, the way claims are processed, support available to asylum seekers and what procedures are used to monitor those individuals who are refused permission to live in the UK."
Mr Meeks said Al Swealmeen, who was born in Iraq but moved to Jordan as a child, went to considerable lengths to stay in the UK, including converting to Christianity.
Al Swealmeen came to the country in 2014, having applied for a visa in Abu Dhabi claiming he wanted to travel for a holiday and to watch the filming of Britain's Got Talent in Belfast.
He falsely claimed to be a Syrian national when interviewed by Home Office officials but his asylum claim was rejected.
Mr Meeks said Al Swealmeen began a conversion to Christianity in 2015, when his asylum appeal rights were exhausted, and was baptised at Liverpool Cathedral in November that year.
He forwarded letters of support from members of the church community to the Home Office to support his asylum claim in 2017.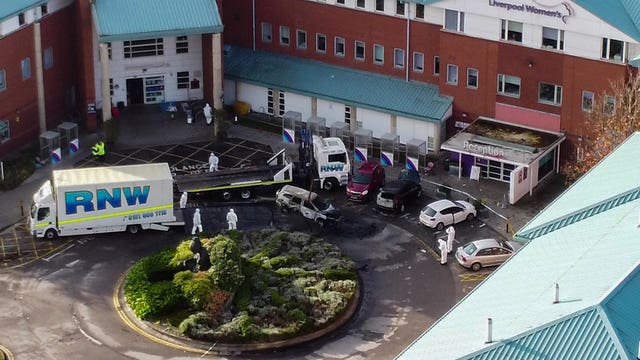 In January 2020 a further asylum claim was rejected, on the basis he had not truly accepted the Christian faith and rejected others.
A Koran and prayer mat was found at one of Al Swealmeen's properties and close associates reported seeing him praying Islamically in the months before the attack, Mr Meeks said.
He said Al Swealmeen's deterioration in mental health coincided with developments in his asylum case.
He was detained by police under the Mental Health Act in 2015 and was later sectioned.
Police found Al Swealmeen rented a flat in Rutland Avenue with the "sole purpose" of building the bomb.
Officers discovered mixing bowls and bags of explosive mixture inside the flat, along with a mobile phone containing instructions on how to make explosives.
A search of his other address, which he shared with other asylum claimants in Sutcliffe Street, uncovered two unfinished improvised firearms.
Police found contents of mobile phones belonging to Al Swealmeen had been largely erased and he took precautions to conceal his intentions.
Mr Meeks added: "There are lots of gaps in our information unfortunately and the only person who knows the answers to those questions is Al Swealmeen, who obviously died during the incident, so we'll probably never truly know exactly why he did it or what his intentions were."