Blanket ban of mobile phones in schools across England 'unenforceable'
It is currently up to individual headteachers to decide their own policies on devices and whether they should be banned.
Plans to introduce a blanket ban on pupils using mobile phones in schools across England are "unenforceable", a teaching union leader has warned.
Headteachers will be told to ban students from using devices during the school day under Government guidance, according to reports.
Education Secretary Gillian Keegan is expected to set out the plans at the Conservative Party conference in Manchester on Monday afternoon.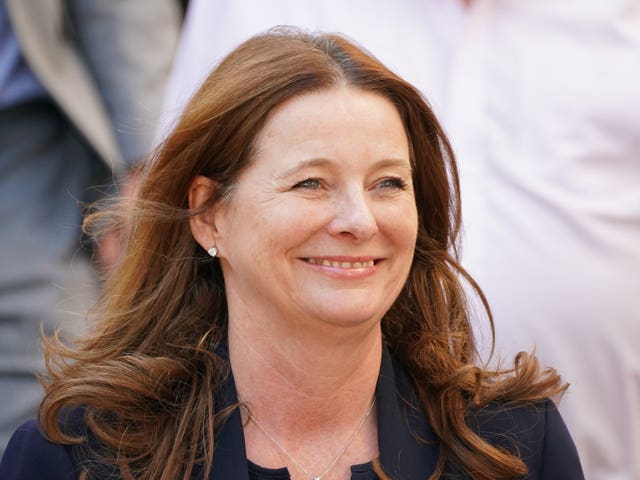 A source told the Daily Mail that Ms Keegan believes mobile phones "pose a serious challenge in terms of distraction, disruptive behaviour and bullying".
In England, it is currently up to individual school leaders to decide their own policies on mobile phones and whether they should be banned.
Already, many schools expect pupils to put their phone away in their locker when they arrive, while other schools allow pupils to keep phones in their bags.
But it is understood that the Department for Education (DfE) plans to issue new guidance for schools in England which would urge them to ban pupils from using phones in classrooms, as well as during breaks.
Addressing the reports, Patrick Roach, general secretary of the NASUWT teaching union, said: "If the Government introduces blanket bans that are unenforceable, this will make the behaviour crisis worse, not better."
A recent survey by the NASUWT of its members in the UK on behaviour suggested that teachers' biggest concerns were verbal and physical abuse.
The majority of teachers surveyed suggested that poor social skills following Covid-19 restrictions had affected pupil behaviour – and a smaller number of teachers reported that mobile phones caused behavioural issues in class.
Dr Roach added: "This behaviour crisis has become embedded on this Government's watch. The lack of joined-up solutions, multi-agency working and properly resourced behaviour support are just some of the systemic factors making a challenging situation worse.
"Teachers across the country would welcome more support around dealing with the problems caused by social media. But abusive use of mobile phones is not just confined to the classroom and we need to see better support for schools and families when problems arise.
"The Government needs to focus on properly supporting the work of teachers and headteachers rather than announcements designed to detract attention from more than a decade of policy failure."
Paul Whiteman, general secretary of school leaders' union NAHT, said the announcement could present a "big challenge" for schools.
He said: "We are not sure how it would work in practice and how it could be successfully implemented in a wide range of schools.
"Most young people won't just stop bringing their phones to school, and there could be parental opposition too, as there are practical reasons why pupils may need a mobile phone such as while travelling to and from school."
Mr Whiteman added: "Schools have been crying out for guidance they actually do need on complex issues such as how best to support transgender pupils, instead they are offered this.
"We are also concerned that a blanket ban won't work for all schools – we query whether this new policy has actually been sense checked at all with the profession.
"Unfortunately, a ban on mobile phones in school can cause more problems than it solves, leading to pupils becoming more secretive about their phone use, meaning problems are hidden from staff and therefore more difficult to spot and address."
Downing Street has suggested that the Government could eventually legislate to prevent schoolchildren from using mobile phones in class.
The Prime Minister's official spokesman said: "We will issue guidance to schools to take immediate actions for leaders to do the right thing by their pupils and teachers.
"It will include real-life best-practice examples from schools that are already successfully doing this.
"Compelling schools to make the change by putting the guidance on a statutory footing and therefore legislating would take time. So we obviously keep that under consideration, if needed, but we think it's better to act swiftly, which is why we're issuing this guidance."
He added that Government guidance for schools will bring "consistency" to schoolchildren's mobile phone use.
Geoff Barton, general secretary of the Association of School and College Leaders (ASCL), said: "The announcement of a 'mobile phone ban' is a policy which isn't needed for something that isn't a problem, timed for the Conservative Party conference in a desperate attempt to grab a headline.
"Most schools already prohibit the use of mobile phones during the school day or have robust rules restricting their use to specified circumstances."
He added: "The problem with mobile phones – addictive use, bullying, inappropriate material – generally happen at other times when children are not in school. Schools spend a lot of time dealing with the fallout caused by mobile phone misuse and the damage it does to children.
"The government's Online Safety Bill may help to some extent, but it still hasn't passed into law despite being in development for several years."
In July, schools minister Nick Gibb told the PA news agency that mobile phones should be kept out of the classroom as they are "disruptive" and young people should be taught to "ration" their screen time at home.
His comments came as a report from the United Nations (UN) highlighted data which suggested that "mere proximity" to a mobile device can distract students and have a negative impact on their learning.
In 2021, then education secretary Gavin Williamson said he wanted a ban on mobile phones in classrooms, describing them as "not just distracting" but also potentially "damaging" when misused.
But revised Government guidance on behaviour in schools – issued by the DfE in 2022 – said it was up to headteachers to decide "if mobile phones can be used during the school day".
The guidance called on headteachers to "consider restricting or prohibiting mobile phones" in school to reduce distraction, disruption, bullying and abuse.
In July, the Dutch government announced that mobile phones, tablets and smartwatches would be largely banned from classrooms in the Netherlands in 2024 in a bid to limit distractions during lessons.
It comes after France banned pupils from using mobile phones in primary and middle schools in 2018.