Sunak insists UK is not a 'laughing stock' as he fails to rule on HS2's future
The Prime Minister did not set out a plan on the high-speed rail project despite being in Manchester for the Tory conference.
Rishi Sunak has insisted the UK is not a "laughing stock" as he failed to announce a decision on whether HS2 will ever reach Manchester as he visited the city for the Tory party conference.
The Prime Minister on Sunday "completely" rejected the allegation from critics, which include leaders across the North as well as predecessors at the top of the Conservatives.
Theresa May is the latest former premier to urge Mr Sunak not to ditch the Birmingham to Manchester leg of the high-speed rail project that was designed to link the North and London.
A drastic cost-cutting exercise could also see it end at Old Oak Common in the capital's western suburbs rather than reach its centre.
But the Prime Minister has refused to make clear what his plans are, instead relying on his get-out of not commenting on "speculation".
Andy Street, the Tory mayor of the West Midlands, is among the critics of scaling back the project, while London mayor Sadiq Khan warned it could make the UK a "laughing stock".
But Mr Sunak told the BBC's Sunday With Laura Kuenssberg programme: "I'd completely reject that."
He insisted the business leaders he speaks to around the world are "excited about the opportunity that investing in Britain offers".
Mr Sunak was being interviewed in Salford as ministers and Tory members congregate in Manchester's centre for their annual conference, where the party slogan is "Long term decisions for a brighter future".
Levelling Up Secretary Michael Gove described HS2 as an "important project" but he said "we do need to look at value for money".
"The costs of this project have been significantly greater than originally estimated," he told Sky's Sunday Morning With Trevor Phillips.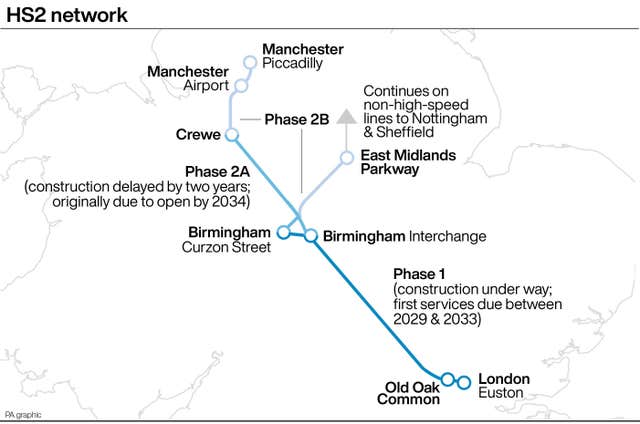 He also stressed that transport links in the North need to be improved between and within cities, as critics say axing the full HS2 project would jeopardise the levelling up project.
Conservative Tees Valley mayor Ben Houchen told a Tory conference fringe event that the "indecision" on HS2 was causing a "distraction" as he urged ministers to commit to Northern Powerhouse Rail.
Former business secretary Sir Jacob Rees-Mogg urged the Prime Minister to cancel the post-Birmingham route and instead put the money towards tax cuts.
"Let's cut HS2, save the money on HS2, give that back to people just as a starter," he told Channel 4 News.
He added: "There is a real opportunity to cut taxes."
Transport Secretary Mark Harper refused to be drawn on the Government's plans for the line during his own appearance at a conference fringe event.
"It is not my job to be a commentator of these things," the Transport Secretary said.
"If Government has things to say about this, it will say them in due course in the usual way. But we are getting on with the project."
Rather than the multibillion-pound rail plans, Mr Sunak was keen to discuss his plans to combat what he terms as a "war on motorists".
Stronger guidance on 20mph speed limits and action on low traffic neighbourhoods are expected to be detailed by Transport Secretary Mark Harper in his conference speech on Monday.
But the Prime Minister suggested that councils could still introduce 20mph zones as long as they have local "consent".
"What they (councils) should be allowed to do in all cases is act in accordance with the government guidance," he added to the BBC.
But Welsh Secretary David TC Davies told the party's conference in Manchester on Sunday: "We call on Labour to end its absurd 20 mile-an-hour blanket speed limit on Welsh roads."
Following Boris Johnson and David Cameron in warning against abandoning the Manchester leg of HS2, Mrs May said it is key to giving more rail capacity on the west coast line.
She told the Henley Literary Festival that terminating the line in the west London suburbs would impact her constituents in Maidenhead, Berkshire.
"If HS2 stops at Old Oak Common, it is going to make our railway journeys into London longer and disrupted potentially over the period that Old Oak Common's building is being done to enable it to take that end point," she added.
"So I am arguing with Government: 'Don't stop at Old Oak Common. You need to take it into Euston because my constituents will be disadvantaged if you don't'."
Announced by the last Labour government but then backed by successive Tory administrations, HS2 was given a £55.7 billion budget in 2015 for its route from London to Birmingham with a Y-shaped section to Manchester and Leeds.
But it is feared that costs have breached the £100 billion mark, even with the Government having cancelled the Leeds leg in 2021.
Mr Johnson used his Daily Mail column to argue that the Government would be "betraying the north of the country and the whole agenda of levelling up" if HS2 to Manchester is delayed or cut.
And he argued that the southern terminal being Old Oak Common instead of Euston London would leave HS2 as a "white elephant".