Strikes by train drivers will leave some areas with no services – rail group
Aslef members will walk out on September 30 and October 4.
Rail passengers are being warned that fresh strikes by train drivers in a long-running dispute over pay will mean some areas will have no services.
Members of train drivers union Aslef will walk out on Saturday September 30 and Wednesday October 4, coinciding with the annual conference of the Conservative Party.
The drivers will take action short of a strike in the first week of October which will also disrupt services.
The strikes will affect 15 train companies with services due to start later and finish much earlier than usual – typically between 7.30am and 6.30pm.
The Rail Delivery Group (RDG) said operators will run as many trains as possible but there will be wide regional variations, with some running no services at all.
It is likely that evening services on some lines will be affected on the days before each strike and morning services may also be disrupted on October 1 and 5 because rolling stock will not be in the right depots.
The RDG said: "The rail industry is working hard to keep trains running despite the union leaders' decision to reject an offer which would give their members an 8% pay rise over two years, taking average salaries for train drivers up from nearly £60,000 a year to almost £65,000 a year for, on average, a four-day week."
Special timetables for September 30 will be published on September 22 on National Rail Enquiries; and for October 4 on Wednesday September 27.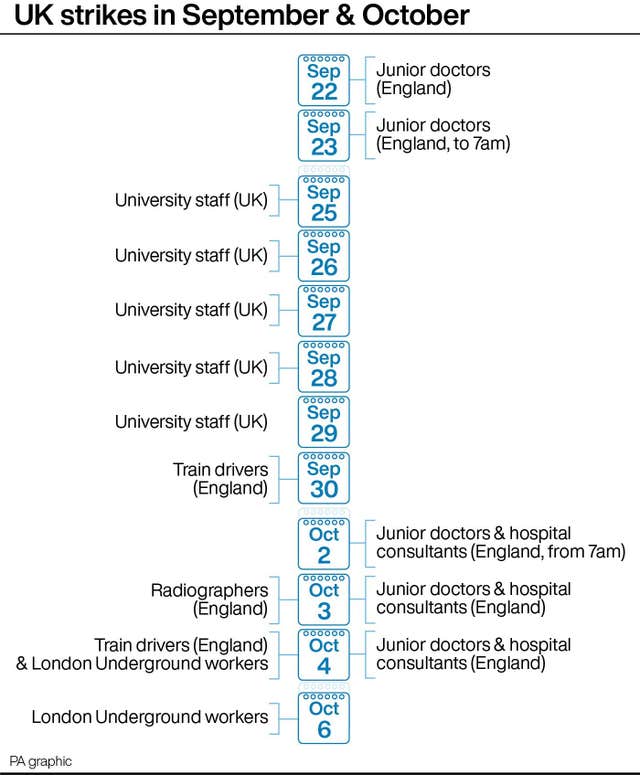 A spokesperson for the RDG said: "We want to resolve this dispute and are acutely aware of the damaging impact it's having on our passengers, our people and the long-term sustainability of the industry itself.
"We apologise to our customers for the unnecessary disruption to their journeys caused by the Aslef leadership.
"The offer to Aslef, which would take average driver salaries from £60,000 to £65,000 for a four-day week, remains on the table, and we are always open to constructive dialogue.
"However, at a time when industry is losing £10 million a day post-Covid, its leadership must recognise the need to make changes to how the industry is run, to both fund any rise and crucially, so we can give our passengers more reliable train services, particularly on Sundays."