People from eastern Europe have some of the highest levels of English proficiency among non-UK-born residents whose main language is not English, census data shows.
Two-thirds (66%) of Romanian migrants living in England and Wales told the census that while their main language was not English, they spoke it well or very well.
The figures were similar for people from Hungary (62%), Poland (61%), Lithuania (59%) and Bulgaria (57%).
In all of these groups, the proportion who said English was their main language was below 30%, dipping as low as 20% for people born in Romania.
The data has been published by the Office for National Statistics (ONS) and is the latest to be released from the census, which took place in England and Wales on March 21 2021.
Romania tops the list for the highest proportion of people whose main language is not English but still speak it well or very well.
Countries that are near the top of the list but outside eastern Europe include Nepal (63%), Venezuela (61%) and Mexico (59%).
Across the census as a whole, "a high proportion of migrants had English as a main language or speak it well or very well," the ONS said.
Some 11% of people who arrived in the country in the decade before 2021 told the census they did not speak English well.
This compares with just 4% of people who arrived before 1971.
Residents who arrived earliest were more likely to have English as their main language, with 84% of arrivals before 1971 reporting this, compared with 37% of arrivals between 2011 and 2021.
A "very small proportion" of non-UK-born residents said they spoke no English at all, the ONS added.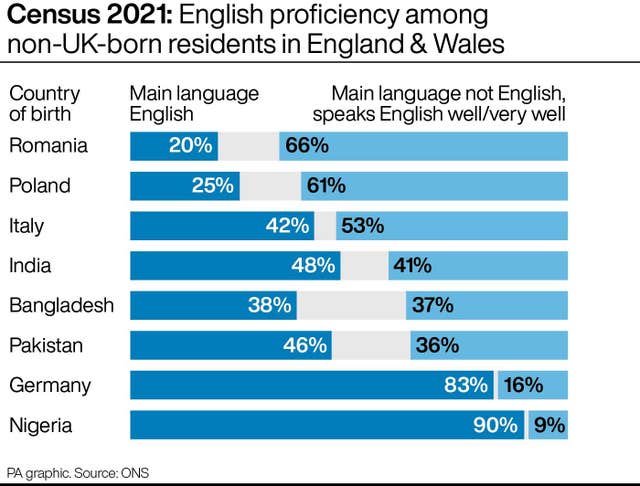 Among the top 10 non-UK countries of birth represented at the census, Bangladesh-born residents had the lowest English proficiency, with 38% saying English was their main language, 37% reporting speaking English very well or well, and 25% saying they could not speak it well or at all.
Lower levels of proficiency were seen among some non-UK countries with very small numbers of residents in England and Wales.
For example, 31% of migrants from Vietnam said they could not speak English well or at all – the equivalent of 11,480 people out of a group of 37,205.
The same was true of 42% of those born in Dominican Republic, equating to 3,455 people out of a total of 8,145.
And over half (54%) of migrants from North Korea told the census they could not speak it well or at all – though this was the equivalent of just 280 people from a total of 515.