Sir Ed Davey joked that "heavy machinery" would be required to clean up the "mess" left by the Conservatives as he took a ride in a tractor to launch his local election campaign.
The Liberal Democrat leader is targeting Tory voters who he claims have been betrayed by the Government ahead of May's council contests in England.
Sir Ed was a passenger as the tractor was used to smash down a stack of hay bales painted Tory blue at the pre-election stunt in Berkhamsted, Hertfordshire.
The Lib Dem leader told the PA news agency that Tory voters felt "betrayed".
"People are fed up with the Conservatives. They think they've been taken for granted," he said.
"They've been let down on things like the cost of living and the NHS crisis. And we're finding on the doorsteps that lifelong Conservatives are saying they'll never vote Conservative again and they're switching to the Liberal Democrats.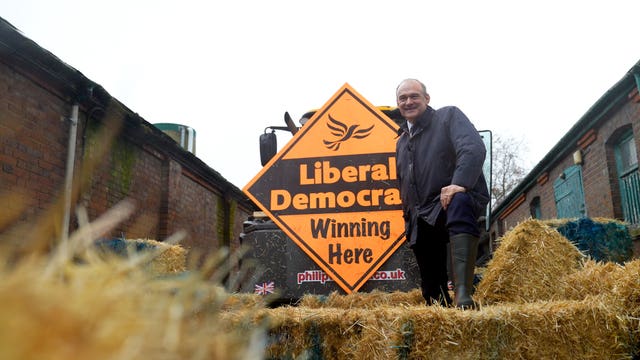 "So we enter these local elections really confidently."
Tory party chairman Greg Hands dismissed the Liberal Democrat attack and insisted only the Conservatives could be trusted to deliver local services.
"The Liberal Democrats are charging more for council tax, band for band, than the Conservatives while delivering worse local services," he said.
"The Liberal Democrats should focus on local people's priorities instead waging war on motorists, cutting weekly bin services, and wasting taxpayers' money on vanity projects."