The situation has seen the A483 closed both ways from Llynclys Crossroads to the border – with drivers advised to use different routes.
The closure of the major route between Mid Wales and Oswestry was confirmed by Highways England at around 4.20pm.
Posting on Twitter the organisation said: "There is a total closure in place on the A438 from Llynclys Crossroads to the Welsh border due to severe flooding. Please use alternative routes."
Rail services between Shrewsbury and Wolverhampton have been cancelled by West Midlands Railway due to the bad weather and flooding between Shrewsbury and Wellington meaning the line is blocked.
Parts of Shropshire saw snow on Wednesday evening, especially in Shrewsbury and Telford, as temperatures dropped.
There were 11 flood warnings in place across Shropshire, especially along the River Severn at Shrewsbury.
The flood warning service shows a flood alert in place at the River Severn at Shrawardine, Montford Bridge and Mytton. Flooding is expected to affect properties in the Montford Bridge area. Predicted peak at Montford 6.5m to 7.0m Friday morning.
Also at the River Severn at Shrewsbury, Showground and The Quarry, river levels have risen at the Welsh Bridge river gauge. Consequently, flooding of roads and farmland is expected from this morning.
The flood warnings extend up to the Pant and Llanymynech area. The River Teme at Ludlow and Leintwardine and Walford are steadily rising.
Flood water has already reached Clun and the river there has burst its banks.
Shropshire Council said it expects the flood water to affect some of its car parks in Shrewsbury and the Coleham Head Flood Barrier at Carline Fields, Shrewsbury were deployed last night.
The council said: "Frankwell Main and Riverside and St Julian's Car Parks in Shrewsbury are closed due to risk of flooding. If you have not removed your vehicle from St Julian's please do so immediately.
"Frankwell resident and season ticket holders can park in Raven Meadows Multi Storey Car Park. Please remove your car if still on the car park.
"St Julian's Friar's resident permit holders please move your vehicles to Abbey Foregate Car Park (upper level) before this evening."
The Robert Jones and Agnes Hunt Orthopaedic Hospital, in Gobowen, near Oswestry, warned people heading to get their Covid-19 vaccination that an access road had flooded, and they needed to find alternative routes.
The hospital said that one of its entry roads had flooded due to the bad weather, the road was being used as an access to the Covid vaccination hub.
The hospital tweeted: "We are urging patients and staff to please take care when coming to the hospital site today.
"As you can see from the picture below, the road outside Entrance 2 (the entrance used to access our covid vaccination hub) is currently flooded."
They encouraged people to head for the hospital from the Whittington direction instead.
Dyfed Powys Police are urging people not to travel on the roads if not an essential journey, as the A483 between Berriew to Welshpool is closed due to flooding.
The police tweeted: "As adverse weather continues across the force we're experiencing widespread flooding. #Powys has been severely affected, particularly between Welshpool and Newtown.
"We're urging you to please only travel if essential and pay attention to road closure signs."
Shropshire Fire and Rescue Service and Mid and West Wales Fire Service were called out to numerous water rescues and road incidents overnight, including two water rescues in the early hours of the morning.
At around 6am, a person was rescued from a car in flood water on Hendre Lane, Four Crosses. Later at around 7.30am, teams from Shrewsbury and Wem were called to rescue a person who's car was stuck in flood water at Ladymas Road, Hadnall.
Fire crews in Powys were called out to numerous incidents throughout the night and the early hours of this morning.
Montgomery fire crews were mobilised and sent to Welshpool airport as the water flooded the area.
Montgomery fire station tweeted: "03P1 mobilised at 04:54 and again at 07:47 to the Welshpool airport straight along with crews from @WelshpoolFire. Early call was to a car stuck in flood water and second call to occupants stuck in property, with flood water entering."
Numerous road closures are now in place across the county as flood water makes roads impassable.
The A5 at Gobowen and A41 from Tern Hill to Whitchurch are closed due to severe weather conditions making roads dangerous. Please only travel if necessary.
Dawley Road at Lawley Furnaces is flooded.
Attingham Park in Shrewsbury has closed its Deer Park today due to flood water making it impassable.
The park tweeted: "Due to recent rainfall here and upstream of the River Tern water levels have risen to the height where we need to close both bridges that access the Deer Park for visitor safety. We'll update you when we have more information."
In the early hours of the morning, North Wales Police began evacuating residents from their homes in Bangor-on-Dee after a severe flood warning was issued for the village by Natural Resources Wales.
"We continue to ask everyone to attend Ysgol Sant Dunawd as soon as possible," the force said on Twitter.
"Please do not try to leave the area yourself due to the road conditions."
Councillor for Bishop's Castle Ruth Houghton said the A488 at Colebatch was badly flooded.
She said: "Please do not attempt to drive through. The water is deep and every time anyone attempts to drive through dirty flood water is sloshed over sandbags into local homes."
The national picture:
Almost 200 flood warnings remained in place across England on Thursday morning, with four "severe" warnings – meaning danger to life – issued for the North West.
Residents in East Didsbury, West Didsbury and Northenden areas of Greater Manchester were told to leave their homes on Wednesday night because of rising water levels, the city council said.
People were also asked to leave their homes in parts of Ruthin and Bangor-on-Dee in North Wales and Maghull in Merseyside amid flood warnings.
But Lee Rawlinson, of the Environment Agency, said that flood basins put in place on the River Mersey in Didsbury had kept properties in the area dry overnight.
"At Didsbury, the River Mersey got to very high levels very quickly, the water was pouring through there," he told BBC Breakfast on Thursday.
"What we did as an organisation, we have a couple of flood basins that we employed there, that they took the water away. It took the peak of the water off.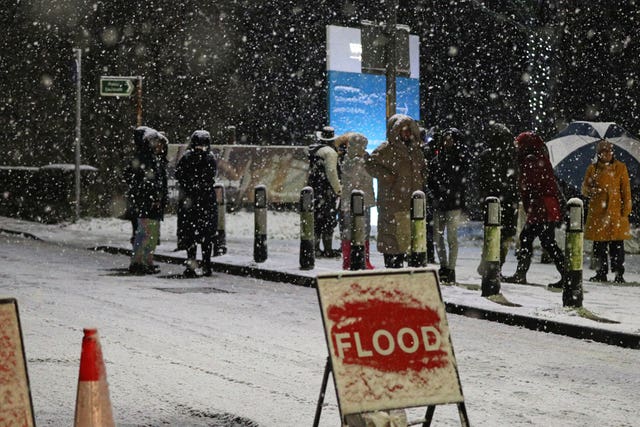 "The top of the river came within centimetres of the top of the river bank but our defences there have served their purpose and kept those properties dry.
Following heavy rain and snow, Greater Manchester Police warned of the risk of "treacherous ice" on the roads and urged drivers to be cautious and only travel if essential.
In the early hours of the morning, North Wales Police began evacuating residents from their homes in Bangor-on-Dee after a severe flood warning was issued for the village by Natural Resources Wales.
"We continue to ask everyone to attend Ysgol Sant Dunawd as soon as possible," the force said on Twitter.
"Please do not try to leave the area yourself due to the road conditions."
Residents in Maghull were also advised to leave their properties after a severe flood warning was issued due to "unprecedented" water levels at Dover Brook near the River Alt, Sefton Council said.
But as rain overnight was not as heavy as predicted, this was replaced with a flood warning on Thursday, according to the council.
The Environment Agency said that while this was "good news", it expected water levels to remain high throughout the day with flooding to properties still possible.