Parents of US boy who killed four fellow students to face manslaughter trial
Ethan Crumbley killed four students and injured seven other people at Oxford High School, Michigan, in November 2021.
Michigan Supreme Court has cleared the way for the parents of a teenager who killed four fellow pupils at school to face trial on involuntary manslaughter charges.
James and Jennifer Crumbley are accused of making a gun available to Ethan Crumbley and ignoring his mental health needs.
The state appeals court in March said the couple could face trial and the Supreme Court said it would let that decision stand.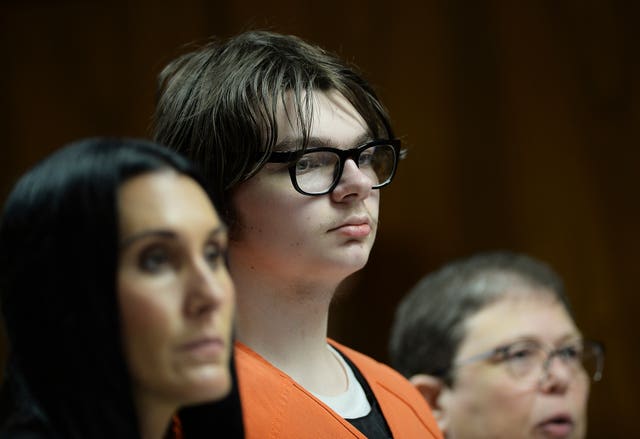 Crumbley killed Madisyn Baldwin, Tate Myre, Hana St Juliana and Justin Shilling at Oxford High, about 40 miles north of Detroit, in November 2021. Six students and a teacher were also wounded.
Ethan Crumbley pleaded guilty to terrorism and murder. A judge last week said he is eligible for life in prison without parole.
Lawyers for the parents insist the school shooting was not foreseeable. They acknowledge that bad decisions were made but not ones that should rise to charges of involuntary manslaughter.
The teenager and his parents met with school staff on the day of the shooting after a teacher noticed violent drawings, but no-one checked his backpack for a gun. He was allowed to stay.
The 17-year-old, who was 15 at the time of the shooting, will be sentenced on December 8. The judge will have an option of giving him a prison term that would make him eligible for parole in the decades ahead.
Colin King, a psychologist who has met with the teenager, has described him as a "feral child" who was neglected by his parents. Judge Kwame Rowe said his home life was "not ideal", with his parents often drinking alcohol and arguing, but "not terrible".
The teenager "appeared to have a loving and supportive family" Mr Rowe said on Friday. "He went on family vacations, owned several pets and had visits from family. … In defendant's own words, his childhood was 'good.'"