Phillip Schofield has categorically denied grooming his former This Morning colleague but said their later affair was "unforgivable".
The 61-year-old ex-presenter confirmed the pair met when the younger man was 15 but said their interactions until he was an adult were just about "career advice".
Schofield has said the first time he had any "kind of sexual contact" with his former lover was not until he was in his 20s and working on the ITV morning show.
In an interview with the BBC's Amol Rajan, Schofield recounted the first time they met, saying: "I was invited by a friend of mine to go to open a drama school… But, whether it was immediately or sometime after, he said 'Will you follow him on Twitter, because he's a fan'. So I said 'Yeah, sure, no problem', which I did."
Rajan added: "And he was what, 15 at the time?"
Schofield said: "I follow 11,300 people, and in all the time I've been on Twitter there has never been any whiff of impropriety."
He added that the pair were "hardly" in touch, but the young man had later got in contact to ask "if he could visit the studios, work experience-type of thing. I said 'Come down and have a look, for sure', which he did."
Schofield told Rajan the man was 19 when he had first expressed interest in a television career, and, when asked by Rajan if, looking back on their messages, there was "any sense in which you were flirting with him", he replied: "No, I've been 41 years in television. Nothing like this before. No accusations. I mean, this is all accusations."
The former TV presenter confirmed he did help the younger man put a showreel together but said he "was then given a job (at This Morning) on his own merits because he was very good".
Seeking to clarify the nature of their relationship when the former colleague was underage, Rajan said: "Just be really clear, your relationship between when you met him when he was 15 and then when he was 18 was occasional direct messages… no pictures of each other sent to each other?"
Schofield responded by shaking his head.
Asked whether the messages were flirtatious, the former TV presenter said: "Just work-related, just career advice, career help."
Schofield resigned from ITV last week and was dropped by his talent agency, YMU, after admitting to the "unwise but not illegal" relationship.
Asked directly by Rajan if he had any kind of sexual relationship when his former lover was underage, Schofield said: "God, no.
"In my statement, it says 'consensual relationship, fully legal'. I mean, that (the statement) was approved by both sides."
Recalling how the affair began, Schofield said: "He'd been working at the show for a few months and we'd become mates, we were mates. Around the studios we'd hang out together, chat to each other, that sort of stuff.
"And then in my dressing room one day something happened which, obviously, I will regret forever for him and for me – mostly him.
"That happened maybe four or five times over the next few months, and I know it's unforgivable but we weren't boyfriends, we weren't in a relationship.
"I was really in a mess with my sexuality at the time and it just happened."
Asked how old his former ITV colleague was at this stage, Schofield said: "20, 21."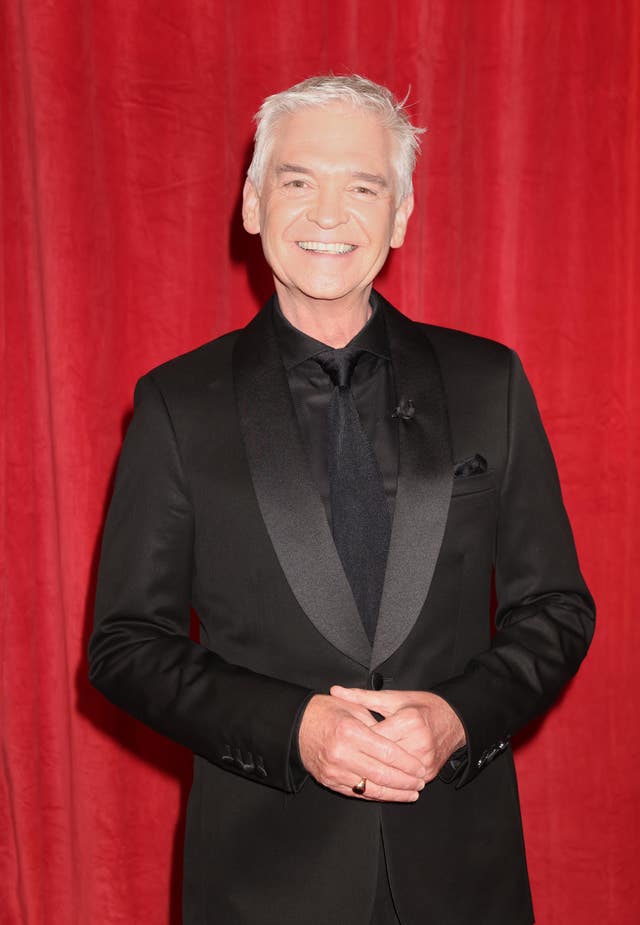 Rajan highlighted that the crux of the issue is whether there was a potential "abuse of power", adding that it might be perceived as "grooming".
"The circumstances are as follows: you met someone who was a child, you were in a position of power over them. You use your power eventually to give them something they craved, which was shot at a job in the media. You nurtured a relationship and then that relationship became sexual. And they might ask, what's the difference between that and grooming?"
Schofield replied: "Well, I would say that the initial list of things was not right anyway.
"Because it was a totally innocent picture, a totally innocent Twitter follow, of which I follow 11,400 people, and then it was a completely innocent backwards and forwards over a period of time about a job, about careers.
"What's wrong with talking to someone no matter what age they are? Does that mean that if you are following anyone on Twitter that you absolutely don't talk to anybody else or you don't give advice? So I disagree with the summation that you just gave, because that does paint a very grave picture."