Abba stars rule out Eurovision reunion in Sweden on 50th anniversary of win
Sweden is set to host the competition next year on the 50th anniversary of Abba's win in 1974.
Abba members Bjorn Ulvaeus and Benny Andersson have ruled out reuniting the band for next year's Eurovision Song Contest in Sweden and said there will not be a third instalment of Mamma Mia!
Next year will mark the 50th anniversary of the Swedish hitmakers – also made up of Agnetha Faltskog and Anni-Frid Lyngstad – winning Eurovision in 1974 with Waterloo.
The band, who have sold more than 400 million albums and singles, were the first competitors from the Nordic country – which has seen six more wins – to clinch a victory.
The international music competition was won by Swedish singer Loreen with Tattoo in Liverpool this year after she also came first with Euphoria in 2012.
Andersson told BBC Newsnight's Thursday episode that there is "no way" the group is going to reunite or even walk on stage together during Eurovision.
"I don't want to. And if I don't want to, the others won't," he said. "It's the same for all four of us. Someone says no – it's a no," he said.
Ulvaeus, who also said it was a no from him, added: "We can celebrate 50 years of Abba without us being on stage."
The singers also spoke about the possibility of bringing Abba Voyage, which takes place in a purpose-built 3,000-seat arena in east London, to other areas of the world.
Featuring "Abba-tar" versions of themselves, it is designed to be a large group experience rather than a fully virtual or digital streaming event on mobile devices or headsets.
"I have to say I'd like to take the show to Australia," Andersson said. "It would feel good to go back there and say thank you to Australians for supporting us from day one."
He also said: "We achieved more than we could ever hope for… seeing this happening after four or five years of work… and realising that the audience actually connected to what was on stage.
"Not like watching a movie, but as if we were actually there."
The concert was announced in 2021 when Abba revealed that they would have their first album in 39 years, Abba Voyage – which reached number one in the UK charts.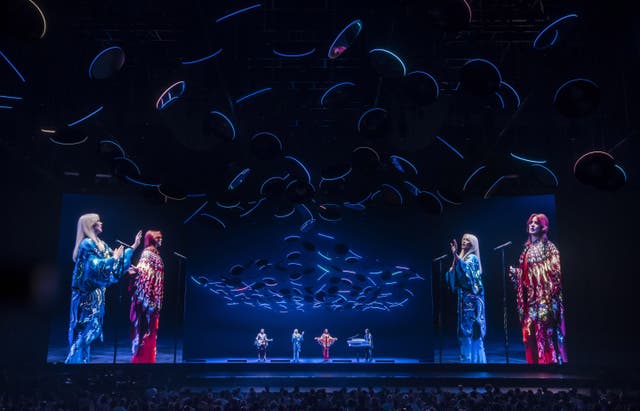 The band has previously seen the musical Mamma Mia!, based on their songs, premiere in London in 1999 and become a worldwide hit.
The musical was then turned into the 2008 film of the same name starring Meryl Streep, Dame Julie Walters, Colin Firth and Pierce Brosnan.
After 10 years, it was followed up with Mamma Mia! Here We Go Again which saw the A-list actors reprise their roles and pop star Cher also make a cameo.
"People want to do it. Universal wants to do it. (Mamma Mia! producer) Judy Craymer wants to do it," Andersson also said.
However, Andersson added without changes to the script and setting – which takes place on a fictional Greek island – "there's not going to be a next Mamma Mia! film. That's just wishful thinking".
Newsnight airs at 10.30pm on BBC Two.