Here we go again – more rain and wind on the way for Shropshire
Areas of Shropshire already hit by floods over the past few weeks were bracing themselves for more as a third storm in four weeks is set to continue the onslaught this weekend.
Forecasters say Storm Jorge will bring more heavy rain and strong wind over the weekend.
Parts of Wales and northern England could see between 50 to 80mm of rain on Friday as the storm hits the UK, the Met Office warned.
It is feared the rain will feed into the River Severn, creating new problems for flood-hit communities as it makes its way downstream to Shrewsbury, Ironbridge and Bridgnorth.
Telford & Wrekin Council said: "Unfortunately all agencies and local residents and businesses are being advised to plan for the river levels to rise again on either Sunday or Monday following the anticipated arrival of Storm Jorge over the weekend."
See also:
Strong winds were forecast for much of England, Wales and Northern Ireland today, reaching 70mph in coastal areas and up to 60mph inland.
Today it led to Attinghham Park, near Shrewsbury, postponing tonight's Night Run event because of the predicted high winds. The run will now be held on Saturday March 21.
Met Office forecaster Emma Salter said: "It's not good news I'm afraid, given all the recent rainfall we've had."
The Met Office's chief meteorologist Paul Gundersen said further flooding is possible with rain forecast to fall on already saturated ground. Flooding along parts of the River Severn, which has reached close to its highest levels in some areas, is likely until at least tomorrow, the Environment Agency said.
A severe "danger to life" flood warning covering the river at the Wharfage in Ironbridge has been downgraded and repairs made to the flood barriers, while 76 flood warnings and 204 flood alerts have been issued across England.
The Wharfage is open to pedestrians only, while the Dale End and Wharfage car parks are open.
Shrewsbury continues to mop up and, although water levels have dropped, there are fears the latest rainfall could see fresh flooding. Bridgnorth's Low Town has also been hit, along with the town of Upton upon Severn.
Riverside in Bridgnorth is now open to traffic but the car park is still closed. Meanwhile the A442 between Bridgnorth and Telford has reopened.
In Shrewsbury, the Frankwell and St Julian's Friars car park remain closed, but the town's park and ride service is now free for the next fortnight to attract business back into the town.
Shrewsbury road closures:
North Shropshire road closures:
Colliery Road, St Martins

Clarke's Lane, St Martins

Burma Road, Park Hall, Whittington
South Shropshire road closures:
B4368 Clun to Newcastle (road slip)

Severnside South Bridgnorth
Today's weather forecast:
Elsewhere, Storm Jorge has heralded its arrival with heavy rain and strong gales as Britain endures its fourth weekend of severe weather.
This month's third named storm is bringing rain, gales and snow, prompting weather warnings stretching from Cornwall to the north of Scotland and across to Northern Ireland.
Police in flood-hit South Wales declared a temporary "critical incident" on Saturday morning as emergency services, councils and other bodies worked to protect property and infrastructure and protect residents.
People in Pontypridd, which was also flooded two weeks ago, and the Ely area of Cardiff, were advised to remain indoors amid warnings of further rising water levels and gusts of up to 70mph.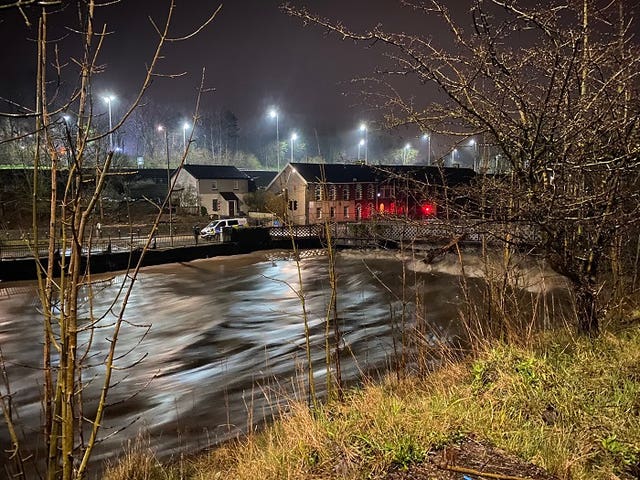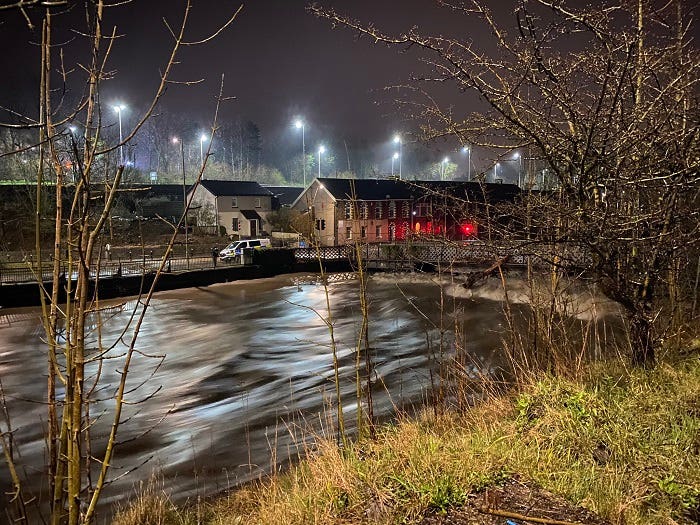 Cardiff Council said emergency teams worked through the night on flood defences, road closures and clearing debris to limit the damage from torrential rains as its roads team answered around 100 incidents.
More than 600 homes and a similar number of businesses have been hit in Wales, accounting for around a quarter of affected properties in the UK.
England has had more than 200% of its average February rainfall, according to the Environment Agency, with some areas getting a month's worth in 24 hours.
There were six yellow weather warnings for rain, wind and snow in force across the country on Saturday morning, stretching from Cornwall to the north of Scotland and across to Northern Ireland.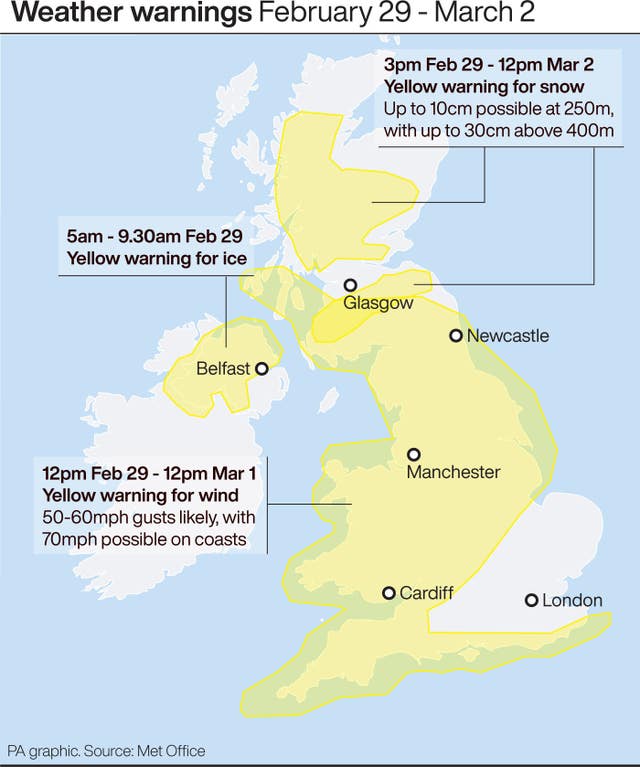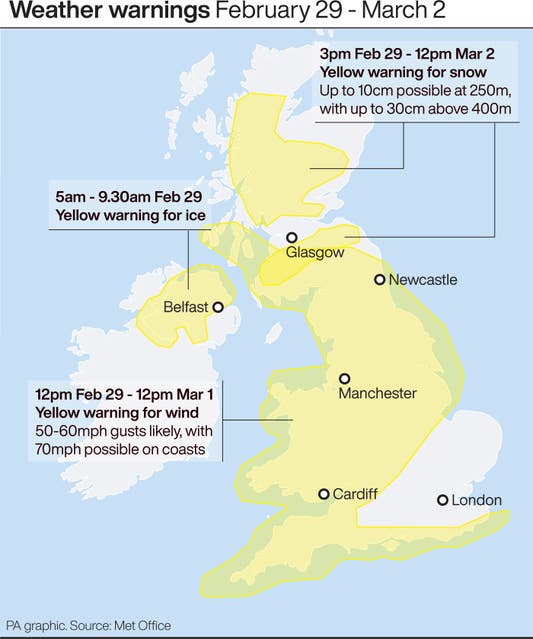 The rain warning was lifted before midday as showers eased but alerts remained in place for gales and the potential for power cuts, transport delays and large waves for coastal communities.
The wind warnings last until 9am on Sunday across much of England and Wales and until 3pm the same day across Northern Ireland, southern Scotland, and northern England.
Persistent snowfall was forecast over higher parts of Scotland, with up to 30cm predicted in some places, with warnings in place until noon on Monday, the Met Office said.
A total of 83 flood warnings were in place across England and Wales, mostly in the South West and along the English-Welsh border, and in Yorkshire, while a further 211 "flooding is possible" alerts are also in force.
The wind-chill factor will make temperatures feel close to freezing, said the Met Office.
Heavy rain which started with Storm Ciara continued with Storm Dennis and now Jorge has contributed to record river levels which have seen safety teams put in "Herculean efforts" to erect flood defences.
Towns including Ironbridge and Bewdley along the River Severn, and West Cowick and Lidgate in East Yorkshire, along the River Aire, are among the worst-hit areas in England.
The Environment Agency said 1,000 staff per day have worked on flood defences and pumps, clearing debris and repairing damaged defences, erecting 3.7 miles of barriers.
The body warned the country needs to brace itself for "more frequent periods of extreme weather like this" because of climate change.