'Blanket' 20mph speed limits make roads less safe, says Transport Secretary
The Conservative Government said it would strengthen guidance to prevent 20mph speed limits 'in areas where it is not appropriate'.
Putting in place "blanket" 20mph speed limits means drivers are less likely to slow down on roads where there is a school or children are playing, the Transport Secretary has said.
Mark Harper said widespread use of a 20mph limit "damages the ability" for the zones to have an impact on roads where a lower speed is required for safety reasons because drivers are "less likely to comply".
The Department for Transport (DfT) announced on Friday that guidance would be reviewed on the use of 20mph limits in England to "prevent their blanket use in areas where it is not appropriate".
It comes after the Labour-run Welsh Government dropped the default speed limit from 30mph to 20mph for restricted roads in a move it predicts could save up to 100 lives and 20,000 casualties in the first decade.
The Transport Secretary told BBC Radio 4's Today programme: "We want to stick with the position where 20mph speed limits make perfect sense, for example, outside a school or in a heavily built-up area where you might have children playing in a residential area or where there is a particular issue with accidents.
"In those areas it makes perfect sense.
"What we are against, and what we are looking at strengthening guidance about, is avoiding the blanket imposition of a 20mph speed limit like we've seen in Wales."
He said 20mph had been imposed "irrelevant to the conditions" on some roads in Wales.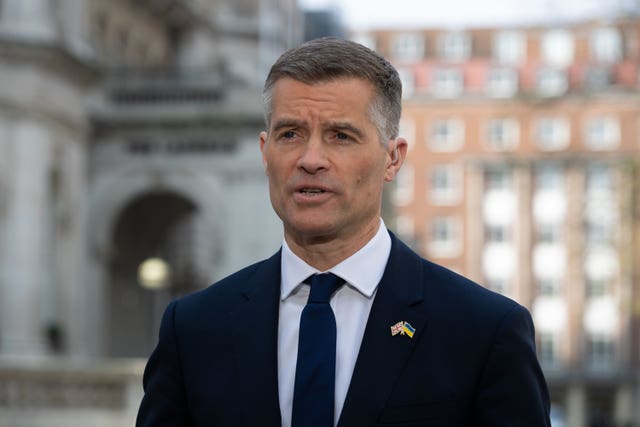 Mr Harper added: "(That) makes life harder for drivers, doesn't deliver any benefits, actually damages the ability of 20mph speed limits to make people safer because if you put them in inappropriate places, actually people are less likely to comply even when they make sense."
The Conservative Cabinet minister told Times Radio that a study commissioned by the DfT indicated a reduction to 20mph "doesn't actually make much difference" to driver speeds.
The study published in November 2018 found 20mph limits in residential areas were supported by the majority of residents and drivers.
The report concluded there was no evidence of a significant drop in the number of crashes and casualties after the introduction of 20mph limits.
Prime Minister Rishi Sunak said he was "slamming the brakes on the war on motorists" after announcing a slew of pro-driving policies ahead of the Tory conference, starting in Manchester on Sunday.
He tweeted: "We are a nation of drivers.
"Most of us use a car every day and, for many, life would be difficult without their car.
"But too often, drivers feel under attack. That changes today with a long-term plan to improve drivers' experience on the road."
The package of measures, as well as stronger guidance on 20mph speed limits, will also include similar action on low traffic neighbourhoods in England to "focus on local consent", according to DfT officials.
A National Parking Platform pilot will be rolled out, meaning drivers should only have to use one app to pay for parking instead of downloading multiple versions.
Charges will be applied on utility firms that dig up roads during peak times, with the extra money used to fix potholes.
Guidance will be strengthened to make sure bus lanes only operate "when necessary" and a consultation will be launched on motorcycles using bus lanes, the DfT has confirmed.
Labour's shadow transport secretary Louise Haigh — referencing the criticism Mr Sunak received after saying he had scrapped a policy of households needing seven bins — said the 20mph announcement was "yet another ban on something that doesn't exist".
She tweeted: "Mark Harper cannot offer a single example of a 20mph zone that will change under this announcement."
RAC head of policy Simon Williams said: "It's extremely positive to see issues that affect the nation's 33 million car drivers being given such prominence ahead of a general election.
"At the same time, it is important to consider the needs of all road users, particularly as many drivers can also be pedestrians, cyclists and bus riders, and vice versa.
"While this will always be a balancing act we have to match competing priorities such as safety, time-efficient travel with tackling traffic congestion and improving air quality."