The protester, who gave her name as 'Beth', sat in Castle Street and blocked the road on Saturday morning, bearing a sign reading: "I am terrified because of the climate crisis."
It was part of coordinated national action by Extinction Rebellion to mark two years since the Government declared a climate emergency.
affic was monitored to ensure no emergency vehicles were delayed after Beth, an Extinction Rebellion protester from Shrewsbury, began her protest.
She said: "I wish I didn't feel it was necessary to cause this disruption. But I am sitting here today because I want to raise awareness of a greater disruption that is happening to us all.
"I am terrified about the changes I am witnessing to our climate, and the lack of government action to limit the effects we humans are having on the ecosystem on which we depend. We have to demand action for the sake of our children.
"We've experienced the effects of the warmest decade on record and last year we saw wildfires in Australia, California, Greece, Alaska, Siberia, along with exceptionally high temperatures in the Arctic and Alaska. The ice caps are melting. Flooding due to exceptionally heavy rain has affected us locally as well as millions around the world.
"Our Parliament declared a climate emergency two years ago. Since then, politicians have backtracked on their previous commitments. They've overturned the ruling against a third runway at Heathrow, cancelled the Green Homes Grant, and invested £27 billion in new roads.
See also:
"The Committee on Climate Change says the UK has failed on 17 out of 21 progress indicators and the chief executive of the Environment Agency says the UK is hitting worst-case scenarios.
"Locally Shropshire Council declared a climate emergency, yet it continues to build the North West Road which will generate 70,000 tonnes of CO2.
"I want to be able to look my children and grandchildren in the eye and say: 'I spoke up, I acted'."
An Arriva employee attended and sat with the woman, and police also attended to speak with her.
It meant several buses were backed up along Castle Street, a one-way road through the town centre, until about 12pm.
The Shrewsbury action was one of hundreds of "protest of one" roadblocks across the country on Saturday to demonstrate against the Government's lack of action on climate change.
The stunt, organised by pressure group Extinction Rebellion (XR), saw individuals sitting alone in busy roads wearing signs with messages about their fears for the future.
The protest began at 11am on May 1 – two years exactly since Parliament declared a climate emergency.
Morgan Trowland, 38, glued himself to London's Tower Bridge, prompting City of London Police to close it to southbound traffic.
Mr Trowland, a civil engineer from Hackney, east London, said: "I'm terrified that billions will die because of the climate crisis, humans and non-humans.
"I'm freaking out that many people are accepting this, or feel powerless to change the course. I want to show onlookers that we each have phenomenal power."
Another man blocked Blackfriars Bridge holding a placard reading: "I'm terrified billions will starve while our Government refuses to act on the climate crisis."
Bing Jones, a 68-year-old retired NHS doctor, blocked a road in Sheffield.
He said: "I'm terrified that our climate targets are empty promises.
"We have targets for 2050 but we are still increasing emissions today. The Government has made inexcusable Covid mistakes. I'm terrified that they will be even worse on the climate crisis."
He added: "I am desperate. I write, lobby and support green politics but see nothing real happening.
"So I am sitting in the road today with a notice saying I am terrified. I am sorry to disrupt ordinary people but I do not know what else to do."
Nurse Andrea Muntiu, 36, blocked traffic in her home town of Ipswich.
She said: "People may wonder what a nurse is doing sitting in the road with a placard. They may wonder what impact this will have on my career or whether I'll get in trouble with the police.
"I am aware of the risks but I feel I have a moral duty to warn people about the catastrophic consequences of the climate crisis."
She added: "We can still change things, we can demand the Government acts now and safeguards what we have."
Lynda Duffill, a 53-year-old mental health trainer and volunteer manager from north Pembrokeshire who sat in the road in Haverfordwest, said: "I fear for the next generation's future. I work with young people and have two young adult children myself.
"They deserve a life free from the difficulties that climate breakdown could bring."
Protests took place in towns and cities across the country, including Nottingham, Birmingham, Oxford, Bradford, Newcastle and Swansea.
XR said in a statement that despite its carbon-cutting targets – with Boris Johnson recently announcing plans to cut emissions by 78% by 2035 – the UK Government is moving too slowly.
It cited multiple reports finding the UK will miss its targets unless ministers take rapid action.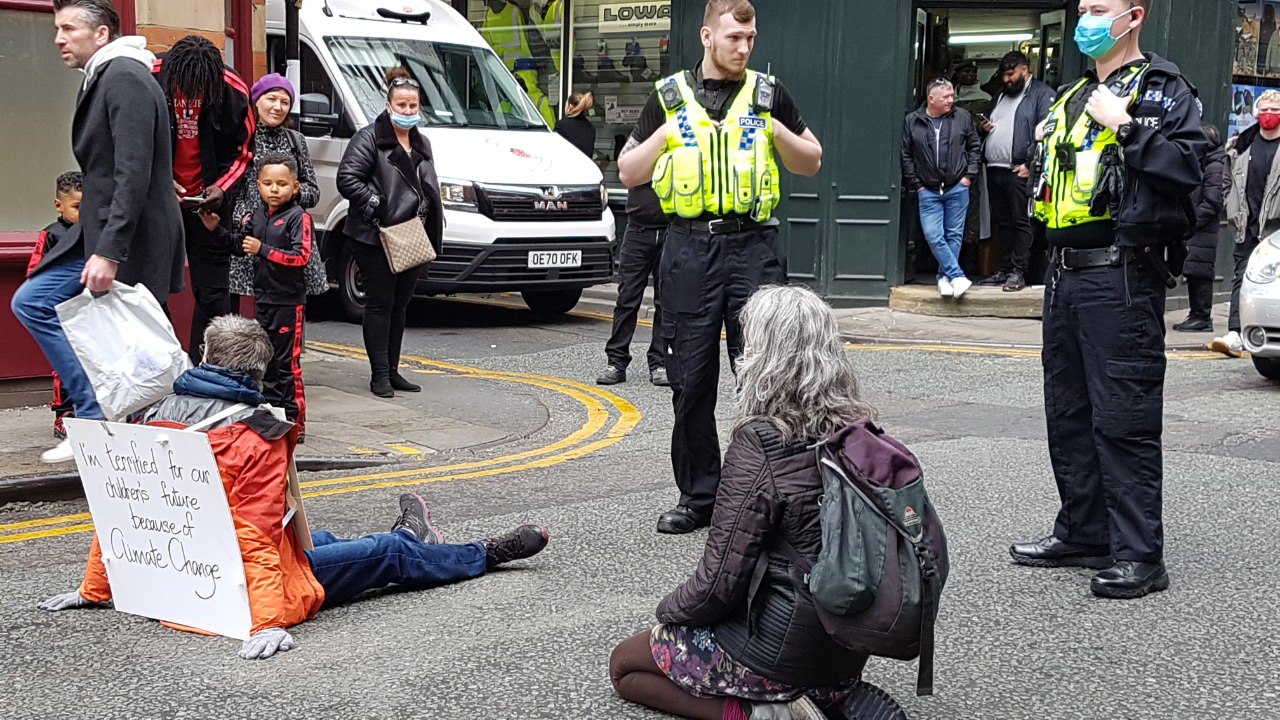 XR spokeswoman Gully Bujak said the Government was good at generating positive headlines but accused it of failing to have a plan to meet its goals.
Ms Bujak said: "The UN People's Climate Survey found that 81 per cent of people in the UK believe that we're in a global emergency.
"The Government needs to commission a national Citizens' Assembly on climate and ecological justice, because even if politicians are scared to face the truth, ordinary people are ready for action."
Saturday's protests coincided with a number of demonstrations against the Police, Crime, Sentencing and Courts Bill.
The Bill was drafted partly in response to previous disruptive action by XR and also the Black Lives Matter movement.
The proposed legislation would give police in England and Wales more powers to impose conditions on non-violent protests – including those deemed too noisy or a nuisance, with those convicted liable to fines or jail terms.