Pope calls for Europe to welcome migrants during Marseille visit
The UN's International Organisation for Migration estimates that more than 28,000 Europe-bound migrants have died in the Mediterranean since 2014.
Pope Francis has arrived in the French port city of Marseille to amplify his call for the Mediterranean to be a place of welcome for migrants, not a cemetery for people who die trying to cross the sea to Europe.
French prime minister Elisabeth Borne met the pope on the airport tarmac for the arrival ceremony. His two-day visit comes as Europe is again seeing an increasing number of people who set off in flimsy boats from Tunisia for Italy.
Speaking to reporters on the plane en route to Marseille, Francis was asked about the recent influx of migrants to the Italian island of Lampedusa, where the thousands of people who arrived last week briefly outnumbered the island's resident population.
"Cruelty, a lack of humanity. A terrible lack of humanity," Francis said.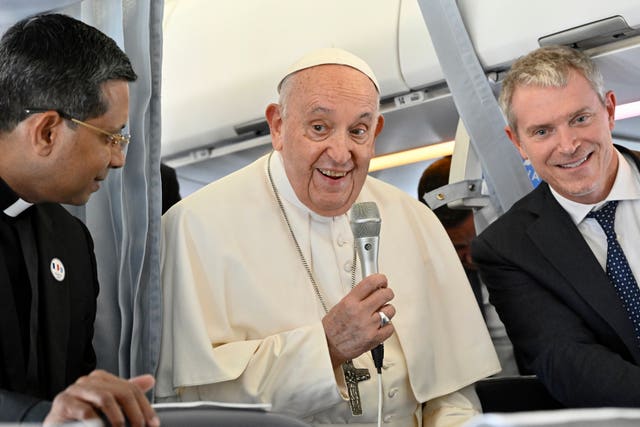 The pope's position on migration is an increasingly lonely one in Europe, where some countries are emphasising border fences, repatriations and the possibility of a naval blockade to keep a new influx of would-be refugees out.
Francis is presiding over the closing session of a gathering of Mediterranean Catholic bishops, but his two-day visit to Marseille is aimed at sending a message well beyond the Catholic faithful to Europe, North Africa and beyond.
After a prayer at the southern French city's basilica, Francis is scheduled to hold an interfaith prayer at a monument dedicated to those who have died at sea.
The UN's International Organisation for Migration estimates that more than 28,000 Europe-bound migrants have died since 2014 while attempting to cross the Mediterranean.
Francis, who has long lamented that the Mediterranean Sea has become "the world's biggest cemetery", confirmed his visit months ago, but it comes as Italy is again seeing an increasing number of migrant arrivals.
Italian premier Giorgia Meloni resurrected calls for a naval blockade and announced new centres to hold those who do not qualify for asylum until they can be sent home.
France, for its part, beefed up patrols at its southern border with Italy, a few hours' drive from Marseille, and increased drone surveillance of the Alps to keep newcomers from crossing over.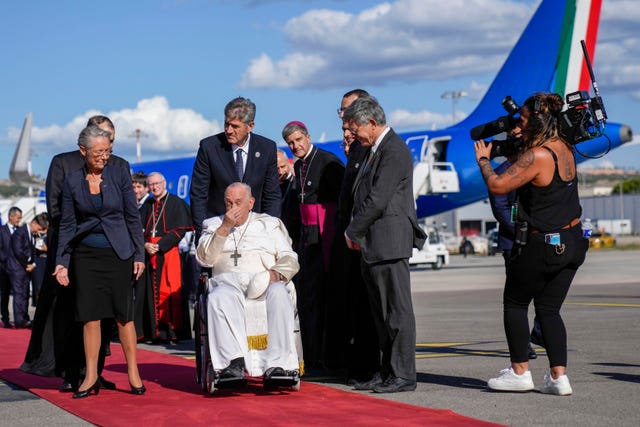 With a European Parliament election set for next year and France's far right challenging the centrist government's policies, French government officials stood firm.
"France will not take in migrants from Lampedusa," Interior Minister Gerald Darmanin said this week on French TV network TF1.
"It's not by taking in more people that we're going to stem a flow that obviously affects our ability to integrate" them into French society, he said.
Marseille's archbishop, Cardinal Jean-Marc Aveline, who was born in Algeria and moved to France as a child, said such "aggressive" measures were not the answer. But he said "naive" speeches about everyone living together happily ever after were not helpful either.
"The church must measure these evils well and find a path that is neither naively irenic nor aggressive out of special interests, but prophetic" by being close to migrants and living among them, Mr Aveline told reporters in Rome before the visit.
The International Federation of Red Cross and Red Crescent Societies and the maritime rescue organisation SOS Mediterranee, which operates a ship that assists migrants, issued on Friday an "urgent call for all actors to dignify the lives of children, women and men survivors of rescues at sea".
SOS Mediteranee co-founder Sophie Beauer said "the unfathomable death toll in the Mediterranean this year could have been prevented if the political will was there", according to the humanitarian groups' joint statement.
"As a prominent moral and global figure… Pope Francis will use his visit to Marseille to recall the moral imperative underlying the laws and conventions that apply at sea: no one in distress should be left to drown."
Marseille is one of the most multi-cultural, multi-religious and multi-ethnic cities on the shores of the Mediterranean, a place long characterised by a strong presence of migrants living together in a tradition of tolerance.
Data from France's National Institute of Statistics and Economic Studies, or INSEE, shows the city of 862,000 residents had more than 124,000 immigrants in 2019, or about 14.5% of the population. The immigrant population included almost 30,000 Algerians and thousands of people from Turkey, as well as from Morocco, Tunisia and other former French colonies in Africa.
"The pope is proposing a path, as others do, whether you're a believer or not, whether Muslim, Jew, atheist or Catholic," Marseille Mayor Benoit Payan said. "He's telling us that we have something in common, and that this Mediterranean must be preserved in its biodiversity, of course, but also in its human relationships."