Hunter Biden sued the US Internal Revenue Service on Monday, claiming that two agents publicly alleging tax-probe interference wrongly shared his personal information.
The agents "targeted and sought to embarrass Mr Biden" with the sharing of confidential tax information in press interviews and testimony before Congress, the suit said.
His lawyers argue that whistleblower protections do not apply, but a lawyer for one agent said any confidential information released came under whistleblower authorisation.
The lawsuit marks the latest legal pushback from Mr Biden as a long-running federal investigation into him unfolds against a political backdrop. That includes an impeachment inquiry aimed at his father, US President Joe Biden, seeking to tie him to his son's business dealings.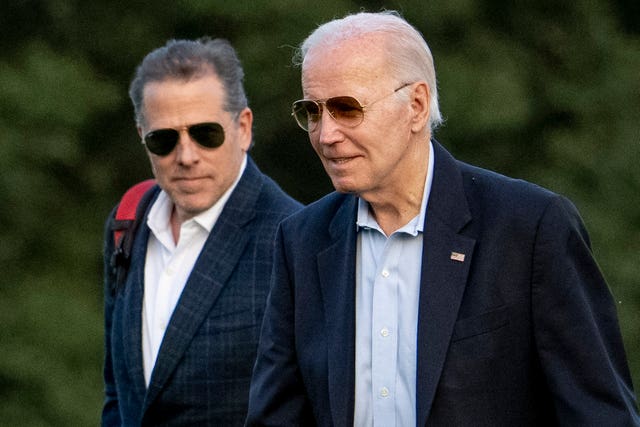 "Mr Biden is the son of the President of the United States. He has all the same responsibilities as any other American citizen, and the IRS can and should make certain that he abides by those responsibilities," the suit states.
"Similarly, Mr Biden has no fewer or lesser rights than any other American citizen, and no government agency or government agent has free rein to violate his rights simply because of who he is."
The suit says the IRS has not done enough to halt the airing of his personal information. It seeks to "force compliance with federal tax and privacy laws" and damages of 1,000 dollars (£807) for "each and every unauthorised disclosure of his tax return information".
IRS supervisory special agent Greg Shapley, and a second agent, Joe Ziegler, have claimed there was pattern of "slow-walking investigative steps" into Hunter Biden in testimony before Congress.
They alleged that the prosecutor overseeing the investigation, Delaware US Attorney David Weiss, did not have full authority to bring charges in other jurisdictions. Mr Weiss and the Justice Department have denied that.
Mr Shapley's lawyer called the lawsuit a "frivolous smear" that sought to "intimidate any current and future whistleblowers".
He did not release confidential tax information except through legal whistleblower disclosures, his lawyer said.
"Once Congress released that testimony, like every American citizen, he has a right to discuss that public information."
The Republican-controlled House Oversight Committee called the two men "good people who did everything right to obtain whistleblower protection with the best interest of our country in mind," in a post on X, formerly known as Twitter.
The agents testified before the committee in July, and said their "investigation will continue".
The IRS declined to comment, citing the pending litigation.
The White House, meanwhile, has said that Joe Biden was not involved in his son's business affairs, and months of investigations have so far not unearthed significant evidence of wrongdoing by the elder Biden.
The investigation into Hunter Biden dates back several years, and he had been expected to strike a plea deal with prosecutors over the summer that included guilty pleas to misdemeanor charges of failing to pay his taxes on time. But that deal imploded during a July court hearing, and he was indicted days ago on federal firearms charges.
He is accused of lying about his drug use to buy and briefly keep a gun in October 2018.
Republicans investigating nearly every aspect of his business dealings had decried the plea agreement that spared him jail as a "sweetheart deal".
Mr Biden's defence lawyers have indicated they plan to fight the charges and the case could be on track toward a possible high-stakes trial.
The new civil lawsuit filed in Washington alleges the improper disclosures included the specific tax years under investigation, deductions and allegations about liability.
Mr Weiss eventually sought and was granted special counsel status last month, giving him broad authority to investigate and report out his findings. His prosecutors have indicated they could file new tax charges in Washington or California.