Kim Jong Un inspects Russian bombers, missiles and frigate
North Korean leader is continuing his trip to the country's Far East.
North Korean leader Kim Jong Un has inspected Russia's nuclear-capable bombers, hypersonic missiles and an advanced warship from its Pacific fleet as he continued a trip in the country's Far East.
After arriving in the city of Artyom by train, Mr Kim travelled to an airport just outside the port city of Vladivostok where Russian defence minister Sergei Shoigu and other senior military officials gave him an up-close look at Russia's strategic bombers and other warplanes.
All the Russian planes shown to Kim on Saturday were among the types that have seen active use in the war in Ukraine, including the Tu-160, Tu-95 and Tu-22 bombers that have regularly launched cruise missiles.
Mr Shoigu, who met Kim during a rare visit to North Korea in July, also showed him one of Russia's latest missiles, the hypersonic Kinzhal, carried by the MiG-31 fighter jet, that saw its first combat during the war in Ukraine.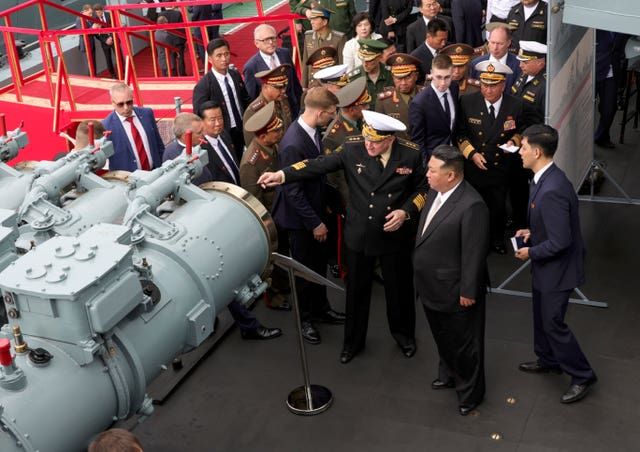 The pair later travelled to Vladivostok, where they inspected the Admiral Shaposhnikov frigate of Russia's Pacific fleet.
Russia's navy commander Admiral Nikolai Yevmenov briefed Mr Kim on the ship's capabilities and weapons, which include long-range Kalibr cruise missiles that Russian warships have regularly fired at targets in Ukraine.
Mr Kim's visits to military and technology sites this week possibly hint at what he wants from Russia, perhaps in exchange for supplying munitions to refill Vladimir Putin's declining reserves as his invasion of Ukraine becomes a drawn-out war of attrition.
Mr Kim's trip to Russia, which included more than four hours of talks with the Russian president on Wednesday, comes amid momentum in military cooperation between the countries.
Videos released by Russia's Defence Ministry showed Mr Shoigu greeting Mr Kim at the airport along with honour guards lined up near a red carpet.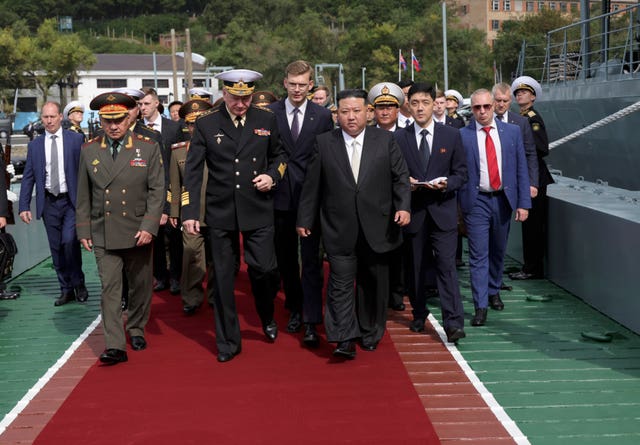 Mr Kim was seen peering at the Kinzhal missile and gesturing and asking questions about the warplanes' capabilities as he discussed technical details with Mr Shoigu and other military officials through translators.
Mr Kim was also seen talking to Mr Shoigu and Mr Yevmenov about a purported nuclear attack submarine the North unveiled last week as they stepped out of the Shaposhnikov frigate.
The visit follows Mr Kim's tour on Friday of a factory producing advanced Russian warplanes.
Mr Kim in recent months has emphasised the need to strengthen his navy to counter the advanced naval assets of the United States, which has been expanding its combined military exercises with South Korea to counter the North's growing threat.
Analysts say Mr Kim's focus on naval strength could be driven by ambitions to obtain sophisticated technologies for ballistic missile submarines and nuclear-propelled submarines as well as to initiate joint naval exercises between Russia and North Korea.
Oleg Kozhemyako, the governor of Russia's Primorsky region, earlier announced Mr Kim's arrival in the city of Artyom, about 25 miles north east of Vladivostok.
Mr Kozhemyako released a video showing Mr Kim smiling as he got off his green-and-yellow train and was greeted by children presenting flowers.
After meeting Mr Putin at Russia's main spaceport, a location that pointed to Mr Kim's desire for Russian assistance in his efforts to acquire space-based reconnaissance assets and missile technologies, North Korea's leader reappeared on Friday in the far eastern city of Komsomolsk-on-Amur for a visit to a plant producing Russia's Su-57 fighter jets.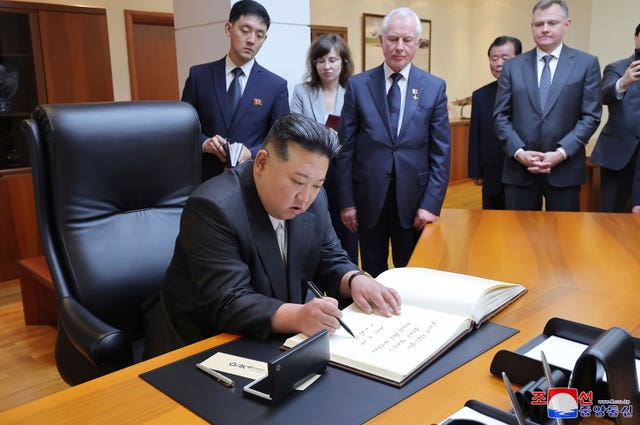 Experts have said potential military cooperation between the countries could include efforts to modernise North Korea's outdated air force, which relies on warplanes sent from the Soviet Union in the 1980s.
Pyongyang's official Korean Central News Agency said on Saturday that during his visit to the aircraft plant in Komsomolsk-on-Amur, Mr Kim expressed "sincere regard" for what he described as Russia's rapidly advancing aviation technologies, which he said were "outpacing the outside potential threats".
North Korean state media have been reporting on Mr Kim's activities in Russia a day late while crafting the details to meet government propaganda purposes.