US President Joe Biden has thanked Denmark for its role in the Western alliance "standing up" for Ukraine as it tried to fend off Russia's invasion.
His comments came during an Oval Office meeting with Danish Prime Minister Mette Frederiksen on Monday.
Mr Biden is due to meet Prime Minister Rishi Sunak on Thursday in a pair of meetings focusing heavily on what lies ahead in the war in Ukraine — including the recently launched effort to train, and eventually equip, Ukraine with American-made F-16s fighter jets.
Both Britain and Denmark are playing a pivotal role in the nascent joint international plan Mr Biden endorsed after months of resisting calls from Ukrainian President Volodymyr Zelenskyy for US aircraft.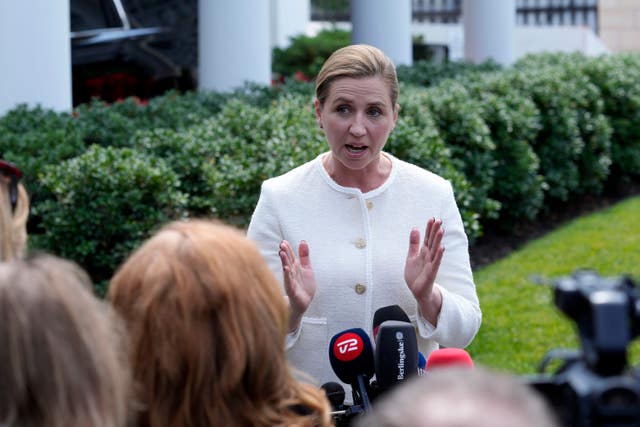 "There's a shared commitment to the core values and that gives us our strength — at least that's what I believe," the president said. "Together we're working to protect those values — including standing up for the people of Ukraine against the brutal aggression of the Russians."
Neither leader mentioned the F-16 agreement in brief remarks before the meeting, but a White House statement following the talks noted Denmark's "significant security assistance to Ukraine and its leadership in training Ukrainian pilots".
While advocating for a coalition to supply Ukraine with fighter planes, the UK does not have any F-16s and has ruled out sending Royal Air Force Typhoon jets.
Instead, Britain says it will give Ukrainian pilots basic training on Western-standard jets starting in early summer to prepare them to fly F-16s.
Last week, the Danish prime minister and Mr Sunak were among 45 European leaders who travelled to Moldova for the first summit of the European Political Community where they underscored support for Eastern Europe's ambitions to draw closer to the West and keep Moscow at bay.
Mr Biden was also expected to discuss preparations for next month's Nato summit in Lithuania that comes amid growing pressure on the alliance from Ukrainian President Volodymyr Zelensky to offer Ukraine concrete security guarantees and a defined path for Kyiv to eventually win membership into the group.
The 31-member alliance is also looking at boosting Ukraine's non-member status in Nato and preparing a framework for security commitments that it can offer once the war with Russia is over.