The Senate has fended off a US default, giving final approval to a debt ceiling and budget cuts package late on Thursday.
The bipartisan deal will now be sent to President Joe Biden's desk to become law before the fast-approaching deadline.
The compromise package negotiated between Mr Biden and House Speaker Kevin McCarthy leaves neither Republicans nor Democrats fully pleased with the outcome.
But the result, after weeks of hard-fought budget negotiations, shelves the debt ceiling issue that risked upending the US and global economy until 2025 after the next presidential election.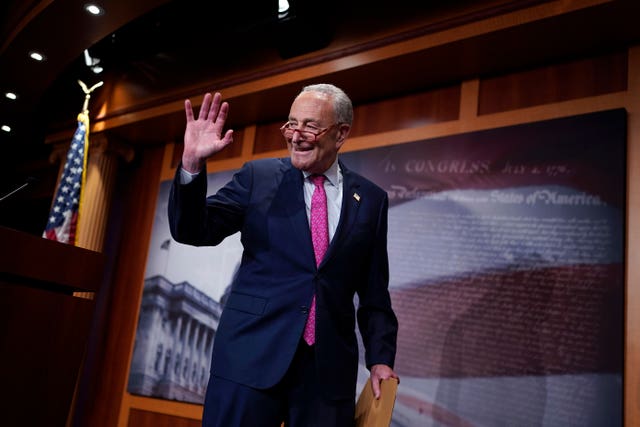 Approval in the Senate on a bipartisan vote, 63-36, somewhat reflected the overwhelming House tally the day before, relying on centrists in both parties to pull the package to passage — though Democrats led the tally in both chambers.
Senate Majority Leader Chuck Schumer said ahead of voting that the Bill's passage means "America can breathe a sigh of relief".
Afterward he said: "We've saved the country from the scourge that is default."
Mr Biden said in a statement following passage that senators from both parties "demonstrated once more that America is a nation that pays its bills and meets its obligations — and always will be".
He said he would sign the Bill into law as soon as possible.
"No one gets everything they want in a negotiation, but make no mistake: this bipartisan agreement is a big win for our economy and the American people," the president said.
The White House said he would address the nation about the matter at 7pm on Friday.
Fast action was vital if Washington hoped to meet next Monday's deadline, when the Treasury has said the US will start running short of cash to pay its bills, risking a devastating default.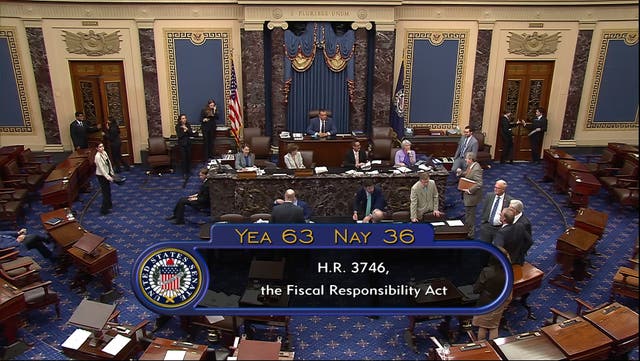 Raising the nation's debt limit, now 31.4 trillion dollars, would ensure the Treasury could borrow to pay already incurred US debts.
In the end, the debt ceiling showdown was a familiar high-stakes battle in Congress, a fight taken on by Mr McCarthy and powered by a hard-right House Republican majority confronting the Democratic president with a new era of divided government in Washington.
Refusing a once routine vote to allow the nation's debt limit to be lifted without concessions, Mr McCarthy brought Mr Biden's White House to the negotiating table to strike an agreement that forces spending cutbacks aimed at curbing the nation's deficits.
Overall, the 99-page Bill restricts spending for the next two years, suspends the debt ceiling into January 2025 and changes some policies, including imposing new work requirements for older Americans receiving food aid and greenlighting an Appalachian natural gas line that many Democrats oppose.