Heavy rains intensified by Tropical Storm Mawar fell on Japan's main archipelago on Friday, halting trains and transit and threatening floods and mudslides in central and western regions.
Warnings were issued in parts of western and central Japan, with up to 25 centimetres (10in) of rain forecast through until Saturday evening.
Residents in vulnerable areas, including those in Mie, Wakayama, Aichi and Shizuoka prefectures in central Japan, were warned of the potential for flooding and mudslides and advised to go to evacuation centres if possible.
Television footage showed swollen rivers in residential areas in Wakayama city, including one where brown water rose as high as the bottom of a bridge over it.
In Tokyo, the few pedestrians on the rainy streets clutched umbrellas as winds blew tree branches around.
Afternoon classes were also cancelled at some schools.
Ferry operations in the Tokyo Bay were cancelled for the rest of Friday.
Heavy rain and mudslide warnings were also issued in the nearby city of Yokohama, where a number of evacuation centres were opened.
Shinkansen super-express trains were suspended between Tokyo and Shin Osaka in western Japan due to heavy rain, according to the Central Japan Railway Company.
Flights and ferries in southern Japan were also cancelled due to continuing strong winds.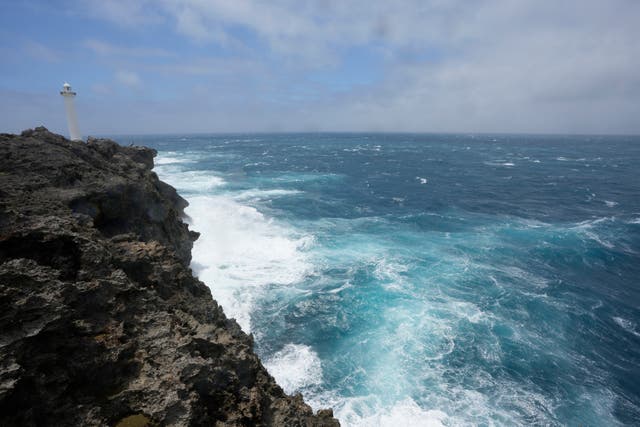 More than 17,500 homes in seven of the nine prefectures serviced by the Tokyo Electric Power Company Holdings lost power.
Mawar remained well offshore in the Pacific Ocean, but its winds were strong enough as it passed Okinawa to cause injuries.
An older woman who fell had a serious head injury in Nishihara city, while the injuries to seven other people were slight.
The tropical storm had sustained winds blowing up to 82kph (51mph) on Friday afternoon and was blowing east-northeast at 25kph (15mph), the Japan Meteorological Agency said.
It was near Amami-Oshima Island, about 1,500 kilometres (930 miles) south-west of Tokyo.
The warm and damp air from the tropical storm was intensifying seasonal rains, and a linear band of heavy rain was hovering over the islands, the meteorological agency said.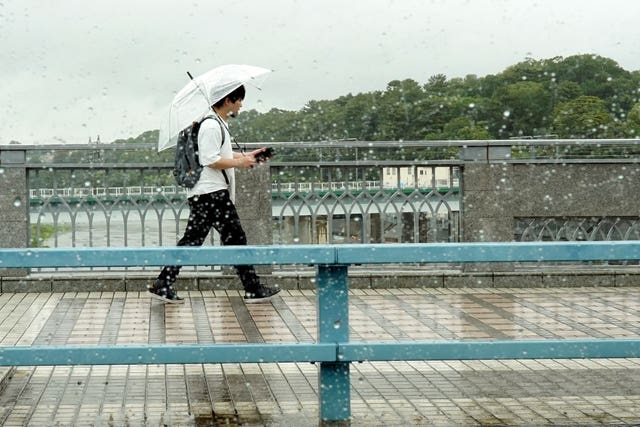 Mawar largely skirted Taiwan and the Philippines earlier this week.
It sent waves crashing into Taiwan's east coast and brought heavy rains to the northern Philippines, though no major damage was reported.
Mawar was the strongest typhoon to hit Guam in more than two decades.
As of Wednesday, only 28% of power had been restored and about half the water system was operational, according to the Federal Emergency Management Agency (FEMA).
There have been long lines for gas, and officials estimate it will be four to six weeks before power is fully restored.
The FEMA did not yet know exactly how many homes were destroyed.