Five people remain unaccounted for, including two who could still be in the wreckage of a partially collapsed apartment building, officials in Iowa said.
Mayor of Davenport Mike Matson confirmed the numbers at a news conference on Tuesday.
Protesters carried signs on Tuesday morning near the site, saying "Find Them First" and "Who is in the Rubble?" Some used a megaphone to shout out names of building residents.
City officials said rescue crews escorted 12 people from the building shortly after a middle section collapsed at about 5pm on Sunday, and rescued several others, including one person who was taken to safety overnight on Sunday. No fatalities have been reported.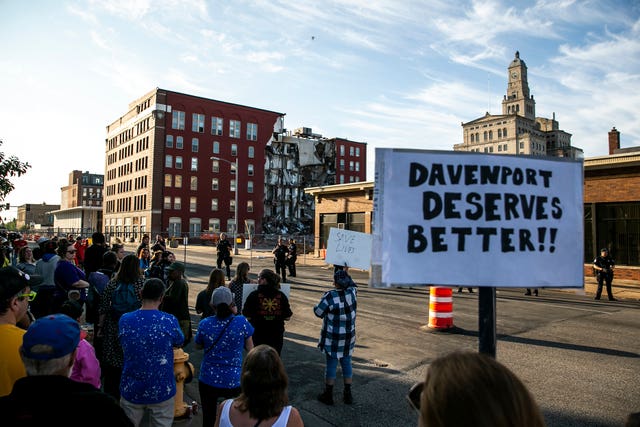 By Monday morning, fire chief Michael Carlsten told reporters: "No known individuals are trapped in that facility."
Authorities said they would soon shift from a rescue operation to a recovery operation.
The city then issued a statement saying that the owner had been served with an order for demolition that was expected to begin on Tuesday morning. That prompted many people to turn to Facebook, naming loved ones who were unaccounted for, and expressing concern that the building was being demolished too quickly.
On Tuesday morning, the city issued a new statement, saying it has been "continually evaluating the timing of the demolition".
The statement said demolition "is a multi-phase process that includes permitting and staging of equipment that will begin today. The timing of the physical demolition of the property is still be evaluated. The building remains structurally insecure and in imminent danger of collapse."
The woman was rescued at about 8pm on Monday after calling her family for help, according to multiple news reports.
A bystander's video showed someone waving from a fourth-floor window to a fire department ladder truck below.
A city statement late on Monday said an injured woman had been extricated, but it was not immediately clear if this was the same person referred to in news reports.
When firefighters initially arrived on Sunday, they immediately took action, saving lives at great risk to their personal safety, city officials said.
"There was a lot of screams, a lot of cries, a lot of people saying 'Help!' when the building came down," Tadd Mashovec, a resident of the building, told KCCI-TV. "But that did not last, two or three minutes, and then the whole area was silent."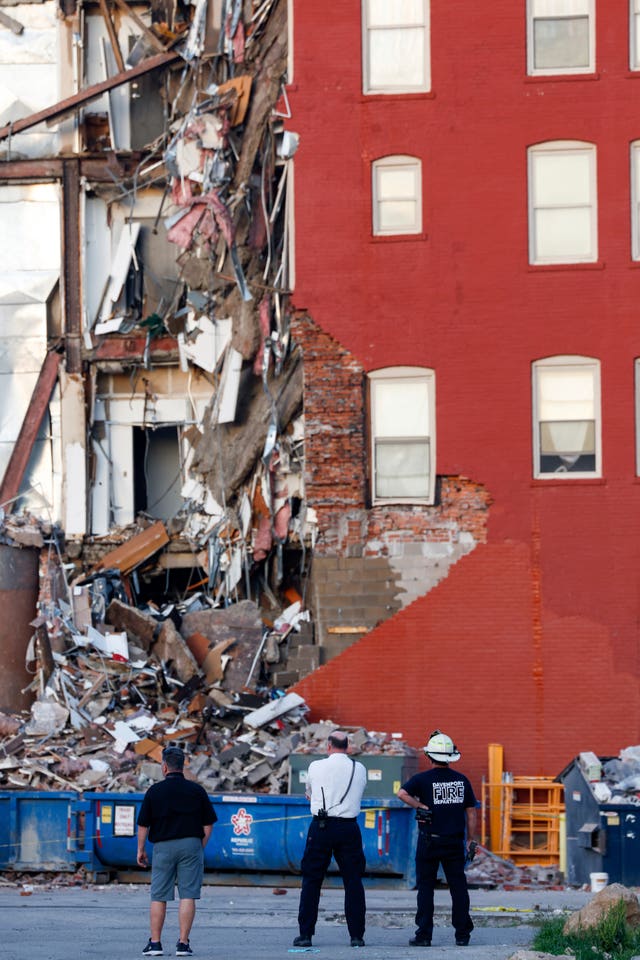 Mr Carlsten said the back of the complex had separated from the rest of the building, and authorities found a gas leak.
It was not clear what immediately caused the collapse, which left a gaping hole in the centre of what was once the Davenport Hotel, a building listed in the National Register of Historic Places in 1983.
Built in 1907, the brick, steel and concrete structure had been renovated into a mixed-use building with residential and commercial spaces.
Work was being done on the building's exterior at the time of the collapse, said Rich Oswald, the city's director of development and neighbourhood services.
Reports of falling bricks were part of that work, and the building's owner had a permit for the project, he said.
The property owner was served on Monday with a demolition order, and residents were prevented from going back inside to remove their belongings, due to the building's unstable condition.
Authorities confirmed that multiple residents had complained of unmet maintenance problems. Quad-City Times reported nearly 20 permits were filed in 2022, mainly for plumbing or electrical issues, according to the county assessor's office.