Florida governor Ron DeSantis entered the 2024 presidential race on Wednesday, stepping into a crowded Republican primary contest that will test his national appeal and the GOP's willingness to move on from former president, Donald Trump.
The 44-year-old Republican revealed his decision in a Federal Election Commission filing before an online conversation with Twitter CEO Elon Musk.
"We need the courage to lead and the strength to win," Mr DeSantis said in a minute-long video. "I'm Ron DeSantis, and I'm running for president to lead our great American comeback."
He tried to discuss his decision further in the online conversation with Mr Musk, although the audio stream crashed repeatedly.
The meeting was moderated by Republican donor David Sacks, a tech entrepreneur who is close to Mr Musk.
The event started off with technical glitches the Twitter owner said were due to "straining" servers because so many people were trying to listen to the audio-only event.
Mr Musk a day earlier dubbed the event a historic first for Twitter, saying it will be "the first time something like this is happening on social media".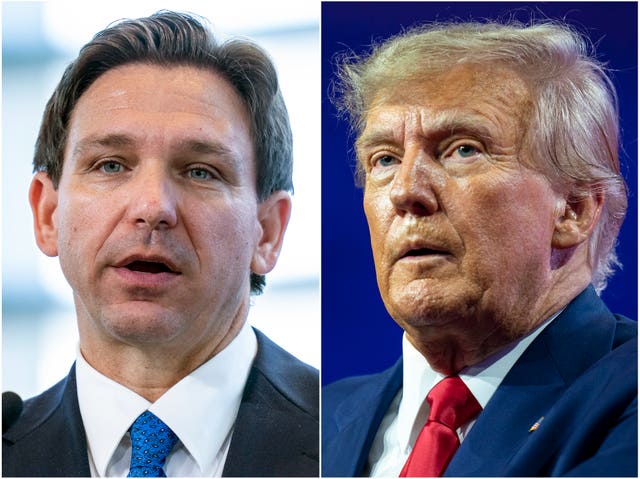 The event was scheduled to begin at 6pm EDT, but 20 minutes passed with users getting kicked off, hearing microphone feedback and other technical problems.
At one point, more than 300,000 Twitter users were listed as listening to the event, but the number dropped closer to 100,000 as people left because of the technical issues.
"This is a disaster. Not surprising," tweeted senior Trump adviser Chris LaCivita.
Mr DeSantis's entry marks a new chapter in his extraordinary rise from little-known congressman to two-term governor to a leading figure in the nation's bitter fights over race, gender, abortion, and other divisive issues.
Mr DeSantis is considered to be Mr Trump's strongest Republican rival even as the governor faces questions about his readiness for the national stage.
Mr DeSantis was following up his Twitter conversation with prime-time appearances on conservative programmes, including Fox News and Mark Levin's radio show.
Mr DeSantis' entry into the Republican field has been rumoured for months and he is considered one of the party's strongest candidates in the quest to retake the White House from Democratic President Joe Biden.
The 80-year-old incumbent, Republicans say, has pushed the nation too far left while failing to address inflation, immigration and crime.
The Republican nominee will face Mr Biden on the general election ballot in November 2024.
Mr DeSantis begins his campaign in a top-tier of two alongside Mr Trump based on early public polling, fundraising and campaign infrastructure.
The two GOP powerhouses have much in common.
Mr DeSantis, who likely would not have become the Florida governor without Mr Trump's endorsement, has adopted the former president's fiery personality, his populist policies and even some of his rhetoric and mannerisms.
Yet Mr DeSantis has one thing Mr Trump does not: a credible claim that he may be more electable in a general election than Trump, who faces multiple legal threats and presided over Republican losses in three consecutive national elections.
Mr DeSantis delayed his announcement until Florida's legislative session was over.
But for much of the year, he has been courting primary voters in key states and using an allied super political action committee to build out a large political organisation that is essentially a campaign in waiting and already claims at least 30 million US dollars (£24 million) in the bank.
He joins a field that already includes: Mr Trump; former UN Ambassador Nikki Haley; South Carolina senator Tim Scott; former Arkansas governor Asa Hutchinson; and biotech entrepreneur Vivek Ramaswamy.
Former Vice President Mike Pence is also considered a likely presidential candidate but has not yet announced a bid.