Homes damaged as tornado hits Arkansas capital
The twister tore first through neighbourhoods in west Little Rock, and shredded a small shopping centre.
A tornado hit Arkansas capital Little Rock and surrounding areas on Friday afternoon, reducing rooftops to splinters, toppling vehicles and tossing debris as people raced for shelter.
The city's main trauma centre said it was expecting at least 15 to 20 patients.
There were two more confirmed twisters in Iowa, damaging hail fell in Illinois and wind-whipped grass fires blazed in Oklahoma, part of a massive storm system threatening a broad swath of the country home to some 85 million people in the South and Midwest.
The Little Rock tornado tore first through neighbourhoods in the western part of the city, and shredded a small shopping centre that included a Kroger grocery store.
It then crossed the Arkansas River into North Little Rock and surrounding cities, where widespread damage was reported to homes, businesses and vehicles.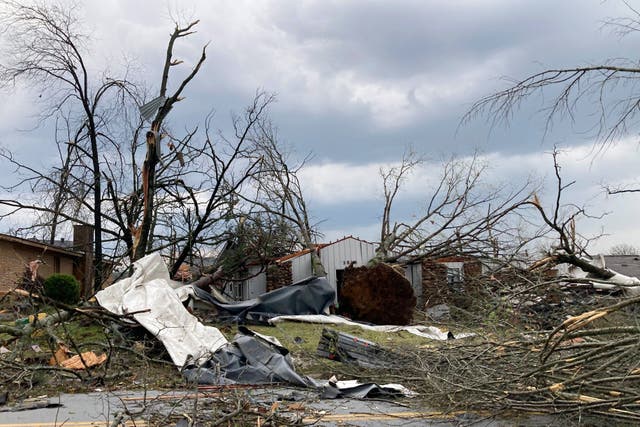 The University of Arkansas for Medical Sciences Medical Centre in Little Rock was operating at a mass casualty level, spokesperson Leslie Taylor said. Several people had already been transported to the medical centre, but an exact count was not immediately available.
Mark Hulsey, a special projects manager for Pulaski County, which includes Little Rock, said at least one person was in critical condition.
Resident Niki Scott took cover in the bathroom after her husband called to say a tornado was headed her way. She could hear glass shattering as the tornado roared past, and emerged afterward to find that her house was one of the few on her street that did not have a tree fall on it.
"It's just like everyone says. It got really quiet, then it got really loud," Ms Scott said afterwards, as chainsaws roared and sirens blared in the area.
The Little Rock Fire Department reported heavy damage and debris in the western end of the city, saying on its Facebook page that firefighters were performing rescue operations in the area.
Governor Sarah Huckabee Sanders declared a state of emergency and said there was "significant damage" in the central part of the state.
"Praying for all those who were and remain in the path of this storm," she wrote on Twitter. "Arkansans must continue to stay weather aware as storms are continuing to move through."
Little Rock Mayor Frank Scott Jr announced that he was requesting assistance from the National Guard.
"Please stay off the roads and away from the affected areas to allow emergency responders to work," Mr Scott tweeted.
Aerial footage showed several rooftops were torn from homes in Little Rock and nearby Benton.
Nearly 70,000 customers in Arkansas were out of power in the afternoon, according to poweroutage.us, which tracks outages.
About 32,000 were without power in neighbouring Oklahoma, where wind gusts between 50 and 60 mph fuelled fast-moving grass fires.
People were urged to evacuate homes in far north-east Oklahoma City.
More outages were reported in Kansas, Missouri and Texas.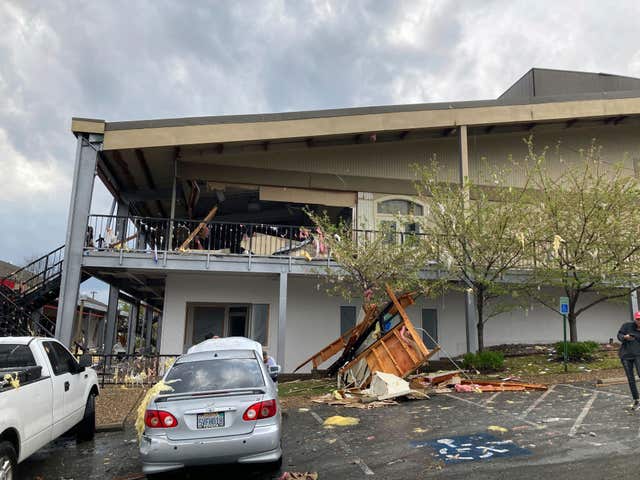 Dylan Dodson, a National Weather Service meteorologist in Des Moines, said there were two confirmed tornadoes on Friday afternoon in eastern Iowa but it was too early to estimate their size or how much damage they had caused.
Poweshiek County sheriff's deputies said one touched down in an empty field and there were no reports of injuries.
"We have some reports of areas that have received damage but as far as severity, it's too early to say yet," Mr Dodson said.
In Illinois, Ben Wagner, chief radar operator for the Woodford County Emergency Management Agency, said hail broke windows on cars and buildings in the area of Roanoke, north-east of Peoria.
Massive storms brewing over at least 15 states in the Midwest and southern US on Friday had meteorologists urging people to brace for dangerous weather including tornadoes, saying the conditions are similar to those a week ago that unleashed a devastating twister that killed at least 21 people in Mississippi.
The hazardous forecast is a result of strong southerly winds transporting copious amounts of moisture from the Gulf of Mexico north, where they will interact with the strengthening storm system.
The weather service is forecasting another batch of intense storms next Tuesday in the same general area as last week. At least the first 10 days of April will be rough, Accuweather meteorologist Brandon Buckingham said earlier this week.