Pakistani court grants protection to Imran Khan from arrest
The ruling by the Lahore High Court is another reprieve for the embattled former cricketer.
A Pakistani court has shielded former prime minister Imran Khan from arrest until at least next week.
It comes amid a roiling political crisis that has pitted the celebrity politician against the current government and spilled over into street protests.
Mr Khan was ousted through a confidence vote in Parliament last April.
Since then, the 70-year-old former cricketer turned politician has become embroiled in over 100 legal cases against him, including graft while in office.
Friday's ruling by the Lahore High Court is another reprieve for embattled Mr Khan, who is now the country's top opposition leader.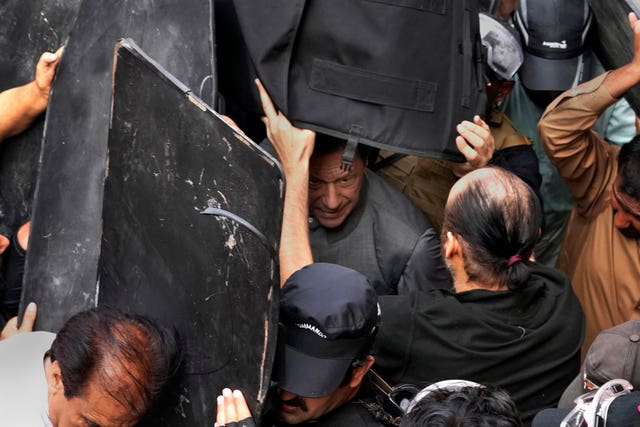 The court order virtually prevents his arrest until March 27 over accusations he incited supporters from his Pakistan Tehreek-e-Insaf party to violence when he failed to appear before a court in the capital Islamabad because of hours-long clashes between his party and the police.
Since November, Mr Khan has avoided appearances before courts in Islamabad in at least three cases, including a graft charge, when he was wounded in a gun attack at a protest rally in the eastern Punjab province.
Mr Khan says his life is in danger and that is why he is seeking bail to avoid appearances before judges in multiple cases.
Mr Khan's standoff with the government of his successor, Prime Minister Shahbaz Sharif, has turned increasingly violent in recent weeks.
Last week, his supporters clashed with police in Islamabad, resulting in injuries to dozens of officers.
Because of the violence, Mr Khan could not appear before the judge in person to face indictment in the graft case.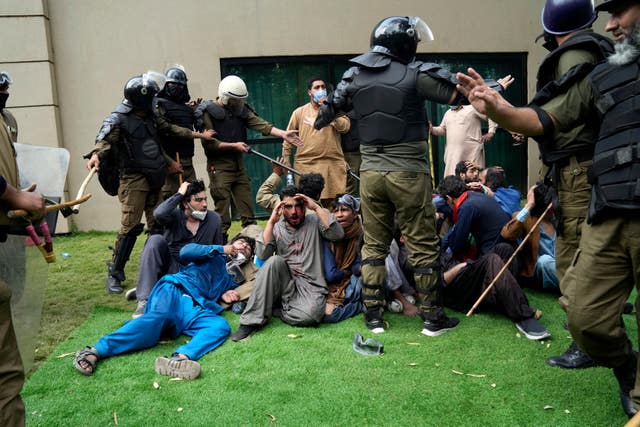 He is accused of illegally selling state gifts he received during his term as premier and concealing his assets.
Mr Khan has denied all charges against him, saying he is being victimised by Mr Sharif's government.
Mr Khan is expected to lead a rally in Lahore on Saturday to pressure the government to agree to the holding of snap elections.
Mr Sharif has said the next parliamentary elections will be held on time later this year when the parliament completes its five-year term.
Mr Khan has repeatedly alleged his ousting was a conspiracy engineered by his successor and the United States. Both have denied the charge.
But the ousted premier in recent weeks has adopted a conciliatory approach toward Washington.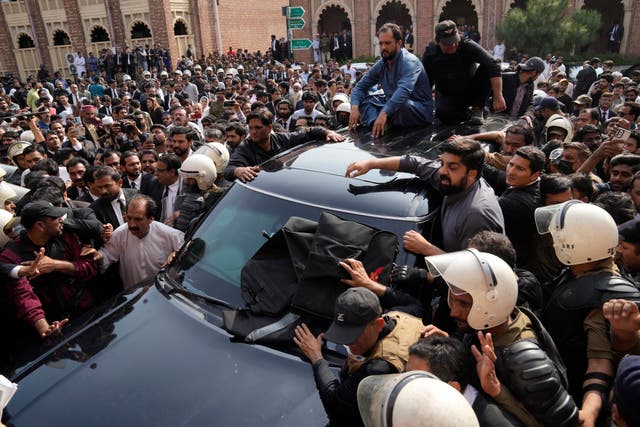 On Friday, Pakistan's defence minister Khawaja Mohammad Asif at a news conference criticised Mr Khan for trying to seek help from diplomats and politicians in the United States, saying Mr Khan blamed Washington for his ousting for months.
Mr Asif also defended this week's decision by the country's elections oversight body to delay elections for a provincial assembly in the key Punjab province from April 30 until October 8.
The move has drawn criticism from Mr Khan.
Wednesday's decision by the Election Commission came months after Mr Khan's party dissolved the regional assemblies in Punjab and Khyber Pakhtunkhwa province in a failed bid to force snap national elections.
On Friday, President Arif Alvi wrote a letter to Mr Sharif, urging him to hold elections for the two provincial assemblies on time.