Trump says he's 'more committed than ever' as he begins 2024 White House run
The former president appeared at early-voting states as he attempts to return to power after his defeat in the 2020 election.
Former US president Donald Trump has kicked off his 2024 White House bid with a stop in New Hampshire before heading to South Carolina.
His appearance in early-voting states marks the first campaign appearances since he announced his latest run more than two months ago.
Mr Trump told party leaders at the New Hampshire Republicans' annual meeting in Salem: "We're starting right here as a candidate for president.
"I'm more angry now and I'm more committed now than I ever was."
Mr Trump and his allies hope the events in states with enormous power in selecting the nominee will offer a show of force behind the former president after a sluggish start to his campaign that left many questioning his commitment to running again.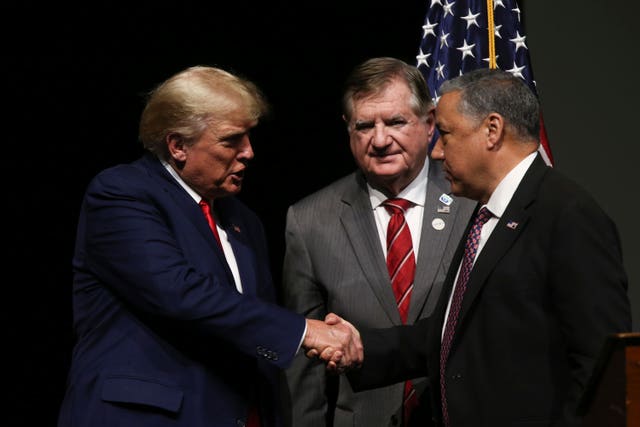 In recent weeks, his backers have reached out to political operatives and elected officials to secure support for Mr Trump at a critical point when other Republicans are preparing their own expected challenges.
In New Hampshire, Mr Trump promoted his campaign agenda, including immigration and crime, and said his policies would be the opposite of President Joe Biden's.
He cited the Democrats' move to change the election calendar, costing New Hampshire its lead-off primary spot, and accused Mr Biden, a fifth-place finisher in New Hampshire in 2020, of "disgracefully trashing this beloved political tradition".
"I hope you're going to remember that during the general election," Mr Trump told party members.
Mr Trump himself twice won the primary, but lost the state each time to Democrats.
While Mr Trump remains the only declared 2024 presidential candidate, potential challengers, including Florida governor Ron DeSantis, former vice president Mike Pence and former South Carolina governor Nikki Haley, who was Mr Trump's ambassador to the United Nations, are expected to get their campaign underway in the coming months.
In South Carolina, governor Henry McMaster, US senator Lindsey Graham and several members of the state's congressional delegation planned to attend Mr Trump's event at the Statehouse in Columbia to introduce his leadership team for the state.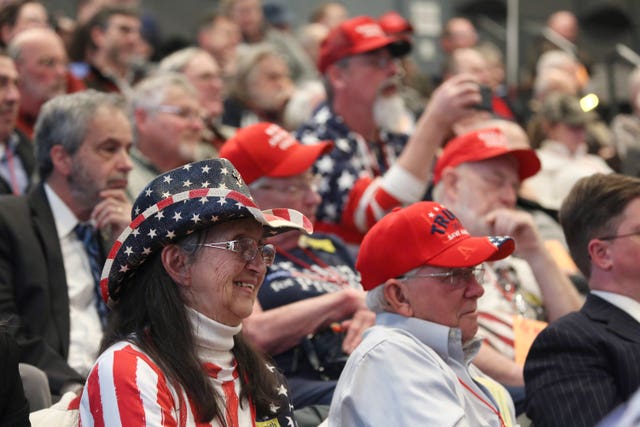 Mr Trump's team has struggled to line up support from South Carolina legislators, even some who eagerly backed him before.
Some have said that more than a year out from primary balloting is too early to make endorsements or that they are waiting to see who else enters the race. Others have said it is time for the party to move past Mr Trump to a new generation of leadership.
The South Carolina event, set for a government building, was in some ways off-brand for a onetime reality television star who typically favours big rallies and has tried to cultivate an outsider image.
Rallies are expensive, and Mr Trump added new financial challenges when he decided to begin his campaign in November – far earlier than many had urged.
That leaves him subject to strict fundraising regulations and bars him from using his well-funded leadership political action committee to pay for such events, which can cost several million dollars.
Mr Trump's campaign, in its early stages, has already drawn controversy, most particularly when he had dinner with Holocaust-denying white nationalist Nick Fuentes and the rapper formerly known as Kanye West, who had made a series of antisemitic comments.
The former president also was widely mocked for selling a series of digital trading cards that pictured him as a superhero, a cowboy and an astronaut, among others.
He is the subject of a series of criminal investigations, including one into the discovery of hundreds of documents with classified markings at his Florida club, and whether he obstructed justice by refusing to return them, as well as state and federal examinations of his efforts to overturn the results of the 2020 election, which he lost to Mr Biden.
However, Mr Trump remains the only announced 2024 candidate, and early polling shows he is one of the favourites to win his party's nomination.