Pope Francis has celebrated Mass with poor people in the splendour of St Peter's Basilica and denounced those who dismiss poverty as "not my business".
He defined indifference to the needy as a "great sin" and later expressed particular concern for people impoverished by war.
After Mass, the pope ate lunch with some 1,500 poor people from Italy, Poland, France and elsewhere as the Catholic Church marked its first World Day of the Poor.
The event has been created by Francis to draw attention to those living on the margins of society. "To do no wrong is not enough," Francis said in his homily.
Not using our lives to help others is a "great sin where the poor are concerned," Francis said. "Here it has a specific name: indifference. It is when we say, 'That doesn't concern me. It's not my business, it's society's problem'."
It appeared to be a lunch the pope enjoyed immensely.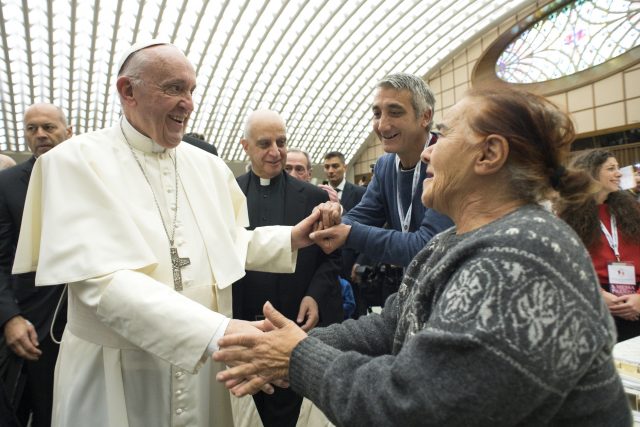 Francis laughed when a guest presented him with a scarf in the red-and-yellow colours of local soccer team Roma, which had beaten hometown rival Lazio a day earlier.
He beamed as waiters served his less well-off guests, seated at a long table, plates filled with gnocchetti sardi, a shell-shaped pasta, topped with tomato sauce.
Elbow-to-elbow with his guests, Francis tucked a cloth napkin into his white cassock and ate with gusto. There was a second course of veal and greens, a dessert of tiramisu and coffee to top the meal off.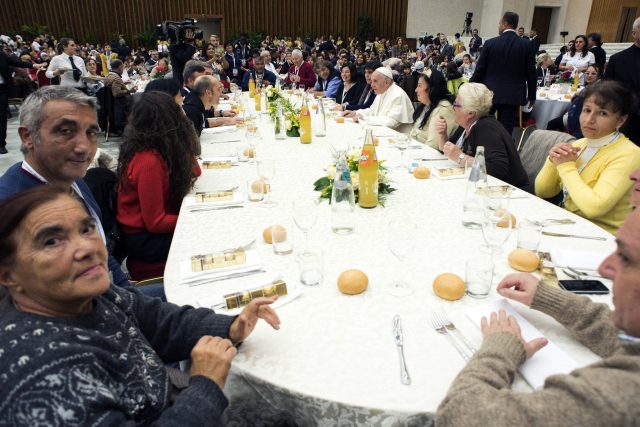 Other guests dined at round tables, covered with white cloths and decorated with a potted cyclamen, in the hall where the pope on Wednesdays holds his public audience.
Francis said: "It is when we turn away from a brother or sister in need, when we change channels as soon as a disturbing question comes up, when we grow indignant at evil but do nothing about it.
"God will not ask us if we felt righteous indignation, but whether we did some good."
The poor, those who the world views as having "little value, they are the ones who open to us the way to heaven". "They are our 'passport to paradise'," Francis said.