A boy who called 999 aged two after his mother fell unconscious and twins who rescued a teenage girl from drowning are among those being hailed for their bravery by Scotland's top police officer.
Hanlon Stevenson was just a toddler when his mother Lisa became unwell in February 2019.
The youngster stepped into action and told the emergency services: "Mummy is sleeping and I can't wake her."
The boy's quick-thinking meant paramedics could get to their Stirling house to treat her.
Hanlon, now six, was thanked by Sir Iain Livingstone at the Chief Constable's Bravery and Excellence Awards on Friday.
His mother Lisa, 28, said Hanlon was "so excited" to earn the Meritorious Conduct Commendation, adding: "He's so proud of himself and I'm proud of him as well."
Sir Iain told the youngster, who won the award for "showing remarkable courage and presence of mind to save the life of his mother by dialling 999", how proud he was of the primary school pupil.
But it could have been a different, altogether more tragic story if it had not been for his toys.
His mother said: "He's got little toys that work with batteries, that say 999 on them for ambulance or police.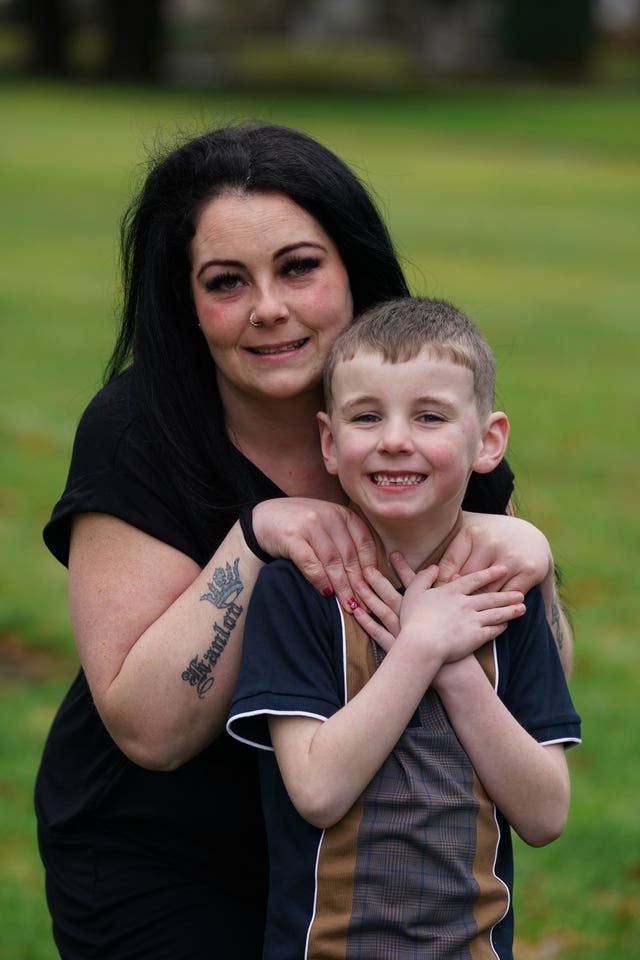 "He's a fast learner and I think he remembered the number and he obviously dialled it for help."
Joining the youngster and other members of the public were twins Jonathon and Christopher Easton.
In July 2021, when they were aged 20, they saw a 15-year-old girl walking into the sea while they were playing football near Ayr esplanade, South Ayrshire.
Sensing something was wrong, the pair went into the water and found her unconscious and unresponsive.
Pulling her to the safety of shallow water, they were then helped by friends who removed her from the water. She has since made a full recovery.
Fraser Ritchie, from Fife, was also recognised.
He faced down what appeared to be a gunman robbing his local Kirkcaldy grocery store in February 2022.
Justice Secretary Keith Brown said: "All of the nominees deserve our gratitude but especially little Hanlon who contacted the emergency services when his mum became ill – a truly heart-warming example of individual bravery."
Police officers who have gone above and beyond the call of duty were also thanked during the ceremony at force headquarters in Tulliallan.
Pc Euan MacLeod was on patrol in Dundee in September 2021 when he and a colleague saw smoke billowing from a flat, with a man sitting on the window ledge inside the burning building.
They entered the building, which was quickly becoming engulfed in flames, to rescue the man and other residents as they awaited for the arrival of the Scottish Fire and Rescue Service.
Pcs Lee Brown, Sharon Bradbury and Gary Drewett were recognised by the chief constable for their part in stopping a knifeman in East Kilbride, South Lanarkshire, after being called to the scene in September 2021.
Sir Iain said policing is a "relentless but hugely rewarding vocation in which you can help people and change lives for the better".
He added: "These awards illustrate the bravery and professionalism demonstrated by police officers and staff right across Scotland every day. I am grateful for their commitment to public service and dedication to duty."