Key moments of Sunak's HS2-cutting, 'beauty pageant' of a Tory conference
The Prime Minister struggled to keep his own party under control amid bleak prospects for a general election.
Rishi Sunak's first Tory party conference as Prime Minister was overshadowed by his chaotic axing of the northern leg of HS2 – while in Manchester – and an early "beauty pageant" for his job.
He dragged the party away from the centre ground and put his family front and centre as train strikes hit the annual jamboree.
Here is a look at the key issues at the conference.
– Party veers to the right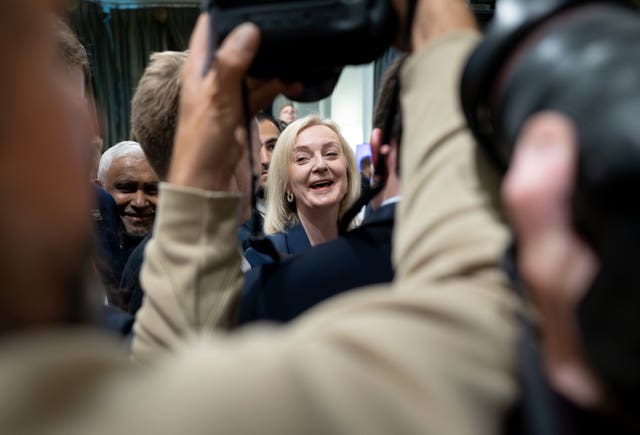 Along with the classics designed to go down well with the party faithful – toughening benefits and slashing the Civil Service – ministers were running head-on into the "war on woke".
Policies to court the right were deployed at every opportunity to distinguish the Tories from Labour, with banning transgender women from female hospital wards, protecting controversial statues and taking on the unions among the proposals.
Ministers even flirted with conspiracy theories when Transport Secretary Mark Harper suggested councils could "decide how often you go to the shops, and that they can ration who uses the roads and when" with "sinister 15-minute city plans".
And Claire Coutinho was challenged on having a flimsy grasp on the truth for using her speech to claim Labour is "relaxed about taxing meat", despite having no such policy.
Mr Sunak is acutely aware that it was the party membership – generally more to the right than his MPs – who selected Liz Truss over him in the first of last year's two Tory leadership elections.
– A coy beauty pageant in plain sight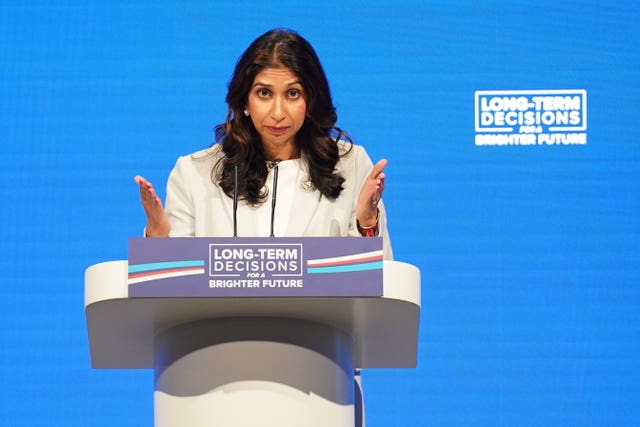 Plenty of Tory MPs are nervous about losing their seats at the next general election if things go the way of the current opinion polls, but others sense an opportunity.
With few thinking Mr Sunak will cling on if he fails to win the next election, those popular with the party faithful were suspected of giving a sneak peek of their leadership pitches.
Home Secretary Suella Braverman was crowned the "darling" of the conference, having been embraced by chants of "brav-er-man" after claiming multiculturalism had "failed" and warning that a "hurricane" of mass migration was coming.
Ms Truss drew large crowds with her tax-cutting proposals to "make Britain grow again", less than a year after being ousted as prime minister during a chaotic 49 days in No 10.
Dame Priti Patel, the former home secretary, was ruling out the return of her Conservative colleague, but not her own prospects as she sniped at former Cabinet colleagues.
Kemi Badenoch, the Business Secretary, was also warmly received after claiming that ministers should keep the option of leaving the European Convention on Human Rights "on the table".
Commons Leader Penny Mordaunt, the warm-up act for Mr Sunak's conference speech, hit the key notes of Churchill and Thatcher as she railed against socialism and Labour and urged members to "stand up and fight".
Nigel Farage may have rejected Mr Sunak's open door policy on a return to the party, but the former Ukip leader was gleefully posed for selfies with a steady stream of Tory members.
– HS2 to the North cut, while in Manchester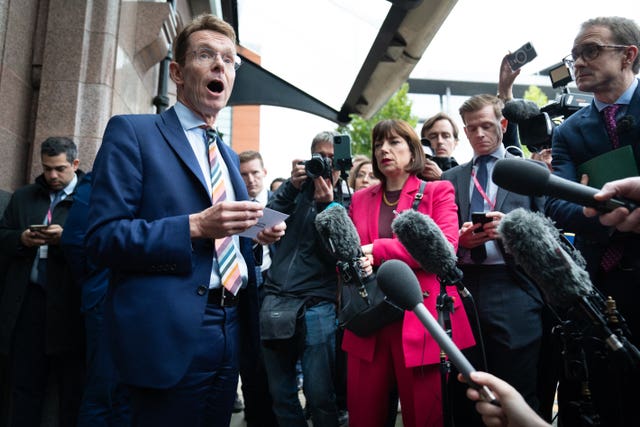 A conference in a former train station in Manchester may not seem the most politically astute place to scrap the planned new railway line to Manchester.
But Mr Sunak believes that axing the eye-wateringly expensive HS2 in favour of a myriad of smaller schemes underlines his credentials as someone prepared to take bold, long-term decisions.
The plans repeatedly leaked out before Mr Sunak's speech, but he refused to confirm them as he hit out at "speculation" while being dogged by questions.
The Prime Minister will have anticipated the furious reaction from Labour's Greater Manchester mayor Andy Burnham, but he will be more concerned by the outcry from businesses and Tory West Midlands mayor Andy Street, and the suggestion that cancelling the line sends the wrong message about the UK's ability to carry out major modernisation projects.
Mr Sunak insisted he would reinvest "every single penny" of the £36 billion saved from curtailing the project into infrastructure, including £30 billion of it in the North and Midlands.
– Industrial unrest
The strike by Aslef's train drivers on Saturday meant Tory activists struggled to get to conference for the opening sessions on Sunday – they could not all go by plane, as Chancellor Jermy Hunt did.
Some clearly decided to avoid further rail disruption on Wednesday by leaving early ahead of the Prime Minister's speech. During the conference, some of England's striking doctors staged a protest outside the conference as part of their NHS pay dispute.
– Family first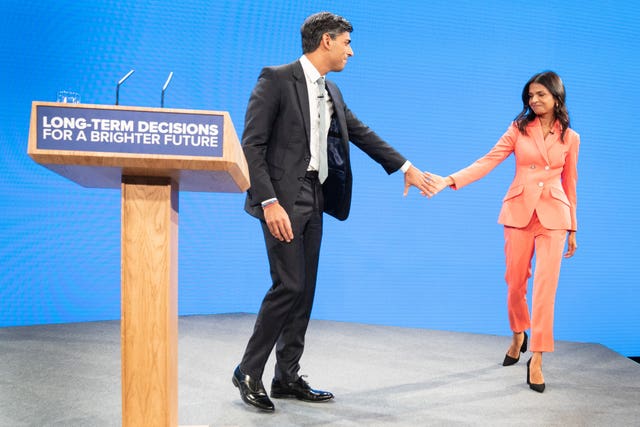 The Prime Minister tasked his wife Akshata Murty with warming up the crowd before his speech, in which he pledged to "build a brighter future for our children".
Addressing her husband, she said that "you know that doing the right thing for the long term, even when it is hard, is the right thing to do".
Mr Sunak praised his "wonderful" wife and two daughters, noted his grandparents' migration to Britain from India and East Africa, and the start in life his parents gave him.
Gordon Brown was introduced to his last party conference speech as Labour leader by his wife, Sarah. He was dumped as Prime Minister six months later.
Mr Sunak's press secretary indicated the public will see more of Ms Murty in the run-up to the general election.
– 'Man in a hurry'
Mr Sunak used his conference speech to set out a phasing out of cigarettes and an overhaul of post-16 education for England.
The Prime Minister's press secretary said that "Rishi Sunak is a man in a hurry" – but the smoking ban will take at least four years to begin and the education changes a decade.
Asked then if the new plans were drawn up to pose challenges to Labour leader Sir Keir Starmer, a Conservative spokesman said Mr Sunak had made the decisions because "they're the right things to do".
But he added: "If it puts them (Labour) in a difficult position, then that's obviously nice, but it's a secondary consideration."
Mr Sunak was trying to portray himself as a radical reformer ready to make the big – and at times unpopular – choices that he believes are necessary. Whether the voters agree, with the Tories having been in power since 2010, is another matter.