HS2 railway line: Key numbers
A third of HS2 tunnelling between London and the West Midlands is now complete.
Here are some of the key numbers behind the cost, construction and operation of the HS2 railway line.
– Cost
The Government initially estimated that HS2 would cost £37.5 billion in 2009 prices, according to a report by the House of Commons Library.
This is the equivalent of £56.9 billion today, after adjusting for inflation – though this estimate did not include the cost of trains.
In 2013 funding for the whole project, including trains, was set at £50.1 billion in 2011 prices (£70.4 billion today), which was then uplifted by inflation in 2015 to £55.7 billion (£73.2 billion today).
A further revision in 2020 set the estimated cost of completing the full HS2 network at a range of £72 billion to £98 billion in 2019 prices (£88 billion to £119 billion today) – however, these estimates were for the original scheme, which anticipated the line running to Leeds as well as Manchester.
In June 2023, the Department for Transport stated the estimated cost of phase one of HS2 – the line from London to Birmingham – would be between £35 billion and £45 billion in 2019 prices (the equivalent of £43 billion to £55 billion today).
Phase 2A of the line, from Birmingham to Crewe, was estimated to cost between £5 billion and £7 billion in 2019 prices (£6 billion to £9 billion today), while the western section of phase 2B, from Crewe to Manchester, was estimated to cost £13 billion to £19 billion (£16 billion to £23 billion today).
(Today's prices are as of August 2023, based on the Bank of England inflation calculator.)
– Spending to date
In June 2023, the Department for Transport said overall spending on HS2 to date, including land and property, stood at £24.7 billion in 2019 prices.
The vast majority of this spending (£22.5 billion) has been on phase one, London to Birmingham, with £0.9 billion spent on phase 2A, Birmingham to Crewe, and £0.7 billion on the western section of phase 2B, Crewe to Manchester.
A further £0.7 billion has been spent on the eastern section of 2B, connecting Birmingham to the existing rail network in the East Midlands, including £100 million to examine at the most effective way to run HS2 trains to Leeds.
The total of £24.7 billion in 2019 prices is the equivalent of £30.1 billion in today's prices.
– Trains
– HS2 trains will be around 200 metres long, with the option to couple two units together to create a 400-metre-long train with 1,100 seats.
A total of 54 trains have been ordered, each of which will be capable of speeds up to 225mph on the HS2 line.
The first train is expected to leave the production line in 2027, according to the company overseeing the project, HS2 Ltd.
– Tracks and tunnels
Phase one of HS2, from London to Birmingham, will run on 140 miles of dedicated track.
Some 65 miles of tunnel are being created between London and the West Midlands, with a third of this tunnelling complete as of September 2023.
A total of 130 million tonnes of earth will be excavated during the tunnelling – enough to fill Wembley Stadium 15 times.
The longest tunnel will run for 10 miles under the Chiltern Hills in Buckinghamshire.
The second-longest tunnel is just over eight miles in length and will run under north-west London.
Main construction of the line has been under way for three years, with work now taking place on around 350 sites from London to the West Midlands.
HS2 is currently supporting almost 30,000 jobs, including nearly 1,300 apprenticeships, according to HS2 Ltd.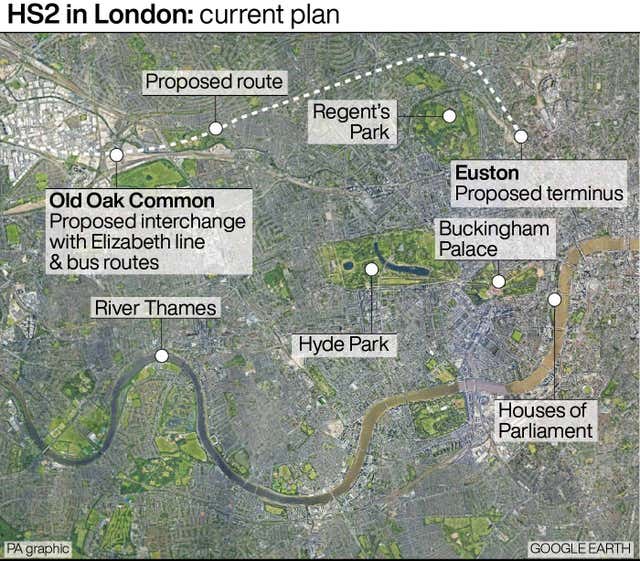 – Completion
Under the original plan, HS2 was to begin operations in 2026 and be completed in 2033.
This has now been revised, with phase one of the line currently scheduled to be completed between 2029 and 2033 – although trains will not run all the way between Birmingham to central London initially, and will instead begin and end at Old Oak Common in north-west London.
In the most recent update from the Department for Transport, published in June 2023, the line from Birmingham to Manchester was scheduled for completion between 2035 and 2041.
– Journey times
Journey times on HS2 between London Euston and Manchester were estimated to be cut from around two hours and six minutes today to around one hour and 41 minutes once phase one of the line was in operation, although the initial London terminus will be Old Oak Common.
This was then estimated to come down to one hour and 11 minutes once Phase 2B was completed.
For the Birmingham-Manchester route, journey times were estimated to come down from around one hour and 26 minutes today to just 41 minutes under Phase 2B.
– Protests
Illegal protests have cost the HS2 project to date an estimated £38 million in direct costs and around £113 million in associated costs such as delays, according to the Department for Transport.
HS2 Ltd received 1,032 complaints between April 2022 and February 2023, down 32% on 1,515 from April 2021 to February 2022.