Barclay to set out medical school expansion plans
His speech at the Conservative conference takes place against a backdrop of the largest strike by doctors so far in the dispute over pay.
Health Secretary Steve Barclay will announce three new medical schools to boost the NHS workforce as doctors across England continue strike action.
Alongside plans for a massive expansion of NHS training he will also set out a £30 million programme for the rapid adoption of new health technology.
The Telegraph reported that Mr Barclay would also announce proposals to ban transgender women from women's hospital wards in what he deemed a "common-sense approach to sex and equality issues".
But his speech at the Conservative conference in Manchester takes place against a backdrop of the largest strike by doctors so far in the dispute over pay.
Junior doctors and consultants from the British Medical Association began a three-day walkout on Monday at 7am, with Christmas Day levels of cover in hospitals.
Mr Barclay will announce new medical schools at the University of Worcester, the University of Chester and Brunel University in Uxbridge, west London.
They will each offer at least 50 undergraduate places a year from September 2024.
Existing medical schools will also offer at least 55 more places from that date, with 35 more at the University of Central Lancashire and 20 at Edge Hill University.
It is part of a plan to double the number of medical school places to 15,000 by 2031.
Labour said the three "new" medical schools already exist, but restrictions on the number of government-funded places mean they are only training international students rather than British applicants.
Mr Barclay said: "This will help ensure the NHS is set for the future and that patients get the care they need when they need it."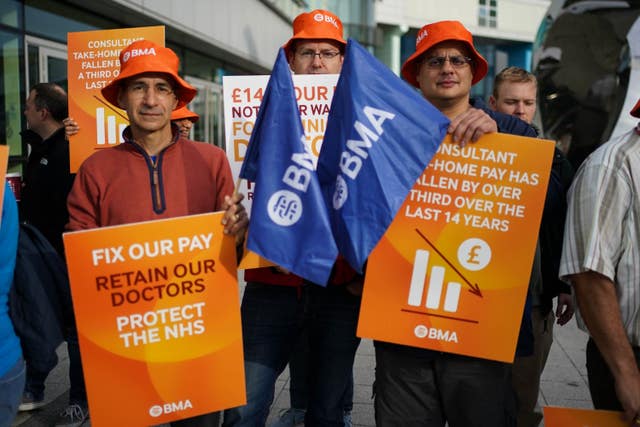 He will also set out plans for a £30 million fund for NHS organisations in England to adopt new technology such as artificial intelligence.
The fund could be used for projects including cancer diagnosis, virtual wards or diagnostics and treatment in patients' homes.
Mr Barclay said: "Cutting-edge technology like AI has the potential to transform our healthcare but we need to roll out these innovations faster so that patients receive the benefits as quickly as possible."
Emma Runswick, BMA council deputy chairwoman, said: "With more than 10,800 doctor vacancies in England's hospitals alone, these additional 205 places a year are a drop in the ocean.
"The Health Secretary is fooling no one if he thinks this is the answer to the NHS's medical workforce crisis, while he simultaneously refuses to talk with the doctors we already have.
"We desperately need to attract and recruit more doctors, but most crucially we need to keep the doctors working in the NHS right now, and to do that we need to ensure they're valued appropriately. You can't fill a leaky bucket without plugging holes in the bottom.
"Our message is clear: if the Government is serious about fixing doctor shortages, it needs to get back around the table and reverse the years of pay cuts they've imposed. Our door is open."