Manchester City fans have begun to party on the streets of Istanbul ahead of the side's Champions League final clash with Inter Milan on Saturday.
The first wave of fans could be seen wandering around the centre of the city on Thursday, setting off sparklers and singing club songs.
They will soon be joined by thousands of other City fans, hoping to witness their team bring home its first Champions League trophy.
One City fan, Kevin Ryan, 45, flew direct to the city from Manchester with his father, Liam, 74.
Speaking to the PA news agency in front of a giant inflatable Champions League cup in Istanbul's Taksim Square, he said his plan was to "party" if Man City win the final.
However, he said he would be doing so without a drink in hand.
"It's in the middle of nowhere," he said.
"You can't drink in the stadium… two hours before the game kicks off, no more drink.
"At least we'll remember the game. That's always nice, isn't it?"
He said he was "extremely confident" that Man City would win.
"We're the best team in Europe, if not the world," he said.
"We should (win), but you never know, it's football."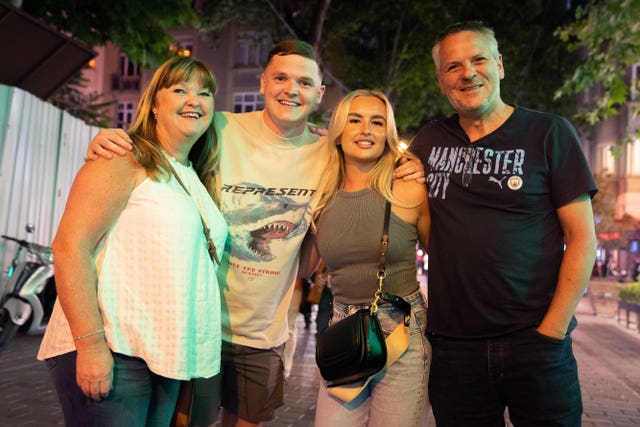 Liam said the pair had an "itinerary" of sights to see before the match on Saturday.
"We've got an itinerary and we're going to go see loads of stuff," he said.
"You can go and get drunk all the day but you want to enjoy it, it's beautiful."
Top of their list was a photo in front of the Blue Mosque.
"I'm going to wear my blue City shirt in the Blue Mosque tomorrow," Kevin said.
While the Howe family, also from Manchester, could be found drinking with other fans at the nearby Dubliner pub.
Staff and fans at the pub lit sparklers outside, lighting up the street.
Sam Howe, 25, said he was planning on staying up all night if Man City win.
"We're on the plane back at 5am, so straight through, keep drinking," he said.
Sam's mother, Collette, said she would not have travelled to Istanbul except to watch City play.
"We wouldn't have come here but for City playing here but we like it in here, and we like the music," she said.
"They've got City music on."