Sheku Bayoh arrest policeman denies ever wanting to join BNP
The pre-recorded testimony of Alan Paton was played to the inquiry into Mr Bayoh's death, which occurred while he was being detained by police.
A police officer involved in the arrest of Sheku Bayoh has denied ever wanting to join the BNP.
The pre-recorded testimony of Alan Paton, who has since retired from Police Scotland, was played to the inquiry into the death of Mr Bayoh, which occurred in Kirkcaldy, Fife, in 2015 while he was being detained by police.
During the 20-minute recording, Mr Paton denied claims he wanted to join the BNP as a teenager, and he also denied making racist remarks to an Asian family who lived near him and using other racist language.
Mr Paton described the claims, made by his sister Karen Swan, as "not true in its entirety" and "an entire lot of made-up nonsense".
The former police officer also told the inquiry that father-of-two Mr Bayoh "uttered not one word" while he was being restrained in Hayfield Road.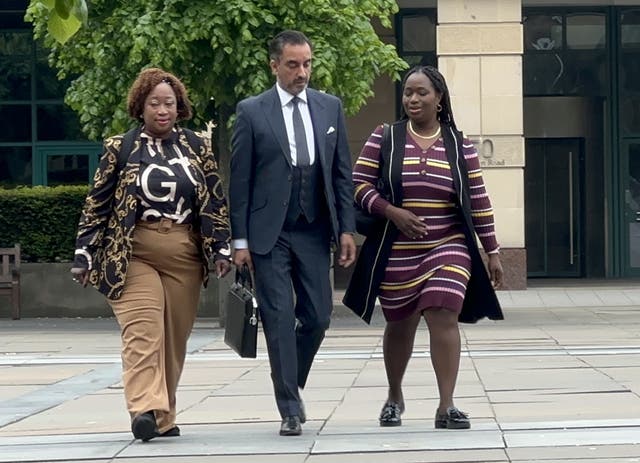 Mr Paton said: "From my initial engagement with him to the conclusion of my involvement, he remained silent. The only screams I heard was that of (police officer) Nicole Short."
He was read the witness statement of Ashley Wise, who saw the arrest, which said she saw "a man going down to the ground with about six police officers around him" and that "the man kept making roaring noises and shouting something similar to 'get off me'".
Mr Paton said she was "mistaken" and that Mr Bayoh did not make the noise.
Mr Bayoh, 31, died after he was restrained on the ground by multiple officers. The inquiry into his death is examining whether race was a factor.
Mr Paton and fellow officer Craig Walker were first on the scene after reports Mr Bayoh had been carrying a knife and attacking vehicles.
The inquiry has previously heard that when they arrived, they rapidly deployed their incapacitant sprays on unarmed Mr Bayoh, and Pc Walker said the gas engineer was "clearly in some sort of rage or zombie stare".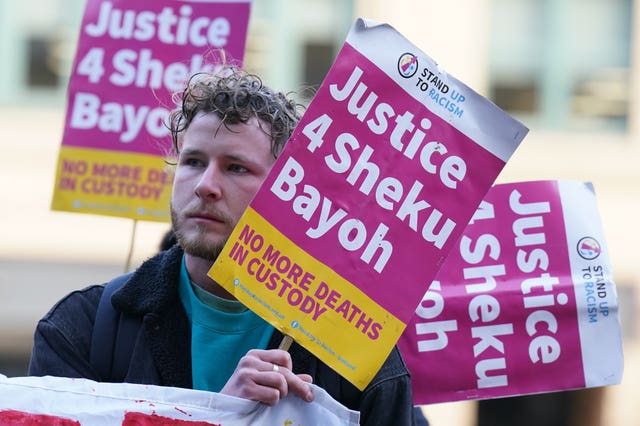 In the recording played to the inquiry on Friday, Angela Grahame KC read out a statement from Ms Swan which said: "I would like to go back to when Alan was a teenager. My mum told me at the time that Alan has said he wanted to join the BNP and she had told him she would disown him if he did.
"Alan used to make racist remarks to the Asian family that lived round the corner. He was never violent towards them but he was quite vocal.
"If they passed by him he would make racist comments towards them. I don't know anything else about him joining the BNP."
Mr Paton denied the claims, and said: "The entire paragraph's not true. I've got nothing further to add than what I have in my statement that was submitted a few days ago."
Challenged by inquiry chair Lord Bracadale if he joined the far-right BNP, Mr Paton told him "No".
A statement from Mr Paton's brother-in-law Barry Swan was also read to the inquiry. He said his wife had told him Mr Paton had wanted to join the BNP when he was 16.
The inquiry was told Mr Swan said: "There was a few comments, or off-the-cuff remarks, made by Alan over the early years which I took to be jovial and humorous."
He said there was "no malice or vindictiveness surrounding these comments".
Mr Paton denied making such remarks.
The hearing on Friday came a day after Police Scotland Chief Constable Sir Iain Livingstone admitted the force is "institutionally racist and discriminatory", which the Bayoh family's solicitor Aamer Anwar said was a "significant moment" for them.
Mr Anwar said: "Fighting for a robust investigation, nevermind achieving justice, has involved the Bayohs in enormous challenges and obstacles at great personal cost to the emotional and physical health of their family, young and old.
"As this chapter of evidence concludes, no-one should forget that Sheku Bayoh lost his life, his two boys are growing up without their father, his partner Collette was left devastated by his loss, a heartbroken mother had to bury her son, and his sisters are left without their baby brother.
"Sheku's loved ones will never give up the search for truth, no matter what obstacles are placed in their path.
"This inquiry still has a long way to go, and it would be inappropriate to comment further."
The inquiry continues.