More funding announced as Kyiv asks for more Britons to take in Ukrainians
Ukraine's ambassador to the UK said some Ukrainian refugees still needed assistance.
British households taking in Ukrainian refugees who have been in the country for more than a year are to receive an increased "thank you" payment as Kyiv's ambassador implored more sponsors to offer accommodation.
The Ukrainian ambassador to the UK thanked the British people for their generosity in coming to the aid of those fleeing the conflict caused by Russia's invasion of Ukraine.
But Vadym Prystaiko added that "some still need your help" as he called for "those who can" to open their doors to families displaced from their homeland.
As part of the UK's response to Russian president Vladimir Putin's attack on Kyiv in February 2022, ministers established the Homes for Ukraine scheme, with thousands of volunteers coming forward to offer shelter to refugees.
Close to 118,000 Ukrainians have been invited into British homes since the scheme began, according to the Department for Levelling Up, Housing and Communities.
But with the war in eastern Europe still raging, officials said there are Ukrainians looking to be matched with new sponsors.
To strengthen support for households and councils taking in refugees, the UK Government has announced increased funding.
The levelling-up department has recently written to all those who have previously expressed interest in becoming Homes For Ukraine hosts to thank them for coming forward to offer their help in matching Ukrainian families with new hosts.
Those hosting Ukrainians who have already been in the UK for over 12 months will be entitled to increased "thank you" payments as part of an incentive to take people in.
Hosts are currently paid £350 per month as a "thank you" payment, subject to the accommodation they have to offer.
Other measures announced on Saturday include per capita funding for councils for each new arrival including £150 million to support guests into their own homes.
Some £11.5 million will be given towards intensive English language courses and employment support for up to 10,000 individuals to boost the number of Ukrainians entering the labour market.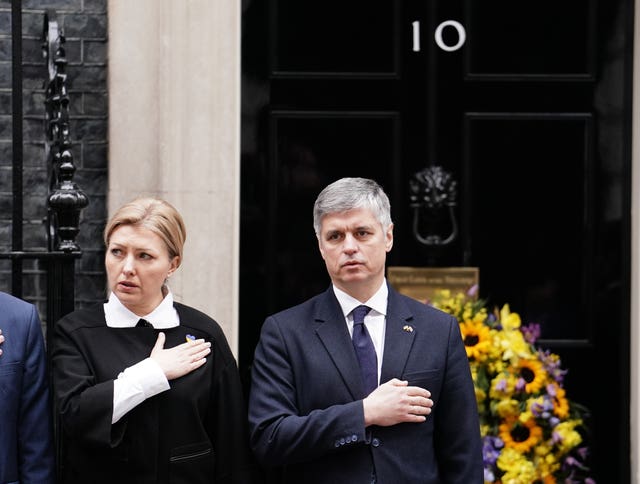 A total of £100 million will be given to 145 councils in England by the end of March as part of the £500 million Local Authority Housing Fund to help obtain, repurpose or build housing for arrivals on resettlement programmes, department officials said.
With England due to take on Ukraine in a qualifying match for the men's Euro 2024 football competition on Sunday, ministers have offered 1,000 free tickets to Ukrainians and their sponsors to attended the match at Wembley Stadium.
Ukrainian ambassador Mr Prystaiko said: "I am honoured and humbled by your countries' generosity and am grateful to all the local councils and all the families who have opened up their homes, their hearts and sometimes wallets to Ukrainians fleeing from the horrors of war.
"160,000 Ukrainian women and children have reached British shores and have been welcomed in your communities and schools.
"But some still need your help.
"The unprovoked and unjustified war still rages in the Ukraine and I ask those who can, please come forward and offer your support."
Levelling-Up Secretary Michael Gove said: "One year on from the first person arriving in the UK under our Homes For Ukraine scheme I remain incredibly proud of this country's response, with the British public having shown their true generosity of spirit and their enduring belief in freedom.
"Ukrainians have embraced every aspect of their new lives in the UK – sending their children to local schools, entering the jobs market and working on their English language skills.
"This is proof not only of the immense bravery and resilience of the Ukrainian people but the huge value they are bringing to our communities."