Hand on heart, I did not lie to the House, says Johnson
Boris Johnson was being questioned by MPs on the cross-party Privileges Commitee.
Boris Johnson swore "hand on heart, I did not lie to the House" as he was questioned by MPs over whether he misled the Commons with his denials about partygate in a hearing that could determine his political fate.
Harriet Harman, chairwoman of the Privileges Committee undertaking the grilling, rejected the former prime minister's demand that the inquiry only considers his discussion of coronavirus guidance.
The Labour grandee said the MPs on the cross-party committee will leave their "party interests at the door of the committee room and conduct our work in the interests of the House" as she dismissed claims of bias.
She insisted the committee is "not relying" on evidence provided by the Sue Gray report, as allies of Mr Johnson claim the inquiry is a "witch hunt" now that the civil servant is joining Labour leader Sir Keir Starmer's office.
Chairing the Tory-majority committee, Ms Harman said the evidence raises "clear questions" and that the hearing is Mr Johnson's "opportunity to give us his answers".
Mr Johnson swore on the Bible to tell the truth before issuing an apology and adding: "I'm here to say to you, hand on heart, I did not lie to the House.
"When those statements were made, they were made in good faith and on the basis on what I honestly knew and believed at the time."
He said if it was so "obvious" that rule-breaking was going on in No 10, as the committee argues, then it would also have been "obvious" to others, including Rishi Sunak.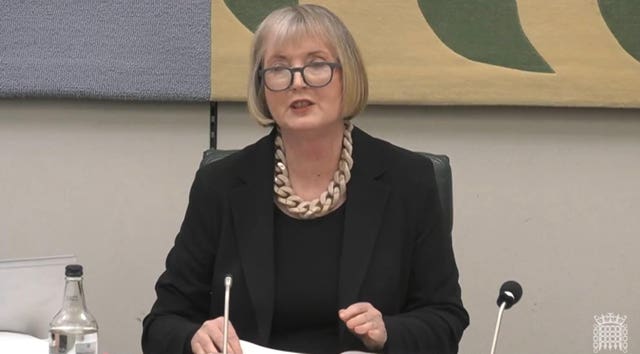 Mr Johnson, supported in the room by arch-loyalist Jacob Rees-Mogg, accused Ms Harman of having said in the past things that are "prejudicial" to his case.
And he argued that the process being used to decide whether he was in contempt of Parliament is "manifestly unfair".
"You have found nothing to show that I was warned in advance that events in No 10 were illegal, in fact nothing to show that anyone raised anxieties with me about any event, whether before or after it had taken place," he said.
"If there had been such anxiety about a rule-breaking event at No 10 it would unquestionably have been escalated to me."
He added that a claim by his former aide, Dominic Cummings, to have raised concerns with the then prime minister was "unsupported by any documentary evidence" and "plainly cannot be relied on".
"He has every motive to lie," Mr Johnson claimed.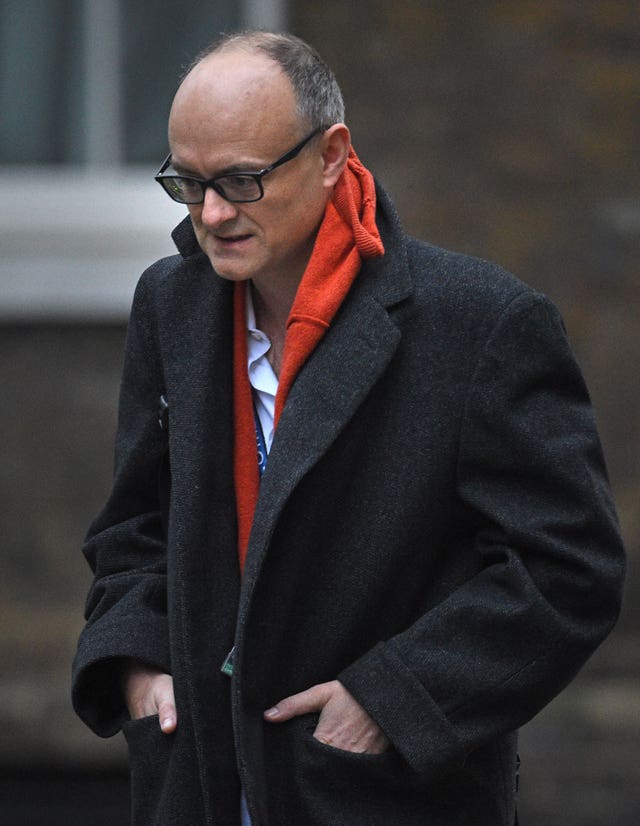 Mr Johnson told the inquiry that if it is accusing him of lying, then it is also levelling the same charge at civil servants, advisers and MPs.
"I don't think you seriously mean to accuse those individuals of lying and I don't think you can seriously mean to accuse me of lying," he said.
Shown a picture of himself surrounded by colleagues and drinks during a leaving do, Mr Johnson argued No 10 staff cannot have an "invisible electrified fence around them".
"They will occasionally drift into each other's orbit," he said, accepting that "perfect social distancing is not being observed" in the image but denying it was in breach of the guidance.
"I believe it was absolutely essential for work purposes," he said of the event for outgoing communications director Lee Cain in November 2020.
The committee briefly took a break in proceedings so Mr Johnson and the other MPs could go to vote on the Prime Minister's new post-Brexit arrangements for Northern Ireland.
Delivering a blow to his successor, Mr Johnson had pledged to vote against the Government.
He is battling to avoid a suspension and a possible by-election that could follow if he is found to have committed a contempt of Parliament.
In evidence published by the committee, officials denied telling him that no guidance was broken at mid-pandemic parties before he went on to insist all rules were followed.
Cabinet Secretary Simon Case has told the inquiry that he was not aware of any officials giving Mr Johnson that assurance.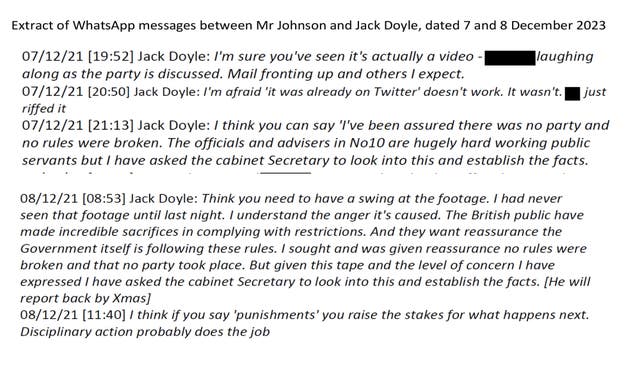 Jack Doyle, who was Mr Johnson's communications chief when the partygate story broke, said he did not tell Mr Johnson that all coronavirus guidance was followed.
And former principal private secretary Martin Reynolds said he warned against claiming that all rules had been followed before Mr Johnson issued a denial to Parliament.
Mr Reynolds wrote to the committee saying he recalled asking Mr Johnson about a proposed line to say during prime minister's questions "suggesting that all rules and guidance had been followed".
"I accepted this but questioned whether it was realistic to argue that all guidance had been followed at all times, given the nature of the working environment in No 10. He agreed to delete the reference to guidance."
But, on December 8 2021, Mr Johnson went on to tell the Commons "the guidance was followed and the rules were followed at all times".
Mr Case replied to the inquiry's questionnaire asking whether he assured Mr Johnson that Covid rules were "followed at all times" by saying "No".
The former prime minister accepted that his denials turned out not to be accurate but said he corrected the record at the "earliest opportunity".
If Mr Johnson fails to convince the committee that he did not deliberately mislead the Commons, he could be found to have committed a contempt of Parliament.
A suspension of 10 days or more could result in a high-profile by-election in his Uxbridge and South Ruislip seat.
The full House of Commons would vote on any recommendations and Mr Sunak has agreed to give Tory MPs a free vote on their conscience over Mr Johnson's fate.