Kwarteng endorses Hunt's 'cautious' Budget but says tax cuts should come sooner
Former chancellor Kwasi Kwarteng acknowledged the mistakes he had made in No 11 and said Jeremy Hunt was taking a more 'methodical' approach.
Former chancellor Kwasi Kwarteng said his successor Jeremy Hunt had delivered a "good Budget", although he called for faster tax cuts and criticised the hike in corporation tax.
Mr Kwarteng, whose disastrous mini-budget in September led to him being sacked and ultimately ended Liz Truss's short tenure in No 10, acknowledged the pair had made mistakes and should have been more methodical in their approach.
But he insisted that Conservatives needed to be low tax and said Rishi Sunak and Jeremy Hunt shared that view, although they were taking a more cautious approach.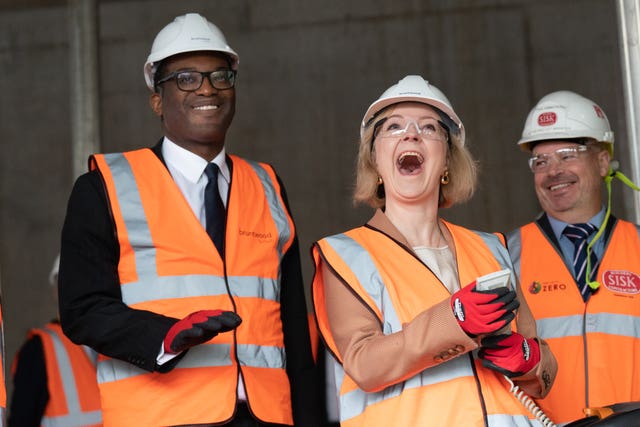 The September statement saw Mr Kwarteng announce £45 billion of tax cuts, but the City took fright at the increased borrowing it would entail with little sign of how the public finances would be brought under control beyond a hope of increased economic growth.
Mr Kwarteng told GB News his successor had adopted a different approach: "What we can't do is pretend that last October didn't happen, last September didn't happen."
Mr Hunt, who was appointed by Ms Truss as she fought to save her premiership, had done a "good job in stabilising the situation", Mr Kwarteng said.
He said the current Prime Minister and Chancellor backed the ultimate aim of a lower tax, more productive economy.
"I don't understand what it means to be a Conservative if you don't believe, ultimately, in lower taxes, broadly. That's a strategic goal.
"There is a question about how you get there and there are different approaches.
"And I think that what the Prime Minister and the current Chancellor are doing is broadly right. You've got to be methodical.
"Now, I'd like to see things maybe done more quickly. But you do have to be methodical, you have to carry institutions with you, and I think that's what they're trying to do."
On corporation tax, which is increasing from 19% to 25%, Mr Kwarteng said: "I don't think it helps incentivise investment if you put up corporation tax to that extent."
He said Mr Hunt "rightly perhaps, has adopted a more cautious approach given what happened last winter".
"And that's where I think I and Liz got it wrong. I think we should have had a more methodical and more process-driven way of getting to that strategic goal, which… is lower taxes and incentivising economic activity."
He acknowledged there was "too much" in his mini-budget and it was "very bold" not to have Office for Budget Responsibility forecasts or measures on spending restraint at the same time.
Mr Kwarteng acknowledged that suggesting more tax cuts could come in the aftermath of his statement "probably was a mistake".