Forbes says 'extraordinary turmoil' in SNP amid reports of Murrell challenge
Peter Murrell is reportedly facing demands from members of the party's ruling body to set a date for his departure.
SNP leadership candidate Kate Forbes has acknowledged "extraordinary turmoil" in the party, amid reports its chief executive Peter Murrell could face a vote of no confidence.
Mr Murrell, who is Nicola Sturgeon's husband, is reportedly facing demands from members of the party's ruling National Executive Committee (NEC) to announce a date for his departure.
SNP media chief Murray Foote left on Friday amid a row over the party's membership numbers.
Mr Foote said that after speaking to the party's HQ, he had issued responses to the media which had "serious issues" and he later decided there was a "serious impediment" to his role.
On Thursday, the party revealed membership as of February 15 this year was 72,186, having fallen from 103,884 in 2021.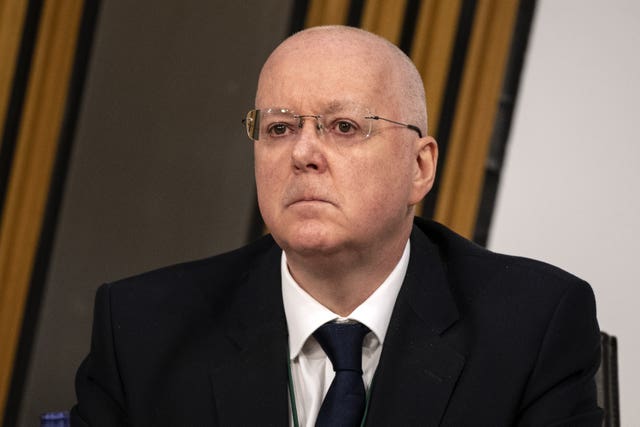 This corroborated a story in the Sunday Mail in February around the SNP losing 30,000 members, something Mr Foote had strongly denied at the time.
On Saturday, Ms Forbes issued an open letter to SNP members who had yet to cast their vote.
She said: "Many of you, like me, will be hurt and bemused by the extraordinary turmoil in our party over the last days.
"If anyone was in any doubt that this needs to be a change election for the SNP, recent events and resignations confirm the core message of my campaign: continuity won't cut it."
She continued: "I love the SNP, and I am passionate about Scotland's future as an independent, fair and wealthy nation.
"A few years ago, scandal rocked the SNP and I was asked to step up and deliver the budget with only a few hours' notice.
"I did it, for my party and for the people of this country. That is the mark of who I am. I will not shy away from difficult times.
"Instead I find the solution and give it my all.
"I have a great deal of respect for the two other candidates, but I am the only candidate who can truly deliver change as First Minister."
Ms Forbes, who is on maternity leave from her government role as Finance Secretary, pledged to reform the party and committed to independent auditing of membership and finances.
In her letter, she referred to stepping in at late notice to deliver the Scottish Government's budget following the sudden resignation of then-finance secretary Derek Mackay in 2020, after it was revealed he had sent hundreds of messages to a teenage boy.
On Saturday, the Herald newspaper reported an unnamed senior member of the NEC who said: "We have the numbers. There's not a hope in hell that Peter can survive a no confidence motion."
The newspaper said that rebel NEC members are calling for Mr Murrell to set a date for his departure by the end of Saturday.
Mr Murrell has been the party's chief executive for more than 20 years.
Ash Regan, one of the other candidates in the race, tweeted about the report that NEC members were calling on Mr Murrell to go.
She said: "I am encouraged to see the democratic foundations of the party now asserting their rightful functions."
Fellow leadership candidate Humza Yousaf addressed Mr Foote's departure on Friday.
He said Mr Foote "has been outstanding since joining the SNP media team" and that he would be "sorely missed".
Mr Yousaf added: "Reform of our HQ operations has been a key part of my campaign. With fresh party leadership should come a fresh approach to our HQ operation."