Kate pledges to provide parents with 'very best support' to raise their children
The princess's Shaping Us campaign aims to improve society's understanding of the significance of early childhood.
The Princess of Wales has pledged that her early years campaign will provide parents with the "very best information and support" needed to raise their children.
At an event staged on the eve of the project's launch, Kate spoke about the "critical importance" of the first five years of a child's life and its influence on their future.
The princess's Shaping Us campaign aims to improve society's understanding of the significance of early childhood in shaping adulthood and society as a whole.
The initiative will be launched on Tuesday by the Royal Foundation Centre for Early Childhood, and the princess hopes it will influence attitudes towards children in the early years of their lives.
Kate was joined by husband William and a host of celebrity supporters at the evening event staged at Bafta's London HQ, with former Saturdays singer Rochelle Humes, rapper Professor Green, presenter Fearne Cotton and England football captain Leah Williamson among the guests.
In a speech the princess said: "The campaign is fundamentally about shining a spotlight on the critical importance of early childhood and how it shapes the adults we become.
"During this time we lay the foundations and building blocks for life.
"And it is when we learn to understand ourselves, understand others and understand the world in which we live.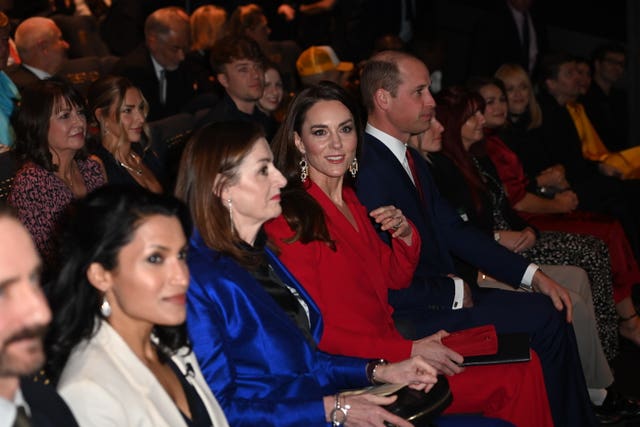 "This is why it is essential, to not only understand the unique importance of our earliest years, but to know what we can all do to help raise future generations of happy, healthy adults."
Kate outlined the scope of the campaign, describing it as a long-term project beginning with how a child develops and the importance of the formative years.
It will go on to "explore in more depth the importance of a child's social and emotional world" and the significance of relationships and "surroundings and experiences".
She added: "And of course, by understanding our own childhoods – what has shaped our own beliefs, relationships, behaviours and feelings – we, as adults, are better placed to play our part in positively shaping future generations."
Rochelle Humes brought her nine-year-old daughter Alaina Mai Humes to the event and joked the youngster had said about Kate: "She's got the best hair."
Humes spoke about her childhood being brought up by just her mother, and ended her speech by saying: "Everyone in society needs the very best for every child, because if every child realises their full potential we'll have a society that is infinitely better off than the one we have today."
At a reception for invited guests, Williamson praised Kate's project as "amazing" and revealed she had not met William since he gave her a hug after the national team won the women's Euros last summer.
She added: "I think it's an amazing, amazing thing to start raising awareness of because we won't see the fruits of this tomorrow or next year, but in years to come and how we look at our society.
"I hope that we are in a better position because of things like this."